Cape Town is a wonderful city with a most incredibly spectacular setting. There is so much to see and do there, so if you're planning a visit give yourself as much time here as you can.

When we visited in December 2007, we couldn't decide whether it would be better to stay at the beach or in the city so we split our time in Cape Town between Camps Bay and Tamboerskloof. Click here for more information on our accommodation in Cape Town.

Click here to book hotels in Cape Town, read travellers reviews of those hotels and view lots of photos of the hotels


Transport

Cape Town is different from most places we've been in that it doesn't really have public transport. This means that if you don't hire a car you're going to have to rely on taxis. The taxis are quite good value, but it can still work out expensive if you're using them all the time. We wrongly thought that we wouldn't really need a car at Camps Bay. There wasn't as much at Camps Bay as we'd expected so you were a bit limited, and taxis to places like the Waterfront were relatively expensive (around R100-120). Also, unless you're staying right on the beachfront (and probably paying a lot for accommodation), you may have a long walk uphill to get to your accommodation. It took us about 25 minutes downhill - would have been a bit more going back up! If you don't want to hire a car, we'd suggest that you stay in Tamboerskloof or somewhere around Kloof Street. Because it's more central, taxis were generally pretty reasonable (R40-50 to the Waterfront) and you can walk to shops, restaurants and bars around Kloof Street and Long Street, although we'd recommend you get a taxi if you go down to Long Street at night, as it can be a bit seedy.
Things to do in Cape Town

A good alternative way of getting to a lot of the major tourist attractions, particularly if you're not planning on hiring a car, is to use the Open Top Sightseeing Bus.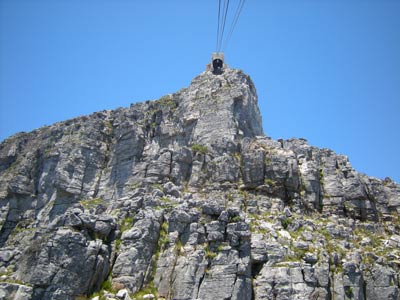 The costs are very reasonable and you can start at lunchtime one day and finish the tour at lunchtime the next day if you prefer, There are 2 separate full day tours available covering different routes. We took the Red Route tour first, to get our bearings, as it covered Camps Bay, The Waterfront, Table Mountain and the downtown museums. The Blue Route goes further out of town and, as well as Camps Bay and the Waterfront, it covers Kirstenbosch Gardens, World of Birds, Hout Bay. They're both worth doing - just try to plan your route well and watch your timings as some places are only open certain hours.

You can't go to Cape Town without going up Table Mountain. The cable car takes you to the top of the mountain in about 5 minutes and the rotating floor ensures that all passengers get a 360 degree aerial view of the city. The views at the top are spectacular. The only problem is that the cable car won't run if it is windy, and you can't book tickets in advance, so you might find, as we did, that you get to near the front of the queue and then have to leave because they shut down because of the weather. A bit frustrating, but there's not much you can do. Best to try to go up when there isn't too much cloud around too, as obviously the views will be much better if it's clear. Be prepared to queue for a long time if you go on a sunny day, and particularly at weekends. We had to queue for around 2 hours! If you're feeling fit you can hike up Table Mountain, or walk up and take the cable car back (or vice versa). Just make sure you have plenty water if you're hiking up there on a hot day, and keep to the marked paths. Click here for more information about Table Mountain.
Kirstsenbosch Gardens
This is a lovely place to spend some time when you are in Cape Town. It's a beautiful park, with an incredible backdrop of mountains. It's one of the stops on the Open Top Bus Blue Tour, or worth driving to if you have a car. You can have a a picnic there (they'll make up fresh sandwiches and salads for you and there's a decent selection of wine and soft drinks) and if you're lucky there may even be a concert taking place. Click here for more information about Kirstenbosch Gardens.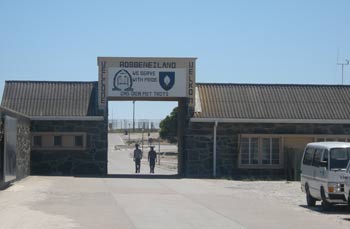 Robben Island
This is another 'must do' when you're in Cape Town. Robben Island is where Nelson Mandela was imprisoned for 27 years during the apartheid years. It is now a museum and one of Cape Town's most popular tourist attractions. It is therefore essential that you book ahead, specially if you are visiting at peak season. The three and a half hour tour includes a return trip across Table Bay, a visit to the Maximum Security Prison, interaction with an ex-political prisoner and a 45 minute bus tour with a guide providing commentary. Click here for more information on Robben Island, including an e-mail address for bookings. We've heard that they don't always answer e-mails, but it's worth a try! If for any reason you land up in Cape Town without a booking and are told the tours are fully booked, try contacting either Babi's Tours or Hylton Ross.
Township Tour
We felt that the Township Tour we did was incredibly interesting. It allows you to see another side of South Africa, and give some money to the people who need it most. It's easy to try to spend time in South Africa and try to block off the terrible poverty that exists in this country, and the huge gap between rich and poor, but if you do a Township Tour it will definitely open your eyes. We were a bit concerned before going on the tour that the people in the townships wouldn't like tourists coming through their villages, but we spoke to several people who assured us that this was not the case. They are obviously grateful for any money that comes back into the villages, through the costs of the tours, some of which goes directly to the townships, and from buying gifts from their giftshops, etc. Stalls and gift shops are set up throughout the townships and the tours will stop at several along the way to encourage you to buy things. You obviously don't have to buy but we got a few things - and probably paid more than we would have in a regular shop! At least you feel that the money is going to a worthwhile cause. We did the tour with Babi's Tours who kindly ran the tour for just the two of us on our own, and fitted us in at the last moment after the staff at An African Villa contacted Babi. The tour was great, although we were kept waiting a while to be collected from the guest house. We also heard good things about Hylton Ross who do a full day cultural tour which goes to a township in the morning and Robben Island in the afternoon, picking you up from your hotel at 0815 and dropping you back there at about 1800.

World of Birds
Another stop on the Open Top Bus Tour, located at Hout Bay and well worth a visit. A huge selection of birds of all shapes, colours and sizes, and also some other animals including monkeys, tortoises and iguanas. Click here for more information about World of Birds.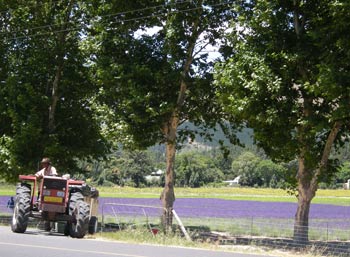 Franschhoek
If you're not including Franschhoek on your itinerary, it's worth doing a day trip there. It's a gorgeous little place with spectacular scenery. It's worth visiting a few of the vineyards where you can taste and buy wine, or just stop off one of the lovely restaurants for lunch. There are some lovely little shops in Franschoek too, so give yourself time to have a look round. Click here for more information on Franschhoek, including accommodation and restaurants.
Cape Point/Cape of Good Hope
The Cape of Good Hope is often thought of as being the southernmost point in Africa, and the dividing point between the Atlantic and Indian Oceans; while Aghulas retains the southernmost point, Cape Point is however the southwestern most point of the continent. Located 65km from Cape Town, it's worth a visit, but the day we went here the weather was dreadful so we didn't get to appreciate the good views. There are also hiking and walking paths offering routes varying from gentle walks to serious hikes. Watch out for the Baboons and don't leave any food on display in your car, as they try to steal anything that they think might contain food! Click here for more information on Cape Point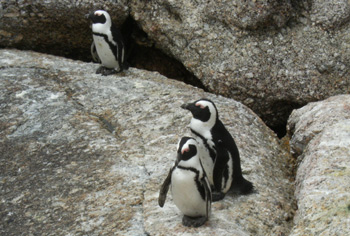 Boulders Beach
On the route from Cape Town to Cape of Good Hope, and just down from Simons Town, Boulders Beach offers the unique opportunity to see the large colony of Jackass penguins. There are lots of the cute creatures and they are quite tame so you'll be sure to get some good photos.
Shopping in Cape Town
Cape Town has some great shops, whatever you are looking for. We didn't find it particularly cheap, but there are some good quality goods to be had at reasonable prices. If you're on holiday in South Africa, make sure you get proper receipts for everything you buy, as you will be able to claim back the 14% VAT at the airport. I say 'proper receipts' because they won't accept any that don't show the VAT or the full details of the shop you bought from including their VAT number. Also, if anything's been scored out or amended on the receipt, they won't accept it. Click
here
for more information on how to claim back your VAT.
The V&A Waterfront is the largest shopping mall of Cape Town. There is a Tourist Office here and it is also the start off place for your trip to Robben Island! As well as the huge selection of shops, there are many restaurants and some bars here too, so you can spend the whole day if you wish! If you visit the Waterfront on a Sunday there is entertainment and a wonderful vibe in the area.
Canal Walk
Another huge mall, about 15 minutes out of town, with a large selection of shops and possibly a bit less expensive than V&A Waterfront. Canal walk also has some restaurants.


Lifestyle on Kloof Centre
The Lifestyle Centre at 50 Kloof Street with shops, a movie theatre, restaurants and a gym is a really nice centre in a nice area of town. There's a great shop upstairs with a huge selection of books, vitamins, some wonderful body lotions, creams and toiletries. They have a cafe where they make great fruit shakes, sandwiches, salads, etc. Besides the new shopping centre, Kloof Street is beautiful and you will find so many nice shops here! Antiques, furniture, curios, funny gadgets, trendy clothes, music, shoes, bakeries, nice bars and clubs to have lunch or a drink. When you look up, you´ll see Table Mountain right above you! The vibrant Kloof Street also offers some of Cape Town's best night entertainment.

Long Street
Long Street is a colourful street with a mixture of shops, restaurants, bars, coffee shops, etc. As its name suggests, it is a long street, although it used to run through to the harbour and got its name then as the longest street in town. There are some gorgeous shops including Tribal Trends which isn't cheap but has some beautiful things and is well worth a visit if you are looking for something special for your house. The Pan African Market has a huge selection of masks and African curios. There are also some interesting boutiques.
Don't miss the side-streets off Long Street - down one you will find Greenmarket Square where there is a market selling clothes, paintings, jewellery, African curios and leather goods. Be prepared to barter!
Click here for more information on accommodation and restaurants in Cape Town
Click here to book hotels in Cape Town, read travellers reviews of those hotels and view lots of photos of the hotels
Some useful sites about Cape Town:
Time Out Cape Town
- Lots of stuff about Cape Town, including shopping, restaurants and bars and tourist information
Trip Advisor
- Reviews from other travellers and a useful forum
The Guardian - Cape Town
- Some useful articles from The Guardian about Cape Town