PHU QUOC, VIETNAM
Phu Quoc is an island off the south coast of Vietnam. When we visited in December 2015 the area around Long Beach, south of Duong Dong, was like a building site, with roads dug up, hotels being built, etc. We didn't understand why there was construction work throughout the whole area, as it would have made more sense to work on a small area at a time, but they must have their reasons for this. In a year or two, the area will no doubt look totally different and hopefully will improve tourism on the island. Because of all this construction work, everywhere seemed a bit dirty and dusty, walking around wasn't easy as there were no pavements and there were pot holes everywhere. To make things worse, they aren't taking care of the beaches, with piles of garbage etc a common occurrence and we were a bit disappointed with the quality of the beaches, compared to those in Thailand. Phu Quoc has great potential which isn't being fulfilled at the moment.
Having said all the above, we enjoyed our week in Phu Quoc, mostly because of the fantastic people and Daisy Resort.
Accommodation in Phu Quoc
Daisy Resort
Before booking Daisy Resort we weren't sure if the location would be right for us, and that it would be too far from everything. We considered another hotel on the beach before deciding that we'd go with Daisy Resort. We're so glad we did!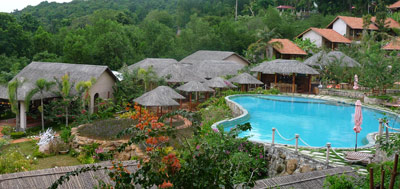 We stayed here for one week in mid December 2015. The location is on a hillside about 20 mins walk from the beach but at the time of our visit that was a good thing as there was so much construction work going on by the beach and on the main road that we'd heard that people staying in hotels never to the beach were complaining of being woken early by construction noise etc. This was most certainly not an issue at the Daisy Resort as it was very peaceful there. If you want to go to the beach they will take you in the hotel mini bus, you can walk, or you can hire a scooter or bicycle. The hotel also offers free shuttle transfers from and to the airport.

The resort opened in early 2015 and is beautifully laid out on the hillside with nice gardens and many colourful flowers. From walking around the Long Beach area we certainly did not see a resort which looked any prettier or better than Daisy Resort. We stayed in bungalow B01, a superior bungalow with ocean & pool view. The bungalow was very nice with a huge bed, a fridge, a high quality LG flat screen TV connected to a cable box which offered a huge range of channels - mostly in Vietnamese, but some in English including BBC World, CNN, CNBC and some others. (There's also a movie room on the resort complete with huge screen, surround sound system, and a range of movies but we didn't use it). The only negative about our bungalow B01 was that from its terrace you could not view the sunsets, as it is at the far end and sunset views are blocked by a large tree.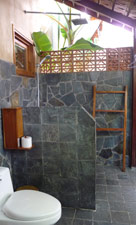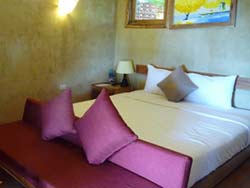 The bathroom is outside and therefore open to the elements except for a roof to protect you from rain. This area includes the toilet, washbasin, and two showers. We liked this and did not have any problems with mosquitoes while we were there, but there was a large flying insect one evening which was a little disturbing as it was crashing into the walls, lights, and even my head as it tried to find its way out! We also saw a small frog in there once, but it quickly disappeared.

The pool is lovely - very large, clean and good for a workout. There are plenty sunbeds around the pool, although it was quite quiet when we were there. There is also a spa where you can get excellent massages and body treatments at reasonable prices.

The restaurant was quite pleasant with a good selection of Vietnamese and western food. The breakfast buffet was good with a selection of fresh fruits, various hot dishes such as noodles and fried rice, salad, breads, and eggs.

BUT..... BY FAR THE BEST THING ABOUT THE DAISY RESORT IS THE STAFF! They are without doubt the most friendly, happy, smiley, and exceptionally helpful staff we have ever come across anywhere in the world. They cannot do enough for you, and are always checking that everything is OK and you are happy! It seems a shame to single anyone out, but particular mention must go to the ones we had most dealings with: Jack, Lester, Linh, Mikee, Hoàng (who even accompanied us to the hospital in Duang Dong (more info below*) when I needed treatment for a minor problem), and Nhi who helped us by translating a note for us to give to the doctor.

If you stay in Phu Quoc we can't imagine a better choice than the Daisy Resort and we would certainly have no hesitation in staying here again. Click here to visit Daisy Resort's website or click here to book a room, view lots of photos and read reviews from other travellers.
Places to eat and drink in Phu Quoc
Spice House (at Cassia Cottages)
- This was our favourite restaurant in Phu Quoc, so much so that we ate here twice at night and once at lunchtime! The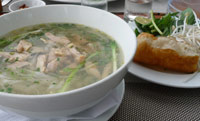 restaurant is overlooking the beach, and has some tables on the beach itself, so at night it is lovely to look at the fishing boats in the distance and listen to the waves lapping the shore.The service was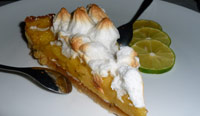 excellent and the staff were absolutely lovely, especially super-smiley Huyen. Their chicken pho (see left) was absolutely delicious - the best we tasted. The spring rolls were very nice, the ban xeo (crispy pancake stuffed with shrimp, beansprouts, etc) was really tasty. I wasn't as keen on the stir-fried beef with peppercorns but the chicken with mango was delicious and the lime meringue pie (see right) outstanding, specially when served with a scoop of their home-made ice-cream. I'm not one to over-enthuse about desserts but the crispy pastry for the base, the perfect limey filling - not too sweet or sour - and perfect meringue had me drooling!

Mystic Lounge
-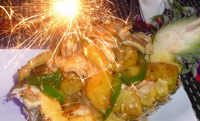 This is a really nice restaurant/bar on the main road, just along from Daisy Cottages (airport direction although at the time of this review Google maps and Trip Advisor maps show it the other direction!). The owners are very friendly and the place has a nice ambiance. They also cook your meal on a wok at the edge of the restaurant so you can see that it is being prepared from scratch and freshly cooked. The chicken and pineapple served in a half pineapple shell with rice (see left) was delicious and it comes complete with sparkler! The wok fried beef with noodles and vegetables was also nice. The portions are large and very filling. Be prepared to sample the owners' very nice home made coffee and ginger liqueurs. They also serve breakfasts but we didn't sample them ourselves.
Itaca
- This restaurant is advertised as a Spanish restaurant and, living in Spain, the plan hadn't been to come to Vietnam and eat Spanish food! We passed by a couple of times and liked the ambiance, with lanterns and candles, so decided to give it a try one evening. They have a good selection of tapas but most of the main courses aren't actually spanish. It's a bit pricier than most but the food was very nice, particularly the BBQ lamb kebab served with pitta bread and yoghurt. The pasta arrabiata was nice but nothing like the usual version of this dish which is very spicy, with onion, tomato and chilli. This version wasn't remotely spicy and had other veggies including broccoli, corn and carrot! We also enjoyed a nice glass of chilled spanish red wine.
Winston's Burgers
- This restaurant is the closest restaurant to Daisy Resort, up a side street just off the main road. The restaurant is supposedly owned by an American and the burgers were authentic and very tasty and offered a nice change from Vietnamese food, but we didn't particularly like the ambiance and we didn't find the staff particularly friendly compared to other places.
Gecko Bar
Very friendly staff and ice cold beers in this quirky, colourful bar on the main road, just along from Daisy Resort.
Rock Bar
We had a beer in this bar a couple of times. Decent music and cold beers.


Things to do in Phu Quoc
Tours on Phu Quoc
If you're happy to rent a motor bike this would be the best way to explore the island, giving you the freedom to go where you want and spend as long as you want at places you're interested in. If this isn't your thing, there are tours that you can take, or you can hire a taxi driver to take you around as taxis are very cheap. We did a south island half day tour with John's Tours. On this tour they take you to a wine factory (first stop on the tour at around 9.30am!) to sample ultra sweet Vietnamese myrtle wine; a pearl farm (really just a shop although they show you how they remove pearls from their shells); coconut prison, the fish sauce factory (see more below*), pepper farm, Sao beach, Ho Quoc Pagoda (good views and interesting to look at, but surprised to hear that the pagoda is brand new and just opened late 2014!) and a small dirty fishing village which had nothing of interest to see. A stop at a waterfall is including in the wet season, but there is no water in December so this stop was omitted from the tour. The tour guide was friendly and did her best, but to be honest it was a bit of a waste of a day. The prison was the most interesting stop on the tour but we had hardly any time there and not enough time to read all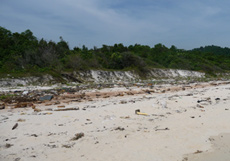 the boards giving information about the prison and the terrible conditions there during the war.
Sao Beach was a huge disappointment. We'd read several reports claiming that it is the best beach on Phu Quoc, but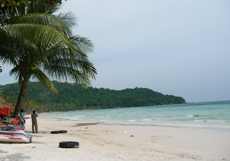 we've visited a lot of beautiful beaches over the years and this one isn't even worth a mention. We were dropped off at a restaurant where some people on the tour had chosen to have lunch included. We didn't, so we set off to explore, and headed along to the left where we passed a really dirty section of beach with lots of debris (see left). We walked further and eventually found a much nicer (ie cleaner) section of beach (see right) where we paid for beds and had a swim. It was OK but nothing special. Admittedly it was overcast and the beach and sea never looks as nice when the sun isn't out, but we could still find nothing about Sao beach to make it worth the effort to visit and a lot of work will have to be made to clean the beach up if they have hopes of making this an important tourist destination in the future.

Fish Sauce - We were keen to purchase fish sauce while in Phu Quoc but were advised when trying to purchase from the fish sauce factory on the island that it was forbidden to take fish sauce on flights from Phu Quoc and that it would be confiscated. We had not heard this before, and were disappointed, and landed up purchasing two miniature bottles which we wrapped incredibly carefully. However, at the airport we saw no signs warning about fish sauce and were not asked by the check-in staff. On return, we looked into this further and it appears that there was a ban several years ago, but now, as long as it cannot be smelt and is very well wrapped (well, would you really want pungent fish sauce to leak out in your case?!) there is no problem in taking it in your checked luggage. See this notice on Vietnam Airlines website which confirms that 'Perishables (such as: durian, salted fish, shrimp etc.) that have strong smell will not be allowed to be carried as checked and unchecked baggage. However, if such kinds of perishables are firmly packed so that they cannot be smelled, they may be accepted as checked baggage'. If we'd know this in advance we'd have bought more to take back with us. We were disappointed that the tour guide wasn't able to tell us this, and it would also be helpful if the fish sauce factory put some notices up in English confirming this, and even offered a wrapping service. They would also no doubt hugely increase their sales if they did this.
Medical Treatment in Phu Quoc - If you are unlucky enough to require medical treatment when you are in Phu Quoc you may be sent to the hospital in Duong Dong. Our experience there was not very good, although the first time we went we were accompanied by one of the staff at Daisy Resort who translated for us. Very few people at the hospital spoke english, so this was important and much appreciated. We were a bit concerned about the lack of cleanliness - no masks, gloves or, hand-washing, bare metal trolleys to lie on! - and the lack of privacy with no closed doors, so people wandering around everywhere and patients and other people peering at what was going on! We were told to return daily so that the wound could be cleaned and the dressing changed, but when we returned the following day they sent us to another clinic at the other end of Duong Dong, after already charging us for treatment there! The nurse at the hospital was particularly rude to us that day, and was the first, and probably the only, horrible person we encountered in Vietnam.

There is an international hospital which opened in summer 2015 on the north-west tip of the island, so any serious matters would no doubt be dealt with there. The cost of treatment at Duong Dong hospital was very cheap - 100,000 dong for a consultation (around £3) - but make sure you have travel insurance to cover any more serious treatment. When we were in Hoi An, the hotel owner arranged for a nurse to come to our room every day to change the dressing, so perhaps Daisy Resort and other hotels on the island could make arrangements with a local doctor or nurse to help with minor matters in future.


Click here to book hotels in Phu Quoc, read travellers reviews of those hotels and view lots of photos of the hotels
Some useful sites about Phu Quoc:

Trip Advisor - Reviews from other travellers and a useful forum
Travelfish Guide to Phu Quoc - Useful information here about Phu Quoc

*Note: Prices quoted above were accurate in 2015 - 2018