SIEM REAP, CAMBODIA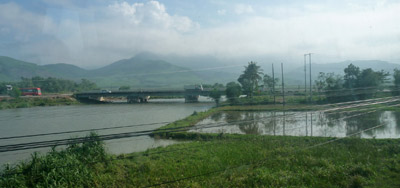 We spent 3 nights in Siem Reap in December 2014 and loved it. Cambodia is a fascinating country and the people are incredibly friendly. There is plenty to see in Siem Reap and Phnom Penh and a good standard of hotels and restaurants.
Transport
We travelled to Siem Reap from Koh Chang in Thailand, and the journey was an adventure to say the least! A mini bus picked us up at our hotel on Koh Chang first thing and drove us to the Thai Cambodia border. It's a relatively comfortable journey and takes about 4 hours. The bus company will probably take you to a restaurant where they try to sell cambodia visas to people who don't have them. It's best to arrange an E-visa online before you go, as this saves the danger of being scammed. Click here to arrange your E-visa - currently costs $30 + $6 processing fee for a single entry visa valid for 3 months for up to 30 days stay. The staff from the bus company tried to get us to change Thai baht into Cambodian riels before exiting Thailand, but don't do this, as the only currency you will need in Cambodia is US dollars, and the rate you get here is very poor.

Depending on the time of year you visit be prepared to spend a long time at the border. It took us about 30 minutes to exit Thailand and then you enter a very strange area which is No Man's Land (neither Thailand nor Cambodia). The queue to Cambodian Immigration was pretty long and we resisted paying extra to the staff from the bus company for fast track through immigration because it sounded too much like a scam. However, when we were still waiting after 2 hours we started to regret not paying the extra! When we finally got through immigration there was a bus waiting to take us to the bus station, and on that bus were some of the people who'd been on our mini bus and had paid extra for fast track! The journey to the bus station took longer than we'd expected but at least our taxi that we'd booked in Thailand as part of the journey was waiting for us. We landed up sharing the taxi with a guy who'd planned originally to take the bus to Siem Reap from the bus station but had been waiting for more than 3 hours and wasn't prepared to hang around any longer! The journey to Siem Reap took a very long 2 hours - it was quite terrifying! It reminded us of journeys in India where you're over-taking and a car is coming towards you or someone is overtaking coming in the opposite direction and you can't think how they're going to get back in their own lane on time! Anyway, we made it, and were so happy to eventually arrive at our hotel.
Accommodation in Siem Reap
288 Boutique Villa Hotel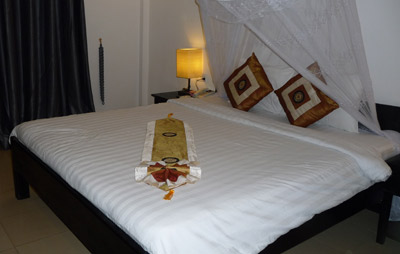 This was probably the friendliest hotel we have ever stayed in! The staff were just lovely, so smiley, friendly and helpful and it made our stay here so enjoyable. The hotel is in a good location, just 10-15 minutes walk from the centre.

Rooms aren't fancy but are comfortable and clean and value for money is excellent. The included breakfast is good, although the coffee in the glass jugs was really undrinkable! I think they'd be better just providing hot water and the Nescafe sachets as they provided in the rooms. There's a nice small outdoor swimming pool which we didn't use as we were so busy otherwise during our stay.

Click here to visit 288 Boutique Villa's website. Click here to reserve a room at 288 Boutique Villa, view photographs and read reviews by other travellers.
Things to see and do in Siem Reap
When you're in Siem Reap it goes without saying that you must go to Angkor Wat and the surrounding temples. Prepare to be amazed by these ancient (built around 12th century) huge temples. You can get a one day pass like us for $20*, or if you want to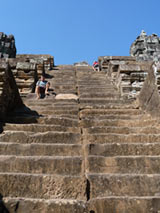 spend longer get a 2 or 3 day pass for $30 or a week long pass for $60. For us the one day pass was enough and we found that we could see all the temples we wanted to in one day. If you have time it's recommended to purchase your pass at 5:00pm the day before your visit. They will let you into the compound and you can catch a sunset (the sunset shots are great at Angkor Wat westside) and your pass will be activated the next day. 288 Boutique Villa organised a Tuk Tuk driver to take us on a day tour to all the main temples (starting at sunrise at Angkor Wat) so a 5am start, and they gave us each a breakfast pack to take with us, which was a nice touch. The tuk tuk with driver cost only 19$ for the day so was great value (would have been only 14$ if we hadn't gone at sunset). He drops you at each temple and waits so you can spend as long as you want at each. We just went with a driver but you can spend a bit more and get an actual guide if you prefer. Be sure to wear comfortable shoes as there is a lot of walking and climbing involved. Some of the temples have lots of steps to climb to the top (see right) and these can be quite steep and narrow so take your time going up (and down!). This website gives some useful information about visiting Angkor Watt

One thing we'd recommend - if going to the temples starting at sunrise, make sure you take a torch. We didn't and I nearly twisted my ankle as the paths etc. are very uneven and it's pitch dark in the temple areas with no lighting at all.

Click here to book hotels in Siem Reap, read travellers reviews of those hotels and view lots of photos of the hotels

Bars and Restaurants in Siem Reap

Our favourite meal when we were in Siem Reap was at Genevieve's. It's hugely popular so best to book ahead. We were passing and went in to book a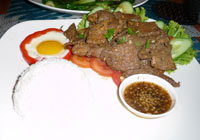 table and it was almost sold out for the next 3 days so we were glad we didn't just turn up. We had thai chicken cakes to start which were spicy and very tasty, followed by the best chicken amok we had on our trip (see left), and beef lok lak (see right), a local dish which was also very nice. Gareth couldn't resist the mango pancake with liqueur for dessert and wasn't disappointed. We had a nice bottle of red wine (Norton's Syrah) with our meal and the restaurant supply bottles of water free of charge, which is a nice touch. Service was also very good. The total came to just $30 which we thought was very good value. For more information visit Genevieve's Facebook page

If you fancy a change from Cambodian food, La Vida Mexican restaurant just round the corner from Pub Street was nice. We had a margarita and some chips and salsa to start, then shared a Chimichanga and a Burrito. The food was tasty but not at all spicy, but that was easily fixed by getting a side dish of jalapenos!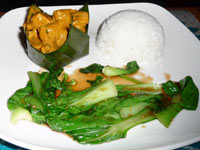 A nice place to have a drink or snack is The Sun, a bar/restaurant just opposite Pub Street. I can highly recommend the Watermelon and Lime Fruit Shake - absolutely delicious and super healthy!!


Some useful sites about Siem Reap:

Tourism of Cambodia - Tourism Cambodia's useful site with information about Siem Reap and the rest of Cambodia
Trip Advisor - Reviews from other travellers and a useful forum
Hotels in Siem Reap - Book hotels in Siem Reap Cambodia, read travellers reviews of those hotels and view photographs

*Note: Prices quoted above were accurate in 2014