SEVILLE SPAIN
We spent 3 nights in Seville in March/April 2007 and 2 nights in December 2013. Seville is Spain's fourth largest city, located in Andalucia in the south of Spain and is possibly the most beautiful city in the whole of Spain. The pedestrianised old centre is very picturesque with narrow winding streets, orange trees, pretty squares, impressive historic buildings and a large selection of tapas bars, cafes and restaurants. The Guadalquivir River runs through the city. Seville is an incredibly beautiful and photogenic city with many photo opportunities.
Seville is a very walkable city. You have no choice in the Barrio Santa Cruz area because most of it is pedestrianised, with streets too narrow for traffic. Apart from the bus from the airport, we didn't use transport at all. They have a metro and there are trams and buses, but we didn't use any of them.

The Airport Bus takes about 20-30 minutes depending on traffic. On the weekend we used it, we found this bus service to be extremely unreliable. On the way from the airport we had to wait an hour although it was meant to run every 30 minutes. It was even worse on the way back. We arrived just after 1.30pm and there was a long queue so we could tell that the 1.30pm bus hadn't been. The 1.45pm bus didn't come, or the 2.15pm one. People were understandably getting very irritated until the bus finally arrived at 2.25pm. This is the first bad experience we've ever had of an airport bus and it is very frustrating. A slight delay is acceptable because of traffic but there is just no excuse for delays of around an hour and this could cause people to miss flights. Hopefully this was just a one-off, but we would recommend that you give yourself plenty time if using the bus, in case of delays. This website give more information on the bus service and other transport options from Seville Airport
Seville Hotels
Click here to book great value hotels in Seville, view photos and read travellers' reviews
Hotels / Accommodation in Seville

Casas de Sevilla, Apartamentos Nazareno 5
We spent two nights at Casas de Seville Apartments in December 2013. The one-bedroom apartment was in Nazareno 5, on the first floor, and was really nice, super clean and modern and in a great location very close to the bullring and the cathedral, and with lots of bars and restaurants in the adjacent streets. It was quite small, but comfortable enough for a short stay. There is a small bedroom with double bed, a small 'fold-away' kitchen with microwave, full size fridge and small hob (we didn't use it, apart from the fridge), a small room with a sofa bed, 2 chairs and a TV, lots of wardrobe space throughout the apartment with ample hangers, and a small shower-room. There was also an a/c system and in December the hot air worked well to heat the apartment, except the bathroom where even the small electric radiator didn't heat the room up. The shower was very disappointing, as when you set it for hot water (which you certainly needed at this time of the year!) there was just a trickle of water, and you only got more power if you turned the water to cold. It wouldn't be a problem in the summer when you'd be using it on a much cooler setting. We got a fantastic deal which included free parking and Juan, the owner, met us on a street corner near the apartment and accompanied us to the car park and then took us to the apartment. Click here for more information.

Apartamentos Murillos, Seville


We stayed at the Apartamentos Murillos the first time we were in Seville in 2007. They are in a perfect location, on a narrow street in the Barrio Santa Cruz, walkable to everywhere and only 5 minutes walk from the Cathedral and Alcazar. We had a very nice modern, clean apartment with a nice comfortable lounge area, kitchen facilities including full size fridge and microwave, small bedroom (note: some of their double rooms are actually just two twin beds stuck together, but with individual sheets on each bed - if you want a double bed make sure you're given one when you check in) and bathroom. Our room was a one bedroom apartment, but they also have two bedroom apartments which would be idea for families. The apartment block is just round the corner from the Hotel Murillo where we had to go for breakfast. It was a cold breakfast buffet, with fruit, yoghurt, cereal, rolls, toast, croissants, cheese, ham, etc and we thought it was good value at just €5.10 per person*. Visit Apartamentos Murillos website . Click here to make a reservation at Aparatamentos Murillos, view photos and read reviews by other travellers.



Things to see and do in Seville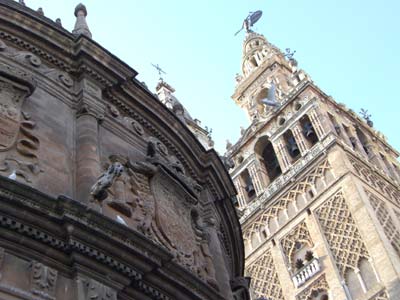 A must see is the incredible Seville Cathedral, the largest of all Roman Catholic cathedrals and lavishly decorated with sparkling gold and multi-coloured stained glass windows. It also contains the tomb of Christopher Columbus. Climb up the 35 floors of the Giralda bell tower for great views over the city. There aren't steps, apart from a few as you enter the bell tower, just a winding ramp with several places to stop for a breather and enjoy the views along the way. Opening hours are Monday-Saturday 11am- 5pm, Sundays 2.30pm - 6pm. Entry is €9* (free on Mondays) and well worth it.


Just opposite the Cathedral is the Royal Alcazar, the Palace which is the residence of Juán Carlos 1, King of Spain, when he visits Seville. There is some interesting Moorish, Gothic and Islamic architecture, fancy ceilings and beautiful gardens and courtyards. Entry is €7 and you can buy tickets in advance from their website. Opening hours: Tuesday to Saturday 9.30am to 5pm, Sundays and holidays: from 9.30am to 1.30pm, closed Mondays.

The first time we visited Seville we managed to miss Plaza de España, so made sure we visited the second time around! It's a beautiful place and well worth the short walk south from the historic centre to the Maria Luisa Park where it is located. Built in 1929 as the central office for the Ibero-American Exposition, ornate bridges cross a canal which has rowing boats to hire. Horses and carriages parade around the fountain and you can stroll round the beautiful square taking photos and enjoying the beauty. If you're a Star Wars fan you'll recognise it from The Phantom Menace and Attack of the Clones. It was also used for scenes of Laurence of Arabia and The Dictator.


If you are going to be in Seville in April you may be lucky enough to experience Semanta Santa (Holy Week), with its many religious processions and Feria de Abril festival two weeks later, when the city becomes one big party of food, drink and flamenco. Note that rooms can be hard to find at this time and prices increased. Click here for more information about Semana Santa.



There is a bullring in Seville, where you can go and see a bullfight if there's one on when you're there, or take a tour and visit the bullfighting museum. It's an impressive building, even from the outside.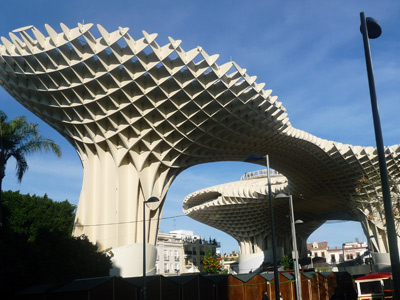 The Metropol Parasol is an interesting but somewhat strange piece of modern architecture which looks a bit out of place amidst the old buildings around it. Also known as 'Las Setas' as it looks a bit like giant mushrooms, you go down to the basement (don't try to climb the stairs as we did as there's no way in at the top!) where you get a lift up to the upper structure for €3 which includes a drink. The views are good but not amazing as it's not really that high up, although we have read that it's best to go up at night.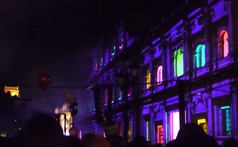 If, like us, you're in Seville at Christmas time don't miss the 3D light display on the ayuntamiento building (city hall) in Plaza Nueva. Expect huge crowds so don't leave it till the last minute or you won't get a good view. The Christmas lights throughout the city are very nice also, and the huge amount of ponsiettas around make it look even more beautiful than usual.
Flamenco Shows in Seville

We would thoroughly recommend the Flamenco show at Casa de la Memoria, Calle Ximenez de Encisco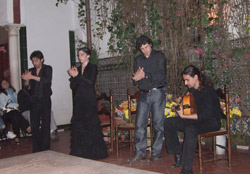 (a narrow pedestrianised street in Barrio Santa Cruz just north east of the Alcazar). The show lasts for an hour and the one we went to started with a guitarist and singer who are joined later in the show by a male and a female dancer. Different artists perform on different days, but we would imagine the standard would be good every night. We went on a Saturday and the performers were Vicente Gelo (a Flamenco singer with a very strong voice and a very emotive style), Juan Campallo (an impressive Flamenco guitarist) and Marta Arias and Juan Carlos Cardoso (excellent Flamenco dancers). It is a very passionate performance and excellent value at just €16*. It is a small, intimate setting so make sure you buy your tickets early in the day or the day before, as they usually sell out. Also, make sure you turn up at least half an hour before the performance starts

to get a good seat. Visit their website for more information

On our second visit we had planned to visit La Carboneria which has flamenco performances every night at around 11pm, on Calle Levies 18 but didn't have a chance - maybe next time! It's seemingly hidden away behind a red door, is nothing fancy, looks like a working bar, but has no cover charge, you can just buy a drink and the drinks are meant to be reasonable. Get more information here.

Another place we haven't tried but is meant to be good for an improvised show is La Taberna on Calle Duarte in Triana. Drinks are all you pay for, after that sit back and enjoy the flamenco - normally singing and guitar.
Bars and Restaurants in Seville
There is a huge selection of places to eat and drink in Seville. In the Barrio Santa Cruz area you can hardly turn a corner without seeing a tapas bar or restaurant, and Calle Mateus Gago near the cathedral is one of the busiest streets, with a huge selection of places to eat or drink.

The other popular place is across the river where Calle Betis has a lot of bars and a few restaurants. Please note however that Calle Betis does not get going till later in the evening - some of the restaurants and bars don't open till after 9pm. We enjoyed it the first time we were there, but the second time we found it too quiet (possibly because it was Sunday?) and crossed back over the river after just one drink.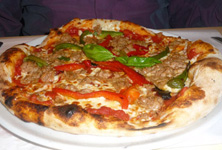 We had a nice Italian meal at L'Oca Giuliva on Calle Mateos Gago. We tried to get a table earlier in the night but it was full, so they told us to come back at 10.30pm. We decided to wait so we went for a drink nearby, then returned and managed to get a table at about 10.15pm. By then we were starving, so a bit disappointed that the service was so slow, although it was very busy. We wolfed down the bread and breadsticks while we waited for our pizza and pasta! The Pizza Tonno with roasted red peppers and tuna (see left) was very nice, as was the Rigatoni Amatriciana, although it was a bit oily. Both dishes cost €9.50.
Click here to book discount hotel rooms in Seville, Spain, view photographs and read reviews by other travellers.
Sometimes you just fancy a change from tapas or standard Spanish fare, and in December 2013 we decided to try out the Mexican restaurant that was No 1 in Trip Advisor at the time, La Cantina Mexicana. It's a bit difficult to find, hidden away up an alley, but it's worth searching it out. We happened to pass by during the day and decided to book a table for the evening, and we'd recommend that you book if you want to eat here as we saw many people being turned away as they just turned up hoping to get a table without a booking. It's nothing fancy inside, but service is friendly and the food very tasty. The margaritas are nice too! We were given some nice spicy salsa and chips to nibble on as we chose what to eat. We weren't sure what to order so we decided to try their recommended top 5 dishes to share - enchilada verde, tostada de tinga with chicken, huarachea al pastor, panucho and queca de pollo. It was a nice combination, a bit like having Mexican tapas as there were different things to try, everything was tasty, not overly bland and too cheesy as some Mexican food can be, and our bill for the above food, some guacamole, 3 margaritas, a tinto de verano and a bottle of water came to less than €40 (£33 at current exchange rate) and we were full up, but not uncomfortably so. For more information visit their Facebook page.

A nice place to have lunch is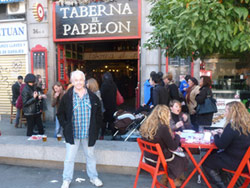 Taberna El Papelon near the cathedral on Calle Santa Maria La Blanca. When we went it was very busy and the place had a real buzz. You order your food and drink and are given a number and then wait for the food to be delivered to you. They have an incredible selection of cheese and hams and have nice focaccia sandwiches and different types of spanish tortillas. Their potato salad with prawns was very tasty and filling, and they had lots of different types of olives, seafood salads, etc. They also serve breakfast - perhaps we should have tried them as it took us 3 attempts to get served for breakfast one morning in small cafes across from the cathedral! Visit their website for more information.

The scrambled eggs with prawns, mushroom and spring onions at Antigua Taberna, Los Escobas in Centro was delicious and the veal steak tender and served with a nice selection of vegetables and potatoes.
A nice bar to have a drink is the popular T de Triana Cafe Bar on Calle Betis 20. You can sit inside or out. Service is friendly, and the tapas was very nice, especially the tender chicken with bacon and cheese ( €3 per portion*) and they have a very good selection.
Also on Calle Betis Mama Mia has nice Pizza Diavola (with mozzarella, tomato, garlic & chilli) and reasonable prices.

On Calle Mateus Gago we had a nice glass of Sangria and some tapas at Alcazaba. A great place to people watch too! Patanchon has friendly staff and cold beers! Bodego Santa Cruz, just round the corner on Calle Rodrigo Caro is a very popular place, and always seemed to be busy.
Some useful sites about Seville:

Click here to book great value hotels in Seville, view photos and read reviews by other tourists

The Guardian - Seville - Some useful articles from The Guardian on Seville
Trip Advisor - Reviews from other travellers and a useful forum


Click here to book great value hotels in Seville





*Note: Prices quoted above were accurate in 2013-18