IBIZA SPAIN
We visited Ibiza in September 2018. I had never been there before and was looking forward to it but apprehensive in a way because of its reputation as a party island. We decided to stay in the resort of Sana Eulalia (or sometimes called Eularia) del Rio and found it a really nice place. There are plenty of bars and restaurants for night but it's not overly touristy, and is a working town. We'd probably stay there again if we came back to Ibiza. One of the landmarks of Santa Eulalia is the Puig de Missa church located 52 meters above sea level and offering wonderful views from the top of the hill. There's a nice easy walk along the river and up to the Church which is lovely and well worth the visit. The church itself is only open 10am till 2pm.
We hired a car so we could explore the island. There was free parking just up from our hotel at Carrer de la Vénda des Coloms. The nearest petrol station to Ibiza Airport is Cepsa on a road that runs parallel to the main airport road. Look for sign San Jordi Sa Canal/Platja d'En Bossa and turn off to right. The petrol station is on the right, just along from there at PK 4.5, PM-801, 07830 Sant Josep de sa Talaia
Ibiza Hotels
Hotel Ca's Catala - Adults Only
We spent 3 nights here in September 2018. Very friendly communication from the original owner Kim. Beautiful setting. Our room was small but comfortable with views over the pool and garden. We had a private bathroom, but it was across the corridor (all that was available when we went to book). Nice continental breakfast for 7 euros with fresh fruit and croissants, ham, cheese, cereal, freshly squeezed orange juice. We'd happily stay at Ca's Catala again. Visit their website for more information or go here to book a room, read reviews and view photographs.
Click here to book great value hotels in Santa Eulalia, or in Ibiza in general, view photos and read travellers' reviews
Bars and Restaurants in Santa Eulalia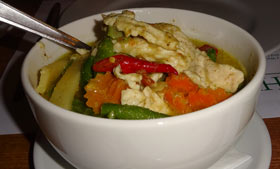 Being lovers of Thai food we were keen to try Chiang Mai Thai Restaurant on Carrer de Sant Vicent, 25. It was the most authentic Thai meal we've had outside Thailand in a long time, and was so good we went back a second time!!
We also had a really nice meal at Ristorante San Martino at Paseo Maritimo on the seafront. It's a very popular place so might be best to book. We didn't, but didn't have to wait too long for a table in the end. The food was excellent, the pizza particularly nice (Bufalo e Crudo with mozzarella, ham and rucula) with a lovely crispy base, but the Quinoa salad with sweet potato was also very tasty. The service was very slow and I think they'd actually forgotten about our order, but at least it was worth it when it arrived!
Places to visit in Ibiza

Santa Gertrudis de Fruitera is located 12km north of Ibiza town in the middle of the island surrounded by pretty countryside and fruit trees. It's a small village with cafes, art galleries and a selection of nice shops.
You can't go to Ibiza without visiting Ibiza Town, about 20 minutes drive from Santa Eulalia. There is a large free car park behind IKEA (Parking Es Gorg) near the Pacha roundabout. From here it is only a 15 min walk along the harbour into town; in summer there is also a free shuttle bus running from the stop every 15 minutes into the centre (line 50, between 9.00 - 14.15 h and 17 - 21.15 h). Even in high season you almost always find a parking spot here. There is another car park next to the Congress Centre of Ibiza (Fecoef). From here it is a 15 min. walk into the town centre.

Walk up to the old town (Dalt Villa) for good views, nice shops, bars, etc. Enter via the Portal de Ses Taules gateway and wind your way uphill on thecobbled path: all lanes lead to the cathedral-topped summit.

Es Cubells, South Ibiza - One of the tiniest villages - it takes just about 5 minutes to walk around. There's a beautiful church, two bar/restaurants and spectacular views. Situated on top of a cliff you can look down into the clear and turquoise waters and take a walk along one of the winding paths down to the shore.
Sant Joan de Labritja in the north of the island has a huge market in the village square every Sunday from 10:30 – 3pm.
Cala Vadella, South West Ibiza - Driving down the steep road leading into Cala Vadella from the south you get a glimpse of the beautiful bay, and you will find this to be a picturesque and quite lively resort. The pretty bay is small and sheltered with a lovely beach and a selection of shops and restaurants nearby. There is plenty accommodation only steps away from the beach, restaurants and other amenities.
Portinatx, North Ibiza - The most northerly point of Ibiza is the town of Portinatx, 29km north of Ibiza Town. There are three lovely beaches in the area and they can get quite busy during summer but there is plenty to do, including water sports. This is very much a resort for package tourists and families, but is still very pretty and has a wide choice of restaurants.

Some useful sites about Ibiza:

Illes Balears - Useful site with info about accommodation, food and drink, things to do and what's on
Ibiza Official Tourist Site - Events diary, maps, places to visit, etc.
Trip Advisor - Reviews from other travellers and a useful forum