We spent 3 nights in Venice in March 2005 and found it to be an absolutely gorgeous city, unlike anywhere else in the world, and very picturesque.
Venice is built on 118 islands formed by about 150 canals with about 400 bridges connecting the islands on which the city is built. There are no cars on Venice - you get about by boat or on foot. Perhaps March was a good time to go because we have read reports about the crazy crowds of tourists and the smells from the canals, but we didn't find it too busy and didn't notice any smell, so possibly that is an advantage of going when it's cooler. It's somewhere we definitely would like to visit again.

Transport
When you arrive at Venice Airport, there are three options for getting into Venice. We took the Alilaguna water bus - a journey of about an hour. Just follow the signs at the airport for the Alilaguna. Click
here
for more information. You'll see that it's cheaper to book ahead, and also a return ticket is cheaper than 2 separate one-way tickets
If you're happy to spend more money (probably around 150 euros) you can get a water taxi which takes around 30 minutes. You can pick up the water taxis beside the Alilaguna stop. Alternatively you can get a bus for around €3. Take either the blue ATVO bus (ATVO Venezia Air Terminal) or the orange ACTV Bus No. 5. Both leave from the second platform outside the arrivals hall and take about 20 minutes. They take you to Piazzale Roma where you can finish your journey by foot or pick up a regular water bus.
Accommodation in Venice
Hotel Kette, Venice

This is a nice 4* hotel in a great location, on a little back lane about 2 minutes walk from St Mark's Square. Clean, comfortable rooms, good cold breakfast buffet with cereal, rolls, cheese, ham, etc. Visit Hotel Kette's website. Click here to book a room at Hotel Kette, Venice, view lots of photos and read reviews by other travellers.


Things to see and do in Venice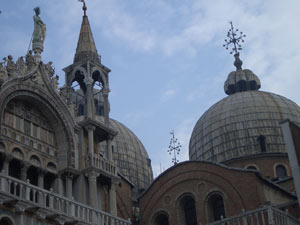 You can't visit Venice without going to St Mark's Square. Go inside the Basilica (we were amazed that entrance is free - you just pay if you want to go to the museum). It's very impressive, very grand. Open from 9.45am to 4.45pm. Find out more about it here. Climb to the top of the Campanile tower opposite for great views over Venice. There are lots of cafes in St Mark's Square but they are, not surprisingly, very expensive.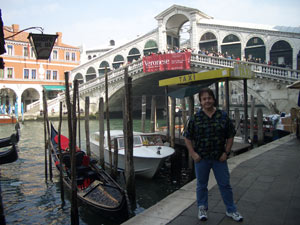 The Rialto Bridge is a fantastic place to watch the world go by and enjoy the wonderful views. Watch delivery men arrive in their boats and unload their goods. Just round from the Rialto Bridge is an interesting market with lots of multi-coloured pasta, fresh fruit, vegetables and other goods.
You can cross from one side of the canal to the other by using a gondola taxi or traghetto. They're very cheap, and everyone stands up so it looked as if it would be hard to keep your balance, but it wasn't! Because we were on the river all the time, using the Vaporetto and taxis we didn't feel the need to charter a gondola. If you decide to do this, make sure you agree a price before you set out, make sure it's a total cost and not per person, and ask about any extras. Some charge extra for singing, etc or if they go 5 minutes over their standard journey time.
Another place for fabulous views of the Grand Canal is the Academia Bridge (see left). It's a great place to take photographs of the amazingly picturesque view in front of you!
We bought a one-day Vaporetto pass which is worthwhile if you plan to travel a bit further afield. Get information here about the pass. We used it to go to Burano and Murano. Burano was so cute - lots of lovely multi-coloured houses, bridges, little canals. A gorgeous place and, again, very picturesque. They make lace there, so there are lots of little lace shops. We had a nice lunch at Bar Cafe Palmisano on the main street - the Paninone sandwich with mozzarella, tomato, basil was delicious with a chilled glass of white wine. It was a lovely place to sit and people-watch. Murano has lots of glass shops and is also worth a visit - you can even see displays of glass blowing.
Bars and Restaurants in Venice
Unfortunately our experiences of eating and drinking in Venice weren't as good as we'd hoped. We walked through the Dorsoduro area during the day and there were several bars and restaurants so it looked like it would be good to come back to at night. However although we found a couple of bars to have a drink, we found that restaurants were closing really early, even as early as 9.30pm, which isn't what we're used to when travelling in Europe. This must have been because we were there in low season as I'm sure in the summer places must stay open much later. Our quest next time we visit Venice will be to find some restaurants to recommend!

Some useful sites about Venice:

Timeout Venice - More useful information about Venice here
The Guardian - Venice - Some useful articles from The Guardian on Venice
Trip Advisor - Reviews from other travellers and a useful forum
Hotels in Venice - Book hotels in Venice, read reviews from other travellers and view photos


Other places in Italy: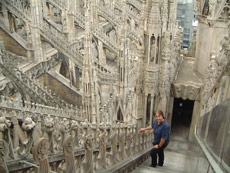 We haven't had a lot of luck with our travels in Italy. Venice has been by far our favourite place. We visited
Milan
in May 2003 and to be quite honest it wasn't our favourite city by a long way. We found it lacking in charm, covered in graffiti and amazingly we also found it very hard to get anywhere nice to eat and drink! Even the spectacular Duomo Cathedral was covered in scaffolding when we were there, although it's still a spectacular building and well worth the climb for views from the top.Perhaps if you're interested in designer shops and fashion you would be impressed by Milan. It just wasn't for us! We stayed at the 3* Una Mediterraneo Hotel. It was OK with clean rooms and acceptable buffet breakfast, but was nothing special. There's not much in the area around the hotel, but it's just a couple of blocks to the nearest metro station so it's easy to get around. Click
here
for more information.
The highlight of our trip to Milan was our visit to
Lake Como
, about an hour's train journey from Milan. We would not be too interested in returning to Milan but we'd certainly go back to Lake Como. There are lots of nice little bars and cafes, you can take a boat ride along the lake and just relax and enjoy the beauty. There are lots of scenic little towns along the lake such as Varenna, Bellagio, and Menaggio, but we didn't have a chance to explore them. Take the 7 minute cable car journey from Como to the tiny mountain village of Brunate for great views over Lake Como.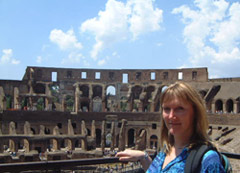 We visited Rome in June 2002, travelling with Air France who managed to lose our luggage. Things were worse because we found that it was a holiday weekend and shops were closed. We spent most of the weekend trying to contact the airport and Air France, who were totally unhelpful. We even had to go back and forth to the airport to see if we could find our own luggage in the room that was packed full of lost luggage. We finally got our luggage delivered to our home about 2 weeks after we got home! We've never trusted Air France since. Rome does seem like a beautiful city, and we'd like to visit again under normal circumstances as our time there was a bit of a disaster!
We both had family holidays in Rimini in the 70s, but neither of us have any desire to return! Anne had a great family holiday in Lido di Jesolo in the 70s too, and fond memories of a day trip to Venice. Jesolo is an option for people wanting to visit Venice but wanting a beach holiday. You can get to Venice in around an hour, so if you think a day in Venice will be enough for you look into staying in Jesolo. It can work out cheaper in the off-season too as rooms can be found in Jesolo at good rates. Although it was a long time ago, we stayed at the fantastic Hotel Le Soleil right on the beach and it is still there getting great reviews. A private shuttle service is available to and from the airport.
Click here to book a room at Hotel Le Soleil, read reviews and view lots of photographs of the hotel.