We visited Koh Samet (sometimes called Koh Samed) in December 2008 when we spent 5 nights at Samed Villa on Ao Phai Beach. oh Samet is a National Park in Rayong Province, popular with Thais and tourists because of its proximity to Bangkok and its gorgeous white sand beaches. To get there you take a bus from Eastern Bus Station in Bangkok (Ekkamai) to Ban Phe where you get a ferry to Koh Samet. The bus takes between 3 and 4 hours depending on traffic and cost about 165B* one way. The ferry takes about 30 minutes and cost 50B.

Some of the hotels on Koh Samet have their own speedboat and will offer to collect you from Ban Phe. We contacted Samed Villa to ask about this service and were told to get back to them the day before we were due to arrive. We did this and received a standard e-mail reply.... asking us to get back to them the day before we were due to arrive!?! Their regular speedboat service cost 250B per person but they said we could rent the speedboat if we wished for 1400B! Needless to say we took the regular ferry for 50B each and were quite happy with that service - no need to pay extra for speedboat unless you really want it.

We enjoyed our few days on Koh Samet but felt that 5 nights (4 days) was about the right length of time to spend there. There isn't really much to do on the island - it's a great place to chill - but if you don't like lazing on the beach, swimming in the sea and having romantic nights it's probably not for you. The beaches are absolutely gorgeous and the main reason for going there. The sand is incredibly white and soft - lovely to walk along. You can have long walks along the beach (it's easy to walk to the end of Sai Kaew beach from Ao Phai) or you could hire a motor bike and explore. There aren't many shops on the island apart from places to buy water, sunscreen and toiletries, apart from a few down by the end of Sai Kaew beach, the busiest section of beach.

Samed Villa
We stayed for 5 nights in a seaview villa at this Swiss run hotel on Ao Phai Beach. When we were booking accommodation for our trip, we found it quite hard to select accommodation on Samet and when we arrived we were a bit disappointed with our room, considering what we were paying for it. However, by the end of our stay we hadn't seen anywhere else that looked as nice.

Because there is a limited choice of places to stay, accommodation on Samet is expensive compared to other resorts. For example we paid the same for our villa here as we did for a gorgeous room at Baan Khaolak on Khao Lak. There was nothing particularly wrong with the room here, it just had no wow factor like the one in Khao Lak. It was clean (although the cleaning service left a lot to be desired and they didn't seem to like cleaning the shower although there was sand all over the floor!), the air con worked well, the bed was quite comfortable, but simple things like there being no pictures on the wall, the shower being little more than a trickle, there being only cold water from the sink tap, made it feel like quite basic accommodation, but at anything but basic prices. Also, we received the most unfriendly welcome at check-in and generally the staff were much less friendly here than at most other hotels we've been to.

The restaurant at Samet Villa was very good - lunches and evening meals were the best we had on the island. The Thai curries were delicious and reasonably priced. At night it was really nice to have a meal on the beach, but our only complaint was that the drinks were never cold enough. This was the same at lunchtime and at night - probably their fridge just isn't turned up enough. For some reason breakfast was a bit of a shambles. Someone please do them a favour and buy them a new toaster! The toaster was the most popular item for breakfast but it hardly worked! Also, we were always having to ask for cups, glasses, cutlery - you name it - as the staff just didn't seem to be on the ball at all and never seemed to notice if something had run out.


Restaurants and Bars in Koh Samet
Nightlife on Koh Samet is pretty low key, certainly on Ao Phai beach. It's very romantic at night because the hotels put out tables, cushions and candles on the beach at night.

We really liked the restaurant at Samed Villa but it closed really early, usually around 10pm, so you couldn't leave it too late to eat. We actually had a Xmas Eve Dinner there which was very good. We hate the way so many hotels in Thailand have a compulsory dinner on Xmas Eve and sometimes New Years Eve too. These are usually really expensive too. The Xmas Eve Dinner at Samed Villa wasn't compulsory and at 480B per person we thought it was good value. We got a couple of glasses of Sangria when we arrived, then there was a good choice of food in the buffet. For starters there were spring rolls and a good selection of fresh, crispy salad. There was very tasty ham, lean pork, roast beef, king prawns, massamun beef curry (very mild), chicken with cashew nuts, some fish dishes, etc. The meat was all very tender and good quality. For desert there was fresh fruit and ice cream. We moved on to Silver Sands after our meal, because the drinks were never cold enough for us at Samed Villa!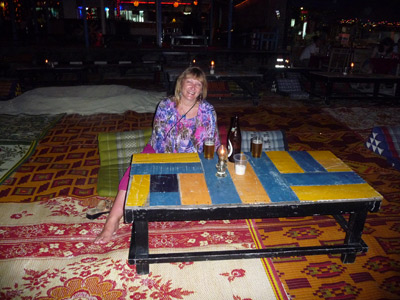 The best place for drinks was Silver Sands, next door to Samed Villa, where the beer was ice cold and usually even served in chilled glasses (Samed Villa take note!). It was nice to sit on their cushions on the beach (see right) with a nice cold drink. We ate there once but didn't think the food was nearly as good as at Samed Villa.

We had lunch one day at Gecko Bar, across the road at the back of Silver Sands but the food was nothing special and there were loads of flies about.


Things to do on Koh Samet:
We chose to spend our time on Koh Samet chilling out completely and its a great place for a very relaxing few days break. However, if you don't fancy too lazy a time here there are things to do including boat trips which take you to other beaches on the island, and snorkelling trips (although we heard that the snorkelling in this area isn't great).
There are also water sports on Sai Kaew beach including jet skis, paragliding and windsurfing.
Click here to book great value hotels on Koh Samet, view photos and read reviews by other travellers.
Some useful sites about Koh Samet:
Koh Samet
- Useful site with hotel information, details of beaches, etc
Koh Samet Hotels & Resorts
- More useful stuff about Samet with info on restaurants, bars, maps, accommodation, etc
Trip Advisor - Reviews from other travellers and a useful forum