We love the Far East. It is so different from the rest of the world with friendly people, fascinating scenery, amazing food, colourful sights and architecture. Our very first taste of the Far East was a holiday to Hong Kong and Thailand in 1990 and it opened our eyes to what an amazing world there was out there and we couldn't wait to explore more! Although we were jetlagged when we landed in Hong Kong after a long haul flight, we checked in to our hotel and immediately went out to explore, walking the length of Nathan Road down to the fabulous Hong Kong Harbour. Sleep could wait!

A few nights in Bangkok, a few days in Koh Samui (SO different to the Samui of today with very few hotels and deserted beaches!) and a few days at Karon Beach in Phuket were equally fascinating. We had fallen in love! Since then, we have visited Thailand many times since and it remains a favourite country of ours.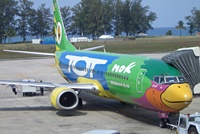 We visited Malaysia, Singapore, Philippines and Indonesia on our travels in 1993 and have returned a few times to Bali where Ubud is another favourite place.

Cambodia and Vietnam were more recent visits, but places that we loved.