PHNOM PENH, CAMBODIA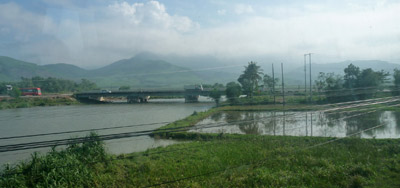 We spent 2 nights in Phnom Penh in December 2014 and found it a fascinating place.
Transport
We flew to Phnom Penmh from Siem Reap using Cambodian Angkor Air. It's a short flight of less than an hour, although you can go by bus which will take about 6 hours. We decided to fly because we didn't have a lot of time. We got a taxi from the airport to our hotel which cost $12 each way* and took about an hour when we arrived and the traffic was horrendous but the return journey just took about 1/2 an hour.

Accommodation in Phnom Penh
One Up Banana Hotel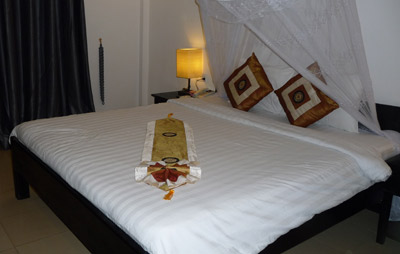 We stayed at the One Up Banana nice little hotel which was excellent value for money with friendly staff and comfortable rooms. They don't have a restaurant although you can order a simple breakfast in your room by completing a form the night before, but we didn't use this service instead using local cafes just a few minutes walk away. The location was good and there were always tuk tuk drivers around to take you wherever you wanted to go. We used one of them to take us to The Killing Fields at a cost of $18.
Click here to reserve a room at One Up Banana Hotel, view photographs and read reviews by other travellers.

Book great value hotels in Phnom Penh, view lots of photographs of rooms and read reviews by other travellers
hotels and restaurants.
This was probably the friendliest hotel we have ever stayed in! The staff were just lovely, so smiley, friendly and helpful and it made our stay here so enjoyable. The hotel is in a good location, just 10-15 minutes walk from the centre.

Rooms aren't fancy but are comfortable and clean and value for money is excellent. The included breakfast is good, although the coffee in the glass jugs was really undrinkable! I think they'd be better just providing hot water and the Nescafe sachets as they provided in the rooms. There's a nice small outdoor swimming pool which we didn't use as we were so busy otherwise during our stay.

Click here to visit 288 Boutique Villa's website. Click here to reserve a room at 288 Boutique Villa, view photographs and read reviews by other travellers.
Things to see and do in Phnom Penh
When you're in Phnom Penh you must go to The Killing Fields and S21 Prison. The Killing Fields is incredibly harrowing, but if you visit Cambodia you need to know what these people have gone through in relatively recent times. We read a few books about life under the Khmer Rouge before our trip andwere glad that we had learned more about the horrors of Cambodia before going there. One particularly brilliant book is 'Survival in the Killing Fields' which was written by Haing Ngor, best known for his academy award-winning role as Dith Pran in "The Killing Fields" movie, but whose story of survival is quite incredible.

Anyway, visiting The Killing Fields costs just $6 ($3 entry and $3 for a headset which gives commentary in your own language). We spent about 2 hours there as there was a lot to listen to and see. S21 prison also costs $3, and is really interesting but isn't as good as The Killing Fields. If you only have time for one, we would make The Killing Fields a priority. It's on the outskirts of Phnom Penh so you'll have to get a taxi or tuk-tuk, or go as part of an arranged tour if that's what you prefer.

The Russian Market is featured in all the guide books so we decided to have a look round, but wished we hadn't bothered! It was dirty, smelly, hot and full of lots of rubbish. Much better is Central Market which has a much better selection of stalls.


Click here to book hotels in Phnom Penh, read travellers reviews of those hotels and view lots of photos of the hotels

Bars and Restaurants in Phnom Penh
We had a nice meal at Frizz on Street 240. We were a bit disappointed when our first choices from the menu weren't available, but the red and green chicken curries were delicious and great value for money at only $4.50 each. They also run a cooking class here, if you want to learn how to make Cambodian dishes.

Next door to Frizz is Freebird Bar where we had a few drinks before going for our meal. As luck would have it, it was a Friday and lady's night! This meant that ladies get 2 for 1. The staff were very friendly and service was very good, as were the mojitos!

Breakfast at Browns Cafe has several branches in Phnom Penh including one just down the road from One Up Banana. We had a very nice breakfast there. The coffee was very good and the pancakes with fresh fruit (see right) and the muesli with fresh fruit and yoghurt were delicious (both cost $3.50).

Anjali down by the riverside was an Indian run cafe where we had some delicious onion bhajis and spring rolls for lunch.

Some useful sites about Phnom Penh:
Phnom Penh Lonely Planet - Lots of useful information about Phnom Penh from Lonely Planet
The Guardian - Phnom Penh - Useful article from The Guardian on how to spend 3 days in Phnom Penh
Trip Advisor - Reviews from other travellers and a useful forum
Hotels in Phnom Penh - Book hotels in Phnom Penh, read travellers reviews of those hotels and view photographs

*Note: Prices quoted above were accurate in 2014