On our trip to Cape Town, South Africa in December 2007, we couldn't decide whether it would be better to stay at the beach or in the city so we split our time between Camps Bay and Tamboerskloof. If you don't have a car we would recommend Tamboerskloof as it is central and close to most of the main attractions including Table Mountain. There are lots of nice restaurants and bars on Kloof Street and the area around there, and these are walkable from An African Villa, even at night.


Accommodation in Cape Town
An African Villa
We absolutely loved this boutique style guest house where we stayed for 6 nights at the end of December 07. It is absolutely beautiful - decorated in contemporary African style - very classy - and the rooms are gorgeous. There are three different types of room - standard, classic and superior. We stayed in a classic (Room B3) which was upstairs with a view of the top of Table Mountain and looking on to the courtyard where breakfast was served. All rooms are en-suite with shower, have air conditioning and either king or twin beds (our king bed was extremely comfortable).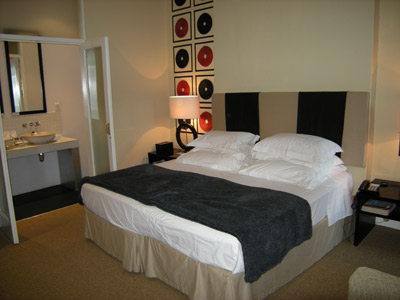 The superior rooms also have a balcony and a bath. The standard rooms are downstairs, facing the street. The breakfast selection is comprehensive including a range of items to select yourself (fresh fruit, yoghurt, cereal, etc) and full cooked breakfast to order from the very friendly staff. The breakfasts are delicious. There are 2 computers in the lounge offering free internet access and if you have your laptop with you there is free wireless access in your room. The location is great too - it's situated in Tamboerskloof and easy to walk to restaurants and shops (even at night) and just a R40 taxi ride to the waterfront. This is the ideal place to stay if you don't plan on hiring a car while you're in Cape Town.

When we arrived Louis sat down with us and gave us info about the guest house, the area, restaurants, etc. All recommendations they gave us were excellent. There is an information guide in your room with more tips and there are even numbers supplied for a taxi company, restaurants, main tourist attractions, etc which you can dial free of charge from your room or the lounge.

We were in South Africa for 3 weeks, staying mostly in guest houses and this one stood out for many reasons, one being the friendliness and helpfullness of all the staff. Nothing was too much trouble and the staff went out of their way to help when a) they managed to get us tickets for Robben Island when every other company had advised us they were sold out, b) Louis phoned round to find a restaurant for us to spend New Year's Eve when many places were full - Rozenhof where the food was delicious, c) they surprised us one evening by delivering a bottle of champage on ice to our room. We'd mentioned when we booked the room several months previously that this was a special holiday to celebrate our silver wedding anniversary and they'd obviously made a note of that. Very nice! d) they took our laundry to a laundrette because their usual service was closed over the holidays and e) Louis found somewhere for us to have a shower before our late flight as we had to check out at 11am and they were full so couldn't extend our room. If we were being really picky the only thing we could think to improve would be to have a fridge in our room to have easy access to cold drinks during the night. However, there is an honesty bar in the kitchen where you can purchase water, soft drinks, wine and beer. We would recommend An African Villa without hesitation and look forward to staying here again in the future. Click here to view An African Villa's website or click here to book a room, view lots of photos and read reviews from other travellers.
Camps Bay Ridge
This is a nice guesthouse in Camps Bay, an upmarket beach suburb of Cape Town. We stayed here for 5 nights in December 07 at the start of our South African trip. We stayed in the Loft Room which is a gorgeous room - clean, bright and airy with a sunken bath, fridge, open plan shower and sink, large comfortable bed, balcony and great views of the ocean. Breakfasts are served communal style at a large table, where you can help yourself to delicious fresh fruit, rolls and fruit juice and then order one of the owner Joerg's delicious omelettes. There is a computer which guests can use free of charge, but you may be disappointed if you hope to use your laptop in your room to connect - there is a charge of R200*! This was the only place we stayed in South Africa that charged for this service.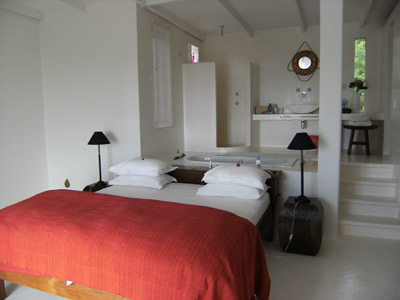 The guesthouse is about 20-25 minutes walk down to the beach front. It's downhill all the way there, but would be quite a hike back uphill! We hired a car after a few days and would say if you are staying here it is really essential. We usually walked down to the front in the evenings and got a taxi back. Camps Bay is a nice place, but to be perfectly honest we were slightly disappointed. The beach is nice, but can get very busy if the weather's good. There are a few nice restaurants but not much else - very few shops for example and only a handful of bars - and we just felt it lacked that 'spark'.


We enjoyed our stay at Camps Bay Ridge, but unfortunately our time there was spoilt by the fact that our room was broken into on our third night there, as we slept. A wallet with money, credit cards etc, our camera (with 2 full days of photos), binoculars and speakers were stolen - we'd laid these things out on a shelf close to our bed in preparation for a tour we had planned for the following day. We were in a first floor room, and left our balcony door slightly open to get air (the room doesn't have air con). It appears that a nimble thief had (with help) climbed up the extremely high wall at the front of the guest house, managed to pull himself up to our balcony and had squeezed through our patio doors. It could have been worse as several pieces of jewellery were lying close to the goods that were stolen. The thief probably thought that lifting the jewellery could make too much noise and waken us. It would have been very scary if we'd woken to find someone in our room. It was disappointing to say the least to be victims of crime in South Africa, so early in our holiday, but we didn't experience any problems anywhere else. We went down to the police station in Camps Bay to report the crime and it appears that this is a common occurrence in the area, although most properties have security signs prominently displayed. Joerg told us that this had never happened before, and he has since confirmed that he has put spikes on the wall to ensure this won't happen again. When we went to pay our bill (only cash accepted - no credit cards) Joerg kindly charged us for only 4 nights because of the burglary. We're really happy to hear that Joerg acted quickly to put up the spikes and we would therefore have no hesitation in recommending Camps Bay Ridge. Click here to view their website.
If you book a room at Camps Bay Ridge after reading this review, we'd appreciate if you'd let them know that you found them on TravelJimmy.com - thanks!
Places to eat and drink in Cape Town
Cape Town has a huge selection of good quality restaurants and we had some really excellent meals here. Some of our favourites are: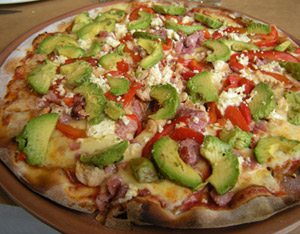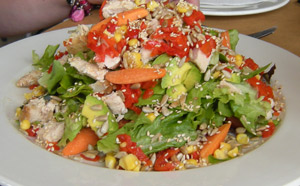 Col'Caccio - An excellent chain with branches in Camps Bay and Canal Walk in Cape Town. They have a very extensive menu with a huge selection of pizzas, pastas and salads, as well as a good wine list. We ate there a few times and found the food to be delicious, with really tasty fresh ingredients and amazing value for money.

Particularly delicious was the Morituri pizza with chicken, bacon, feta, red pepper and avocado (see right) and the wonderful San Siro salad (see left) with chicken, lettuce, cherry tomatoes, cucumber, corn, baby carrots, peppadews (mmm....), sunflower seeds and sesame seeds.
Green's - This restaurant on Park Street, just off Kloof Street, was very popular. It was probably the closest restaurant to An African Villa so it was handy to walk to. Nice pizzas, pastas, sandwiches, etc. Seating outside or inside and a nice atmosphere. The small bar inside occasionally showed premiership football matches, but don't let that put you off if you're not a football fan!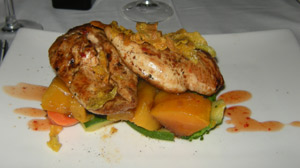 Balducci's - We had a really nice meal at this restaurant at the V&A Waterfront although there was something lacking in atmosphere in the restaurant.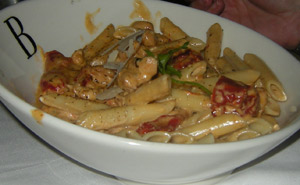 However, the food was excellent and the Cajun Chicken Pasta (chicken with feta and sundried tomatoes in a creamy cajun sauce - see right) was the nicest pasta dish we had on our whole trip. The Stuffed Chicken Breast (see left) was delicious too - stuffed with feta cheese, accompanied by garlic roasted vegetables and potato wedges.

Rozenhof's

Thanks to Louis at An African Villa we managed to get a table at this Kloof Street restaurant on New Year's Eve. We prefer romantic dimmed lighting and candles on the tables, so the decor and atmosphere didn't really do it for us here, but the food was wonderful. To start, the cheese souffle was really delicious and the Potato, Coriander and Feta Pastries were also very tasty. Their house speciality, Crispy Roast Duck in a wonderful orange sauce, lived up to its expectations and the herb-encrusted beef fillet with a cabernet sauce was exceptionally tender. This was the only restaurant we went to which automatically added a 15% tip - but it was New Year's Eve and we certainly had no complaints about the food or the service.

Nyoni's Kraal

We had high expectations for this Long Street restaurant. We'd read some good reports about it prior to our trip. It's a large restaurant, nicely done up and with a bit of a buzz. They also have live bands which is great - we didn't see much live music when we were in Cape Town so this was a pleasant change. It all started very well. Our friendly waiter brought some complimentary delicious bread with a selection of spreads and was happy to open the wine that we had brought with us (charge of R25 for corkage). The Vegetable Brochette we ordered to share as a starter was lovely too (a skewer of seasonal roast vegetables, mozzarella, corn rostis and tomato pesto, served with freshly baked garlic bread). Then things went downhill! We waited for ages for our main courser - chicken curry and chicken in pastry. Both were luke warm, the meat wasn't very tender and they were disappointingly bland. We couldn't see our waiter to complain and it took absolutely ages before he re-appeared! By then we were past complaining and just wanted our bill! The couples on either side of us had been waiting all this time and hadn't yet had any food. We were surprised they didn't just walk out!


Click here for more information on tourist attractions and things to do in Cape Town
Click here to book hotels in Cape Town, read travellers reviews of those hotels and view lots of photos of the hotels
Some useful sites about Cape Town:
Time Out Cape Town
- Lots of stuff about Cape Town, including shopping, restaurants and bars and tourist information
Trip Advisor
- Reviews from other travellers and a useful forum
The Guardian - Cape Town
- Some useful articles from The Guardian about Cape Town