VIETNAM
We visited Vietnam in December 2015, spending 3 nights in Saigon/Ho Chi Minh City, a week on Phu Quoc, 4 nights in Hoi An and 2 nights in Hue. In 2018 we returned to Hoi An for 7 nights, and spent one night in Danang. We hope to visit the north - including Hanoi, Halong Bay and Sapa - in the not too distant future.

You may need a
visa
to visit Vietnam, depending on where you're coming from and how long you plan to stay.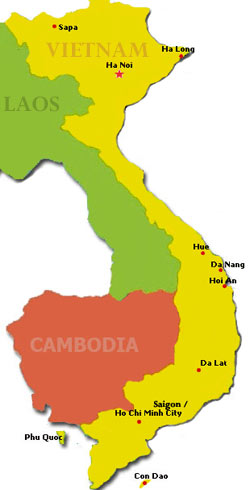 If you are a UK citizen and spending less than 15 nights in Vietnam you won't need one as long as your British Passport is valid for at least 6 months beyond arrival date, the passport has 2 blank pages for visa stamp and you have proof of onward travel. For certain main destinations in Vietnam (Ho Chi Minh City, Hanoi, Da Nang and Cam Ranh) you can take advantage of the visa on arrival system. Instead of applying to the Vietnam Embassy before you go, you instead submit an application to one of the commercial online companies which submit a Visa Application Letter on your behalf. You pay them a fee for this service, and they send you a copy of the stamped letter. We used
Vietnam Visa Pro
and paid $9 each for a one month single entry visa which we received by e-mail within 2 days after applying online (we then also paid $25 each for the actual visa at the airport). When you arrive in Vietnam through any of the above-mentioned airports you then take this letter, along with your passport photos and a completed visa application form (form N1 - download it
here
) to the Visa on Arrival desk which is at the airport before you enter immigration. You will probably have to queue for a short while (we had to wait about 50 minutes - they were quick to take the forms, but took a long time to process them!).
ATMs in Vietnam
- Be careful as most charge a fee for withdrawing cash and some have very small maximum limits for each cash withdrawal. In 2015 we found the best one was Citibank (available at Ho Chi Minh City airport and around the city itself and offering up to 8,000,000 dong with no fees). SeABank in Hue only allowed 2,000,000 limit but didn't charge a fee. Agribank charged a fee (22,000 for a 3,000,000 dong withdrawal), ANZ charged 40,000 on a 3,000,000 transaction, VietinBank in Hoi An charged a fee (an extra 55,000 dong on a 2,000,000 withdrawal) but didn't tell you about the fee until you had completed the transaction! In 2018 we couldn't find any in Hoi An or Danang Airport that didn't charge a fee.
For more information on the following areas, please click on the links below: