PERATALLADA SPAIN
We stopped off in Peratallada in 2017 to have a walk around when we were driving from Pals to Ullastret, and loved it so much we decided to spend a night there when we returned to Catalonia in 2018 and again in July 2021. It's a beautiful medieval village with cobbled streets, stone walls covered with beautiful plants and flowers and cute artisan shops, restaurants and cafes. It's lovely just to stroll around, take photos and absorb the ambiance. When we were there in 2021 we found a lot of shops and restaurants were closed, possibly after Covid. Hopefully businesses will get back on track.
You have to park on the edge of the village as cars aren't allowed in the main town. The first time we were there parking was free but in June 2018 we were charged €2.50 but told that if you stayed the night in the town you would get your money back. When we went to get our refund on leaving, however, the parking guy said he couldn't give us a refund as we'd paid his colleague!
Peratallada Hotels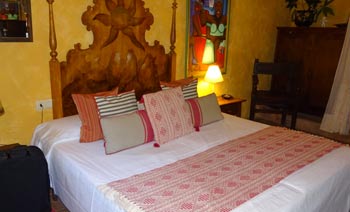 Hostal Blau
We spent 1 night here in July 2018 and July 2021. It was really cute and the staff were very friendly. It's nothing fancy but is clean and the rooms are comfortable and the breakfast was excellent - fresh croissants, ham, cheese, local white and black butifarra (dried sausage), tomatoes, fresh fruit, nice coffee, etc. We'd happily stay at Hostal Blau again. Visit their website for more information or go here to book a room, read reviews and view photographs. We booked a room direct from their own website in 2021 and received a bottle of cava. Only problem was the fridge didn't work well, but we managed to get some ice from a local bar!
Click here to book great value hotels in Peratallada, view photos and read travellers' reviews
Bars and Restaurants in Peratallada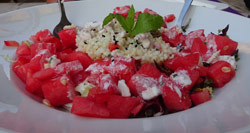 We had a nice meal at El Borinot just opposite our hotel. The salad we shared to start with watermelon, feta cheese and taboulleh was delicious. For mains we had duck with a hot cherry sauce which was very tasty, but the pork with bacon was very disappointing as it was over-cooked. In addition to the main restaurant and some tables outside on the street, they have a nice terrace round the back with a nice ambiance.
Places to visit near Peratallada


Peratallada is 45 minsfrom Girona and about an hour and a half from Barcelona. Just 15 minutes drive away are the archaeological ruins of the Iberian City of Ullastret which is incredibly interesting, great value for money and well worth a visit. Note that it's closed on a Monday and make sure you don't miss the 360 degree movie – it's excellent. Read some trip advisor reviews here
Some useful sites about Peratallada:
TourismWithMe
Page about Peratallada

Trip Advisor
- Reviews from other travellers and a useful forum
Visit Peratallada
- More information about Peratallada