Hua Hin is a low key, pleasant resort about 200 kms from Bangkok. It's by no means a party town but has several very nice hotels, a pleasant nightlife with not much in the way of girlie bars, several very good restaurants, a nice beach and a buzzing night market. We found it an incredibly relaxing place for a holiday. More for couples and families, Hua Hin is a resort where the Thais holiday and the King of Thailand spends a lot of time there, so it has less of a touristy feel than many places. Hua Hin is also very popular with golfers as it has six championship golf courses within twenty minutes drive of Hua Hin town.

It takes about 2½ hours to drive from Bangkok to Hua Hin. There are a few options - either arrange a private car through your hotel (was around 2000-2200B per car), pick up a taxi at Bangkok Airport, take a public bus or take the train which takes around 4 hours.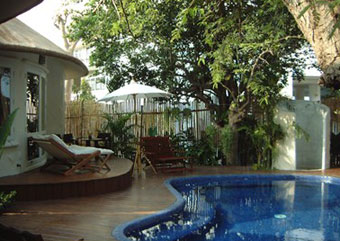 We stayed at Hua Hin in December 2002. Our accommodation was Kaban Tamor, a lovely small resort in Khao Takiab on the outskirts of Hua Hin. Because it was peak season and very busy, we actually stayed in S`mor Spa Village, its sister hotel in the same grounds for the first few nights then moved to the rooms at Kaban Tamor for the rest of our stay. Both were gorgeous.

Our room at S'mor had a small plunge pool which we were meant to share with 3 other rooms. However, we always had the pool to ourselves which was a treat. Some of the rooms had a jacuzzi instead of pool. There was also an incredibly comfortable lounging chair just outside our room - very relaxing! The rooms at both resorts were similar in style - cute little round bungalows - and we would recommend both and would return without hesitation. Both were spotlessly clean and very romantic - they sprinkled petals on your bed every morning which was lovely. The only difference apart from the plunge pool or jacuzzi was that you don't get bathrobes at Kaban Tamor and the towels weren't quite as large, soft and luxurious as at S'Mor. Both resorts share the same swimming pool and restaurant. Unfortunately S'mor Spa Village no longer exists, but Kaban Tamor is still there. The hotel is right on the beach, although we were a bit disappointed with the beach and spent more time by the pool which is unusual for us. It may have been the time of year, but we spotted several jellyfish and I saw a fisherman jump out of the sea in agony after having been stung - swimming in the sea just didn't appeal after that! The garden and restaurant area offer wonderful views of the Khao Takiab Golden Buddha.

We were slightly concerned on arrival about the location, but it did not prove to be a problem. The area round the hotel was very pleasant during the day and you could easily get a tuk-tuk outside the hotel for 100B which took less than 10 minutes to get to the centre of Hua Hin. There are also shared songthaews going back and forth between Khao Takiab and Hua Hin centre, but you have to time it right. The hotel also provide free transport a couple of times a day. There's not much in the town of Khao Takiab, except for the Gold Buddha at the end of the beach. You can climb the steps up to the temple.

The restaurant was good - we had lunch there several times but only ate there a couple of times at night as we preferred to go into Hua Hin centre. It was quite romantic at night, as you can sit at candlelit tables very close to the sea. The food was authentic and spicy, the staff were friendly. Breakfast was fine, but nothing special, as is the norm in most Thai hotels. The pool is quite small but very refreshing to swim in and was rarely too busy when we were there - it could be hard to get a sun lounger round the pool though.

Kaban Tamor appears to have been totally renovated since our visit. Visit
KabanTamor's website
or
click here to book a room and view photos.

Click here for great deals on Hua Hin hotels, with photos and travellers' reviews
Restaurants and Bars in Hua Hin
Our favourite restaurant in Hua Hin (and we'd even go as far to say it was one of our favourite restaurants anywhere in the world) was
The Pasta Factory
, which used to be opposite the Sofitel Hotel. The food was delicious, the service immaculate. Run by a Swiss man Hannes and his Thai wife Nut, don't let the name of this restaurant put you off. It was a quality restaurant, with European and Thai dishes. The Nasi Goreng was absolutely delicious - the best I've ever had - their Italian food was lovely and the lasagne was excellent. On New Years Eve they had a special 4 course dinner with a different glass of wine with every course for 695B - excellent value. We had bruschetta to start, then asparagus, then fillet of beef with a red wine sauce, cauliflower, mangetout and potatoes, then for dessert crepe suzette with fresh strawberries and strawberry ice cream. Very tasty, good quality food and very well trained staff. This was the first restaurant where we were offered to smell the cork of our wine!
It seems that The Pasta Factory is now called Hin Lek Fai Restaurant and they have moved to a new location just 7 km from the city center (clock tower) to the west on Thanon Hua Hin-Nong Plub road. This is the road to the By-pass Phetchkasem road and Pa-La-U waterfall. From Hua Hin drive past "La Vallée Village" and the branch to "Lotuswell", Natural Hill, and AKA-Resort" (Soi Mon-Mai road) and turn right next road (Soi Wat Nikho road). This branch is just 200m from the "Soi Mon-Mai", after the drink retailers in the huge yellow depot (6 Kilometer mark stone). In soi Wat Nikho 600m further you will see on the left the new restaurant. Click here and here for more information.If we return to Hua Hin it will be the first place we will go to eat without doubt!
Orchids
(110/1 Naresdamri Road) - Delicious Thai food in pleasant surroundings. The chicken sate was absolutely delicious - the best we'd ever had up till then and only beaten later by Thai House 2 in Bangkok - lovely chicken, tasty peanut sauce and a nice cucumber sauce to go with it. For main courses we had a red Thai curry and a chicken dish with coconut milk. Both were really yummy. The complimentary fresh pineapple they brought after our main course was a nice touch. On a second visit the food was just as good - couldn't resist the sate to start again, then had Penang chicken curry and sweet & sour chicken and both were again quite delicious.
Had a nice meal at Lo Stivale Italian Restaurant (132 Naresdamri Road). Shared bruschetta first (large portions - we shared one and got 5 pieces). The Tortellini with meat and tomato sauce was delicious, the tagliatelle with mushrooms, ham, bacon & tomato also nice.

Mai Tai Bar was nice for a drink - very popular with a nice atmosphere, bright coloured seats with cushions - but we didn't think much of their food and only ate there once.

Ganesha Bar, just up from the Pasta Factory, was great for cocktails and had really friendly staff. Their Blue Hawaiians and Margaritas were delicious!

We weren't impressed with Buffalo Bill's Grill. It was always busy and we decided to try it for a change. The salad was lovely, crisp and fresh but the steak and chicken weren't very good. We should stick to Thai food - it seldom disappoints!


The Fishing Pier area has lots of popular seafood restaurants.