BALI, INDONESIA
We first visited Bali on our round the world trip in 1993 and it immediately became one of our very favourite places. We have since returned twice, in 1997 and 2003, and find something magical about it, especially Ubud in the centre of Bali. You may think of Bali as a beach island, but, while there are some nice beaches, they are not of the standard of Thailand or the Caribbean and the main beach town, Kuta, is extremely commercialised. If you are a beach person and want to go to Bali, you should still consider spending 2 or 3 nights in Ubud to get a different feel for the island, unless you are looking to party every night. The Balinese people are lovely, smiley and friendly people - some of the nicest we have met anywhere on our travels. Our review will concentrate primarily on Ubud, but we have also stayed in Kuta, Sanur and Candidasa.

Kuta is Bali's most popular and commercialised resort. It has one of Bali's best beaches which stretches for miles, and is very popular with the surf crowd. There are lots of bars and restaurants, loads of shops. Very popular with Ozzies (sometimes referred to as Australia's Benidorm!) and appeals to the young crowd. The main downside of Kuta is that it is overrun with hawkers, and it can be hard to walk a few steps without someone trying to sell you something. We have stayed in Kuta a few times. It's a colourful and fun place, but don't expect to find the 'real Bali' or anything close without venturing away from here. There is a huge selection of places to stay, varying from 5* hotels to small backpacker places. We didn't go to Kuta at all the last time we were in Bali, in 2003, so we haven't actually been there since 1997. One restaurant we must recommend in Kuta which has seemingly been there since 1984 is TJ's Mexican at the end of Poppies Lane 1. It's a lovely place with excellent food and a really nice ambiance, big cushions to sit on and great Margaritas! We've gone to TJ's every time we've been in Kuta, often several years apart, and it has always been really good.

Sanur is a quieter, more laid back coastal resort than Kuta, probably more suited to couples than singles. The beach is nice, there are a good selection of restaurants and some bars, and far less hassle than in Kuta.

Candidasa is a small town on the east coast. There are some nice low-key hotels, but no beach to speak of, just the lagoon.

Ubud in central Bali is a lovely place. We'd never dream of visiting Bali without staying here. It is beautiful, tranquil, easy to walk around without any hassle (unlike Kuta!) and has a good selection of interesting shops and restaurants. Ubud is the arts centre of Bali and home to many of Bali's artists so there are many galleries selling paintings and batiqs. There are also regular dance shows including the fascinating Kecak Fire and Trance Dance. Ubud is a lovely place just to walk round. Walk up the wonderfully named Monkey Forest Road (there is a monkey forest at the top where you can see many of the creatures! - can't say we're keen on them though, so we avoided them) and to the outskirts of the town where the gorgeous rice fields add to the beauty of the place. Nightlife in Ubud is pretty low key and there are no nightclubs, but there are some nice restaurants, a handful of bars with live music and a few places showing movies. When we were last there in 2003 it was even quieter than our previous time in Ubud, in 1997, but they were still suffering from the Bali bombings in Kuta in 2002.


Click here to reserve discount hotel rooms in Ubud Bali and read reviews by other travellers
Ubud Hotels


Tegal Sari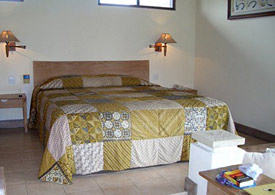 We have been lucky with accommodation every time we have stayed in Ubud, but in 2003 we stayed at Tegal Sari, on the outskirts of Ubud and it must be one of the best value hotels anywhere in the world, with views to die for. We cannot recommend this place enough. Imagine sitting on your balcony looking out at the beautiful rice fields with only the sound of tweeting birds, croaking frogs and quacking ducks to disturb the peace, and the sight of lots of butterflies fluttering by. Incredibly relaxing and peaceful. The rooms are nice too and the staff very helpful and friendly. Although the hotel is on the edge of Ubud it is not far from the end of Monkey Forest Road, so it only takes 10-15 minutes to walk to the centre. Also, there is a free shuttle bus and will drive you anywhere and even collect you, so it is no problem not being right in the centre.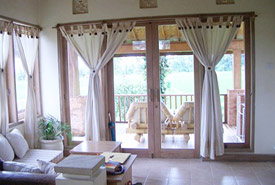 We found the transport very useful in the evenings when we'd get it to drop us off at a restaurant and we'd walk back. There are several different types of room available and you can find photos and descriptions if you visit Tegal Sari's website. We stayed in Room 10 (Super deluxe on top floor) which had a large bedroom and lounge area, shower and large corner bath with great views of the rice fields. It also had a large outside balcony where you could sit and admire the beautiful view. Tegal Sari has a small swimming pool and a restaurant. You can either have breakfast in the restaurant, or on your balcony. Click here to book a room, view lots of photos and read reviews of Tegal Sari.

Update: As of 2008, Tegal Sari now has two new villas, one 1 bedroom and one 2 bedroom villa. The 2 bed villa due to very good architecture can be let separately (There is no noise nuisance to either party) although the pool will go with the bottom room. The 1 bed villa also has a pool, although slightly smaller.
Rasa Sayang, Ubud
When we were in Ubud in 1997 we stayed at the lovely small budget hotel Rasa Sayang about half way down Monkey Forest Road. Although it doesn't have the spectacular views of Tegal Sari, it was excellently located, easy to walk everywhere and the rooms were lovely. It has a small, but very nice, pool. The staff were very friendly too. It has undergone major refurbishment since we were there and is now a luxury resort called Komaneka Rasa Sayang. Click here to view photos and read reviews by other travellers.
Ubud Terrace

This was a lovely budget place to stay when we first visited Ubud in 1993. We got a gorgeous room with a four poster bed. Friendly staff, and nice touches such as breakfast delivered to your balcony every day, decorated with lovely flowers. It appears to have undergone major renovation since our first visit and now also has a pool. Great location, about half way down Monkey Forest Road.
Click here to book great value hotels in Ubud, view photos and read travellers' reviews
Bars and Restaurants in Ubud

There is a good selection of restaurants in Ubud, and they are amazingly good value.

Thai Restaurant
Nice atmosphere with candles on the tables and croaking frogs in this restaurant on Monkey Forest Road. The prawn cakes with spicy dip and the hot (very!) chicken soup were delicious starters. The green Thai curry was very tasty and nice cold Bintangs to go with it! Total bill came to 108,900 (about £8)*.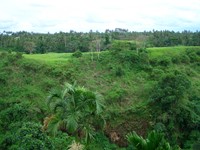 Indus

On the outskirts of Ubud, this restaurant has the most amazing views and delicious food. It's more expensive than most restaurants in the area, but still incredible value and very cheap compared to what most of us pay at home. The views are really spectacular - gorgeous stepped rice fields, heaps of palm trees, really green and jungly looking. Gorgeous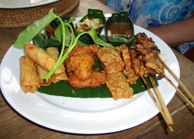 but next to impossible to capture on photo! We felt that it had been worth the visit before we even ate anything! We ordered a shared starter of Indonesian food (see right) which was absolutely delicious. It consisted of the most delicious spring rolls we had ever tasted in a really delicate pastry, corn fritters, rice cakes, chicken sate with 3 separate dips - cucumber, peanut and spicy chilli. It was all absolutely wonderful! Also got little bits of hot bread, like Naan bread but lighter, which were incredibly tasty, and Indonesian prawn-like crackers which were also delicious. For our main courses we ordered a Nasi Campur and Chicken Sate. Again, both very tasty. Indus is owned by the same people that run Casa Luna, and have a free shuttle bus between the two restaurants.

Casa Luna
A very popular restaurant on Jalan Raya, just off the far end of Monkey Forest Road. It is run by the same owners as Indus and has the same high standards of food. It's a nice place to go for a coffee or fruit shake during the day too. We shared spring rolls (excellent, but not quite as good as the ones at Indus), then for main courses had Nasi Campur and Chicken Curry. Both delicious and served with lovely bread.

Dian's
We first discovered Dian's in 1993 on our first visit to Ubud. There were 2 branches then, both on Monkey Forest Road, but now there is only one. We have eaten there many times since, either for toasted sandwiches around lunch time or for our evening meal, and we have never had a bad meal there. Their Nasi Goreng speciality is delicious and the Chicken Cordon Bleu is excellent - really tender chicken, no bones and no skin. The restaurant won't win prizes for decor or ambiance, but the food never lets you down and is excellent value for money.


Click here to book hotels in Ubud, read travellers reviews of those hotels and view lots of photos of the hotels
Some useful sites about Bali:
Bali Travel Forum
- Useful Bali travel forum
Time Out Bali
- Lots of stuff about Bali, including shopping, restaurants and bars and tourist information
The Guardian - Bali
- Some useful articles from The Guardian on Bali
Trip Advisor
- Reviews from other travellers and a useful forum
Lombok We visited Lombok in 1993, and it will obviously have changed a lot since then, but if you're interested to see photos, etc from then, click here.