POTES SPAIN
We spent 2 nights in Potes in June 2019. It's a lovely cute village with a good selection of bars and restaurants, but most importantly it is situated in a beautiful area of Cantabria, very close to the Picos to Europa and Fuente De. You can stay at Fuente De, but in our opinion there's a lot more to do in Potes, so we preferred to base ourselves there and travel to Fuente De, 23 km away, which just takes around half an hour.
Potes Hotels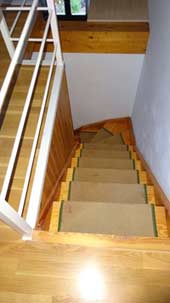 Casa de la Abuela
We spent 2 nights here in June 2019. There are different sized apartments within this block on the edge of Potes, and we stayed in a small, cute one-bedroom apartment. The loft bedroom is upstairs, up a windy staircase (see right) so it would not be suitable for anyone with walking difficulties. There are other larger apartments available so may be more suitable for some. There is a lounge area with kitchen with washing machine, kettle, microwave and shower room. The only problem we had with the accommodation was that it creaked really loudly at night! We woke a few times thinking someone had broken into the apartment! Parking is available on the main road behind the apartment and it's an easy walk into the town centre.
Click here to book great value hotels in Potes, view photos and read travellers' reviews
Bars and Restaurants in Potes
We ate twice at Soldreria de Potes. The first meal was a snack lunch where we shared chicken pieces with a honey mustard sauce, pork skewer and s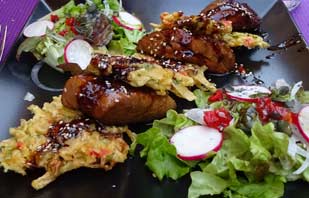 ome spicy fries. Very tasty. We hadn't planned on returning, but the place we wanted to go to the following evening was closed for holidays so we decided to have dinner here instead. Although the service had been quite good first time, it was terrible second time round and we waited for ages to be served the over half an hour for the food to arrive. We justs ordered main courses and they were both nice when they finally arrived, although the beef cheeks would have been better with some potato or vegetables with it. The teriyaki pork with rosti potato and salad (see left) was very tasty
Places to visit near Potes


Dobres and Cucayo are gorgeous little villages about 1/2 an hour's drive from Potes. The scenery was incredible and it was such a lovely drive.
One of the main attractions is that Potes is very close to the Picos de Europa so there are lots of great walks in the area. We spent at day at Fuente De where we took the cable car to the top of the mountain then walked for approximately 16km back down. It's a wonderful walk, pretty easy but with spectacular scenery and lots of wildlife including stallions, sheep, dogs, goats etc along the way. If you don't want to walk you can take the cable car up and just have a stroll around at the top before going back down on the cable car, but if you're reasonably fit and intereseted in walking we'd really recommend it. Go early to avoid crowds. It opens at 10am and we turned up at around 9.40am to find a short queue. Click here for more information about Fuente De and the walk.