GRANADA SPAIN
We spent a night in Granada in December 2009 and also spent New Year's Eve there in 2012. There's lots to see and do and it is a town with a bit of a buzz about it.

Granada is in the southern province of Andalusia at the foot of the Sierra Nevada mountains, 1¾ hours from Malaga, just over 2 hours from Cordoba and 2¾ hours from Seville.

Click here to book great value hotels in Granada, view photos and read travellers' reviews

In 2012 we stayed at Hostal Lima and had a wonderful time. This is a very friendly small hotel with a good central location. The owners Manolo and Carmen go out of their way to help and give a very good service. There are two separate hotels,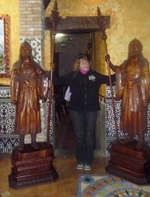 Lima and Lima II and we were staying in Lima ll, 2 or 3 doors away from the main hotel. It's a fascinating place and when you enter the hotel it feels like you're going into a museum with its medieval look, huge Moroccan lamp and statues in the reception area. Our room was a standard double and very small but really nice and spotlessly clean. The beds and pillows were comfortable and although the room was very cold when we arrived, it had hot & cold air conditioning and there was also an electric radiator that we plugged in for extra heat.We were invited to the hotel at around 11.30pm to pick up a small bottle of Cava and grapes for midnight - a nice touch.

We unfortunately were unable to sample the breakfasts that we had read so much about, but we'll definitely try to stay here next time we're in Granada and will have breakfast then. We booked very late and had no choice of room type, but from their website there are some lovely looking suites, which are very well priced. We paid €50 for our room and €14 for the car park. Granada is not a good place to drive, with lots of narrow streets. There is no choice but to use underground car parks and there is one just round the corner from the hotel. Don't be concerned when they take your car away to park it and keep your car keys! Visit Hostal Lima's Facebook page and click here to reserve a room, look at lots of photos and ready reviews from other travellers.

In 2009 our main reason for visiting Granada, en route to meeting friends in Nerja, was to visit the Alhambra, so we stayed at 4* Hotel Alixares which is situated very close to the Alhambra. We got a good deal which included buffet breakfast. There is a large car park opposite for hotel guests and visitors to the Alhambra. We had no complaints with the hotel and would recommend it if you want to be close to the Alhambra. Having said that, it's just about about 15 minutes to walk to the centre. Click here to reserve a room, view lots of photos and read reviews by other travellers.

Things to see and do in Granada
The spectacular Alhambra is Granada's biggest tourist attraction and the most visited monument in the whole of Spain. Unfortunately for us, the day we went it was absolutely pouring it down and freezing cold, so not the best conditions to visit! If you're in Granada, you really must go here, but hope your weather is better than ours! Click here for ticket prices and details of day and evening visits. It's best to book tickets in advance, or you may have to get up very early in the morning and wait in a long queue (as we did!) to have any chance of getting a ticket. This article from The Guardian gives very useful advice on how to get the best from your visit. Get more information here.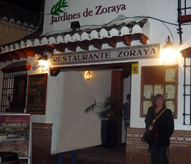 Granada is a good place to go to an authentic Flamenco show. Note that is the real thing, very intense and serious and not what we would call 'Viva Espana' type Flamenco. We think it's great and have been to a couple of good shows, one in Granada and one in Seville. The Seville one was our favourite but we also enjoyed the show at Los Jardines de Zoraya. It's quite a small place so it's probably best to book ahead, and you can have a meal or just a drink and watch the show. The night we were there there was a male dancer, a female singer and a flamenco guitarist. Visit their website for more information.

We loved wandering round the cute narrow streets and looking at the lovely colourful shops, cafes and tea rooms in the Albayzin - the Arabic Quarter. The shops sell Moroccan lamps, clothes, cushions, souvenirs, etc and are fun to look round. Click here for a Google maps link showing the location of this area.

We thought Granada would be a good place to spend New Year's Eve and we weren't wrong! Although we've only spent two nights there so far, it seems to be a lively, friendly city with plenty to see and do. We went to Plaza del Carmen for midnight and there were fireworks and a live band. There was a really good atmosphere.
Places to eat and drink in Granada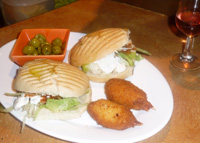 One of the best things about Andaluci,a and Granada in particular, is the tapas that you get when you order a drink. It's very rare to buy a drink and not be given any food with it, but some places really excel!! On New Years Eve we went for a drink to Bar La Antigualla near the Albayzin.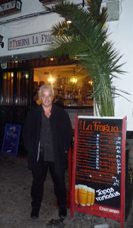 It was a great bar with a good atmosphere and amazing tapas. With our first round we were given delicious sandwiches in crispy rolls with ham and melted cheese, with a touch of garlic butter drizzled on top. Super yummy! We then got burgers with jumbo king prawns in breadcrumbs (see left). We could have had something similar to eat with every drink if we'd been hungry enough! The only problem we see with these super tapas is that the restaurants in Granada must suffer because people don't need to go for a meal after eating these!

Another nice bar which gave super size tapas - meatballs this time - was Taberna La Fragua, along from Jardines de Zoraya (see photo on right).

We went to La Hacienda Bibra on Plaza Bibrambla after the New Year fireworks. It was busy and although a lot of people were eating, lots, like us, just popped in for a drink. They gave us a free glass of cava which was very nice! Friendly staff and good atmosphere.


Click here to reserve discount hotel rooms in Granada, Spain view photos and read travellers' reviews
Some other useful sites about Granada:
Frommers - Destination guide to Granada
Guardian - Guardian destination guide to Granada
Lonely Planet - Useful info about Granada
Trip Advisor - Reviews from other travellers and a useful forum
*Note: Prices quoted above were accurate in 2012