AUSTRALIA
Australia is a fascinating country to visit. We first visited it in 1993 and we stayed first in Perth (and toured around Western Australia, as far south as Esperance, as far north as Geraldton and as far east as Kalgoorlie. We then visited Melbourne, Sydney and Brisbane and bussed it from Brisbane to Cairns, stopping at several places along the way. One of the highlights of our trip was doing a 3 day sailing trip round the Whitsunday Islands from Airlie Beach. Australia is an easy country to travel on a budget and when we were backpacking in 1993 we found that we could get better budget accommodation and travel for our money than in many other countries.

We returned to Australia in June 1997 but this time just visited Sydney and Cairns. A further visit in December 2003/January 2004 saw us again return to Brisbane, Byron Bay, Sydney and the Hunter Valley area. We were lucky to experience a fantastic New Year's Eve at Sydney Harbour with the most amazing fireworks display. We also visited Adelaide and the Barossa Valley for the first time on this trip, and it's an area we really enjoyed and would like to return to.

Sydney is without doubt one of the most beautiful cities and one of our favourite places in the world. In December 2003 we stayed at the Citigate Sebel (previously known as Sebel Surry Hills, and now Rydges Sydney Central). This was a nice hotel in a good location, a short walk from the central train station, close to Surrey Hills and a short walk to Oxford Street. Visit Rydges Sydney Central website . Click here to make a reservation at Rydges Sydney Central, read reviews from other travellers and view photos. There are lots of budget guest houses and backpacker accommodation around Kings Cross, but it's a pretty seedy area and most of the accommodation is poor quality, so if you can find somewhere else we'd recommend it.


Click here to reserve discount hotel rooms in Sydney and read reviews by other travellers


Things to see and do in Sydney
The Opera House and Harbour Bridge are icons of Australia and the whole harbour area is beautiful - you'll take loads of photographs here! It's nice to go on a boat in the harbour and you'll get a different perspective on the area from the water. There are lots of options from ferrys to dinner cruises. You can climb the harbour bridge for fabulous views, but make sure you book well in advance because this is a very popular tour.

A good day trip is a visit to The Blue Mountains. The train takes about 2 hours from Sydney and if you're only there for the day, the best thing to do when you arrive in the Blue Mountains is to book on one of the jump on, jump off tour buses which will take you to all the main areas. The views are spectacular and at Scenic World, a must visit attraction, you can go on the Scenic Skway, Railway, Cableway and walk way. Click here for more information on the Blue Mountains Explorer Bus with route details, costs etc. Leura village was a cute place to have a walk about. We stopped at Bon Ton for lunch, sat outside, ordered drinks and food from the sulky unfriendly staff and waited...and waited....and waited. Eventually we got drinks but still no sign of our food. We then overheard someone saying they'd run out of food! Nobody came to tell us what was happening but we got fed up waiting, paid for our drinks and left. No apology for not getting our food. Very poor service.

Take the ferry to Manly where you can visit Oceanworld, an impressive oceanarium and aquarium where you can see everything from sharks and rays to snakes and spiders. You can even dive with sharks! It's open daily except for Christmas day from 10am - 5.30pm. Visit Oceanworld's website here. Manly beach is also very popular and there is a good selection of cafes and restaurants if you are spending the day here.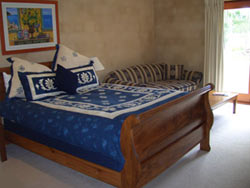 Another good trip to do from Sydney is to the Hunter Valley. It's a beautiful area and if you like wine there are opportunities to visit wineries and sample the local products. It's only about 2 hours from Sydney so it can be done as a day trip, but if you have time it is worthing spending a night or two there. We stayed in a gorgeous hotel, Tuscany Estate and Resort. We hadn't booked, so we went into the Tourist Office at Pokolbin and they recommended it. They also booked us on a wine tour leaving later that day, so we checked into the hotel and then went off on the wine tour. We had a nice meal in the Brokenback Bar at night too. Click here to visit their website or here to reserve a room at Tuscany Estate and Resort, view photos and read reviews by other travellers.
If you're going to be in Sydney over New Year you'll be able to see their fantastic New Years Eve fireworks display. We've never seen anything like it - absolutely fantastic. We sat beside the Opera House and got fantastic views but to get a place there we had to go at around 5.30pm -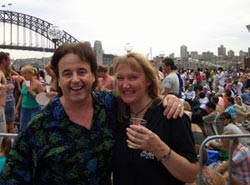 it was worth it though. Take some water with you, and it's probably worth taking some sandwiches or something to eat. There is a shop selling food and drink but there isn't the greatest selection. When we were there the drinks choice was beer (VB only), red wine, white wine, sparkling wine - think that was about it.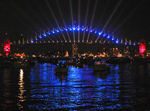 Cost $6 for a large wine served in a plastic cup). Although there were large queues, service was very quick and efficient.
There is an early fireworks display at 9pm which was really impressive although they don't use the bridge for it - they save it for the main display at midnight. The display varies every year but never fails to impress and we have certainly never seen fireworks like this anywhere! There was a great atmosphere too, lots of Aussies but also lots of tourists from all over the world, and very few drunk people even though it was New Year's Eve. A very memorable occasion.

Click here to book discount hotel rooms in Sydney, Australia, view photos and read reviews by other travellers
Adelaide
We spent a few days in Adelaide, Australia in January 2004 and really enjoyed it. It had the feel of being a very live-able city rather than just somewhere to recommend as a holiday destination.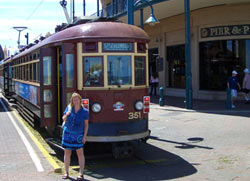 A nice way to spend a day in Adelaide is getting the tram from the city to the beachside suburb of Glenelg where there is a nice beach and lots of bars, restaurants and shops. We had a nice lunch at Cafe Miramare, close to the tram stop, with a really tasty pizza and salad.

The Barossa Valley wine area around Adelaide is a lovely area to visit. We just hired a car and did our own thing, but there are organised tours if you prefer. It's easy to turn up at one of the vineyards and do some wine tasting and a tour. If you have time, spend a night or two in one of the hotels or guest houses in this lovely area. Find more information here.

Adelaide Central Market is well worth a visit with more than 80 stalls, shops and cafes selling high quality fruit, vegetables, teas, coffees, bread, cheese, flowers, meat, and much more. Visit their website for more information.

A walk through the Adelaide Botanic Gardens, on the edge of the city, is a nice way to pass some time. Click here for more information.

Click here to book great value hotels in Adelaide, view photos and read travellers' reviews


Some other recommended things to do in Australia include: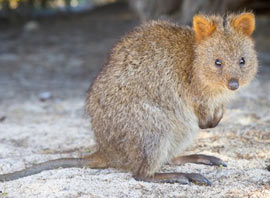 Snorkelling or diving on the
Great Barrier Reef
- We have done a few snorkelling trips and enjoyed the ones we did on smaller boats more than the larger boats such as Quicksilver. Bear in mind that the larger boats will have more passengers on board and the sea will therefore be more full of people, making the experience, in our view, not so enjoyable. It's best to research this well before you travel to ensure you get the best experience to suit you.
Cairns
is a nice place to visit even if you don't want to snorkel or dive, including the scenic railway trip to
Kuranda
. Depending on how much time you have, you can visit Kuranda as a day trip, or you could choose to stay a few days.
Visit
Rottnest Island
in Western Australia. Rotto, as it's known, is a 1/2 hour ferry ride from Freemantle which is 16km from Perth. It's a protected nature reserve with white sand beaches to the cute quokka, a small, cute, wallaby-like marsupial. You can go to Rotto as a day trip, or stay over if you prefer.
Go to an
Aussie Rules Football match
. If you're at all interested in sports it's a good experience and we went to one at the Melbourne Cricket Ground (MCG). Melbourne is the home of Aussie Rules Football and has many teams, so there are a number of opportunities to catch a game there every weekend. You'll be amazed that it seems like anything goes on the pitch, and if you're a fan of regular football (or soccer depending on where you live) you should find it fascinating! The season runs from March to September and you can buy tickets in advance
here
.