EASTERN CAPE SAFARI - BUKELA LODGE

One of the highlights of our South African trip, if not THE highlight, was a 3 day, 2 night safari at Bukela Lodge on the Amakhala Game Reserve in Eastern Cape. When we first started planning the trip we looked into going to Kruger for a few nights to do a safari there, but we decided against it because of costs, logistics (it would have meant flying into Johannesburg and changing our route) and the fact that we'd have had to take malaria tablets. Doing a safari at the Eastern Cape just fitted in with our plans better and although Kruger is known as the top place in South Africa to go on safari, we were blown away with our experience at Bukela and would thoroughly recommend it.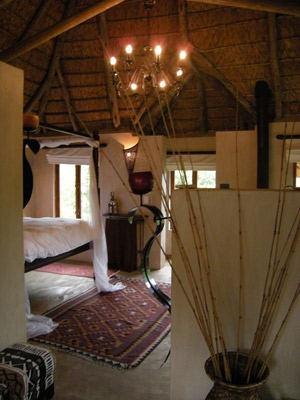 Bukela is a small luxurious lodge with only 4 individual villas a short walk from the main lodge building. The rooms are gorgeous. Because it was a special occasion and we were celebrating our silver wedding anniversary, we stayed in the Honeymoon Suite which is the last villa. It was amazing! A huge room with a massive 4-poster bed which you literally have to climb up to! There's a jacuzzi bath, indoor shower, outdoor shower, 2 huge seats, lots of candles and really nice African accessories.

The staff at Bukela are absolutely wonderful. They were all really friendly and couldn't do enough for you. Elza, the owner, was a real character, and ran the operation very well. (Note: Since our visit Bukela has been taken over by new owners although it appears that some if not all of the staff are still there).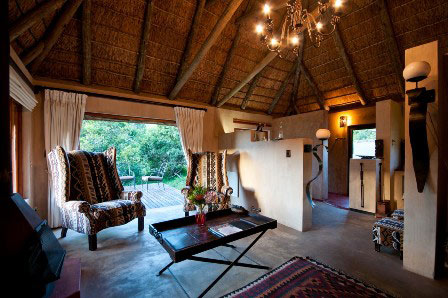 We checked into Bukela on a very rainy Christmas Eve afternoon, feeling a bit disappointed that we were about to start the highlight of our holiday with dreadful weather. The drive to Bukhela from Port Elizabeth had actually been quite scary in places, with heavy rain, thick fog, loads of water on the roads, poor visibility and crazy drivers with no lights on! Not a pleasant experience. When we finally reached the turning for Bukhela it was an extremely wet dirt track which wasn't easy to drive on.
Our package included 2 safaris a day, so our first safari started around 4pm on our first day. We were surprised to have the jeep to ourselves, except for our ranger, Jonty. We had only driven a short distance from the lodge when we saw this huge giraffe in front of us! Wow! We also saw a family of lions, white rhino and a huge elephant as well as the more common sights of impala, zebra, jackals etc. We were amazed how close we got to the animals. It was a shame it rained so much and we had to wear waterproof capes, but it didn't stop our enjoyment at all. We were greeted back at the lodge with hot chocolate but had only half an hour to dry off, change and get back for dinner. The drives lasted about 4 hours so there wasn't much time back at the lodge for just relaxing. Wouldn't have had it any other way mind you, because the safaris were the main reason we were there. It just seemed a shame that we had such a lovely room but hardly any time to spend in it.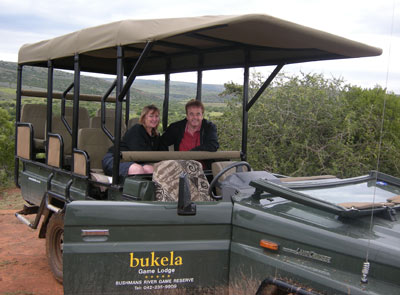 The morning safaris started early, so we were woken up with a 6am alarm call. The safaris were all really impressive, seeing so many animals, so close up. Jonty was really good, and did all he could to find the animals. On Christmas Day we were lucky to see two gorgeous cheetah cubs, we got really close to buffalos and saw rare black rhino. Then the thunder and lightening started, and the heavens opened and there was rain like we have never seen before. It was incredible. We were freezing cold, soaking wet right through and the rain got so heavy it was like someone opened a huge hatch in the sky and poured a bucket of water out! It was so heavy we couldn't keep our eyes open, and was actually quite scary because the roads were flooding - goodness knows how Jonty managed to drive the jeep and get us back to the lodge! The morning drive the next day was also amazing. We got really close to a family of lions - closer than before. An incredible experience!
Food & Drink at Bukela
The standard of food and drink at Bukela was very good. We had a very enjoyable Christmas Eve Dinner of broccoli soup to start, followed by very tender tasty roast chicken, with a piece of gammon, corn-on-the-cob, potato, gravy & salad, followed by chocolate mousse for desert. Must admit we got a bit of a shock when we saw the drinks prices, but I suppose it's to be expected if you stay in a 5* establishment. The package includes your accommodation, safaris, soft drinks and meals. The wine and beer were by far the most expensive we'd had in South Africa, where prices are generally very low. The dinner was very nice though, and we got high quality Xmas crackers and everyone got a small gift which was very nice. We were a bit disappointed that there was no entertainment because of the weather, but apart from that it had been a wonderful day. We had fish for dinner on the second night which was also very nice - steak was available for anyone who didn't like fish.

The sundowners on the afternoon safaris were great too - Jonty's mulled wine was delicious! There was dried fruit, nuts and pretzels to nibble on too. Again, I must stress how great all the staff were. They were unobtrusive but there when you needed them, always with a smile. Our 3 days at Bukela were absolutely wonderful and we'd recommend it to anyone. It was the most expensive two nights we've ever had but an experience we'll never forget and a great way to celebrate our silver wedding anniversary.
Click here to visit Bukela's website. If you book a safari at Bukela, we'd be grateful if you could tell them you found them on Travel Jimmy. Thanks!