We spent 4 nights in Slovenia in June 2007 and really enjoyed it. We had 2 nights in the capital, Ljubljana, a small, pretty and very clean city, easy to walk around. There are many open-air cafes and restaurants along the river and on the narrow cobbled pedestrianised streets which run parallel to the river. It has a very laid back and relaxing atmosphere. We really enjoyed the cafe culture and open air lifestyle and we have heard that you can still enjoy this in the winter with the help of outdoor heaters. We then spent 2 nights in Bled, a beautiful town with a romantic setting - a gorgeous blue-green crystal-clear lake with an island in the middle of the lake with a little white church. Bled Castle is overlooking the lake and all around are the spectacular Julian Alps. It is breathtakingly beautiful and picture postcard stuff without a doubt. For a place with such natural beauty it's surprising that so few people have even heard of it. If you're thinking of visiting Slovenia and Lake Bled, go soon before the hoards of tourists appear!
Transport
If you don't want to get a taxi from the airport to the centre of Ljubljana you can get the bus. Buses run hourly, on the hour and take about 45 minutes to get into the centre. Buy the tickets on the bus and catch the bus opposite the airport entrance. The journey to town is quite picturesque with lots of pretty little villages and flowers everywhere! (NB: This was in June, maybe not so many flowers at other times of the year).
If you're coming to Bled straight from the airport you can get the bus via Kranj. Just check the bus timetable and be aware that at certain times of year (eg school holidays), some of the services don't run. There is currently* one direct bus per day, so you may be in luck if it times well with your flight! The bus was comfortable and ran exactly on time. Visit the bus company's website for more information. A taxi from Bled to the airport cost around €40*.
If you need to travel between Ljubljana and Bled, buses run hourly and take around 1-1½ hours (possibly less - there were roadworks when we were there). Every bus we took in Slovenia left bang on time - we were very impressed. Visit the bus company's website for more information.

Accommodation in Slovenia

Hotel Lev, Ljubljana
We stayed at the Hotel Lev which is about 5 minutes walk from the bus station and just more than that to walk to the centre - a great location. No complaints about the hotel either. As we'd read before arriving, it's a 5* but not really what you expect from 5* in many other countries. We'd probably rate it as 3½ or 4*. The room was very clean, fairly large with a comfy bed (but what is it about two single duvet covers on a double bed?!), TV, safe, minibar, airconditioning. The bathroom was fine too, again without being anything special. The buffet breakfasts were above average and were available between 6-11am - very civilised! There was a good selection of fresh fruit including watermelon, grapes, peaches, melon and banana. There wasn't much in the way of hot dishes - some sausages, bacon, scrambled eggs - but a nice selection of fresh rolls and cheese, ham, fresh tomatoes and peppers, etc. We'd happily stay at the Lev again. Click here to visit Hotel Lev's website.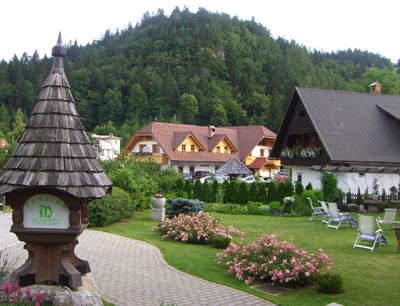 Click here to reserve a room at Hotel Lev, view photographs and read reviews by other travellers.

Penzion Mayer, Bled

We stayed at the Penzion Mayer which is about 10 minutes walk from the bus station, up the hill next to the montrosity that is the Golf Hotel (seemingly a nice 4* hotel that gets mostly good reviews, but just looks so hideous from the outside and spoils the beauty of the area). Penzion Mayer is a cute little hotel, in a gorgeous alpine style building with a lovely garden and outside highly rated restaurant (there's also an inside restaurant for winter).The rooms are spotlessly clean and pleasant without being luxurious and many rooms have views of the lake and castle.

We ate in the restaurant and although we found the Slovenian food a bit heavy (potato dumplings and Vol-au-vents served with ragout (just like beef stew and the beef was incredibly tender) we spoke to people who said the food here was by far the best in Bled. Breakfasts were very nice - a selection of fresh fruit, delicious fresh rolls, cheese, ham, etc. If the weather's good you can eat breakfast outside, if not there's a room inside. We'd happily stay at the Penzion Mayer again. Click here to visit Penzion Mayer's website. If you book a room at Penzion Mayer after reading this review, we'd appreciate if you'd let them know you found them on Travel Jimmy.
Things to see and do in Ljubljana
It's worth a visit to the castle for some nice views over the city. It's quite a hard climb up there, so unless you particularly feel like the exercise, we'd recommend getting the funicular up and walking down (we did it the wrong way round, climbing up and taking the funicular down!). There's a nice little outdoor cafe where you can have a drink or snack. Climb up the tower for the best views. There's also a small museum.
All around Slovenia people cycle and it's no different in Ljubljana. You can hire bikes from a variety of places including the tourist information office.

There is a market every day across from the Dragon Bridge. Although we didn't think much of the clothes stalls, the fresh fruit, vegetables and flowers were lovely and very colourful. There were also some stalls selling honey and crafts such as lanterns, baskets, straw hats, toys and souvenirs. There isn't a huge selection of shops in the centre but if you like shopping you can catch a local bus to BTC City where there are supposedly a lot of shops and retail outlets. Just catch bus number 7 opposite the bus station (Buy a ticket in advance at the ticket office). The journey takes about 10 minutes.

Things to see and do in Bled
An absolutely must-do is take a boat over to the island on the lake. It's lovely to be on the lake and the views are amazing. We took one of the 'pletnas' or rowing boats that row groups of around a dozen over to the island (you may have to wait till the boat is full).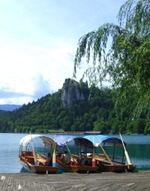 It cost €10 each. You are allowed about half an hour on the island which is quite long enough to have a look in the church, ring the bell (for good luck) and take some photos. You can also rent rowing boats and row yourself out there.
We'd recommend hiring bikes (when we were there it was only around €11 per day for a good quality mountain bike - or less if you don't need it for a whole day) and exploring the area. The centre of Bled is the only place you'll encounter much traffic but drivers in Slovenia are used to cyclists and the traffic is generally quite slow. If you just want a gentle cycle ride, you can ride round the lake (about 5 miles) as there's a path the whole way round. If you're looking for more of a work-out, you can cycle to beautiful Vintgar Gorge. On a hot day the uphill journey there is quite hard work, although it's not a long journey. The mostly downhill journey back to Bled is much easier though! It's a very scenic journey though, through some really cute little villages, past some lovely alpine type houses with flowers everywhere.

Vintgar Gorge, about 4km north-west of Bled is a popular tourist attraction. It's a spectacular 1.6 km gorge with a wooden walkway the whole way round which leads you over bridges, and through waterfalls, pools and rapids, ending

Bled Castle is worth a visit for some spectacular views over the city. It's quite a climb up there (we found it too hard to cycle up and it was even quite hard work to push the bikes up the hill - but great coming back down!!). There's also a bus that goes to the castle from Bled - check with the tourist office for times.

There wasn't a huge selection of shops in Bled and the ones there weren't great to be honest. It may have changed but in 2007 there was just a jewellery shop, one selling speciality teas, a branch of L'Occitane, a couple of shops selling touristy things - and that's about it. We expected lots of places selling paintings and artwork with it being such a beautiful place, but there was nothing like that. There was a little market just back from the lake off the road leading to the bus station, but there wasn't a great selection of stuff and what there was seemed overpriced.

Some useful sites about Slovenia:
The Guardian - Ljubljana - Some useful articles from The Guardian on Ljubljana
Bled Tourism - Lots of useful information about Ljubljana here including tours, accommodation and maps
Trip Advisor Bled - Reviews from other travellers and a useful forum
Trip Advisor Ljubljana< /a> - Reviews from other travellers and a useful forum
Hotels in Bled - Book hotels in Bled , view photos and read reviews by other travellers.
Hotels in Ljubljana - Book hotels in Ljubljana, read travellers reviews of those hotels and view photographs