CÓRDOBA SPAIN
We spent 2 nights in Cordoba in December 2012 and one night in December 2013. There's lots to see and do and it's a very pretty town, but we would not recommend it as a place to spend New Year's Eve (see below)!

Cordoba is ideally placed 1¾ hours from Seville, 1¾ hours drive from Malaga and just over 2 hours from Granada, so it's well positioned for touring Andalucia and you have the option of several airports. It's only 1 hour 40 minutes from Madrid, so that is another option.
Click here to book great value hotels in Cordoba, view photos and read travellers' reviews

We chose to stay at Hotel Hesperia the first time we were in Cordoba and chose this hotel because we read reviews saying it was relatively easy to park in the street nearby. Driving in the old town of Cordoba is something that should be avoided if at all possible because there are lots of narrow streets, one-way systems etc. We were very glad that we chose to stay at Hotel Hesperia.

Hotel Hesperia (now called NH Córdoba Guadalquivir) is on the other side of the Guadalquivir river from the old town and main attractions and has lots of street parking nearby, although it still took us a few circles round the block before we found somewhere. The hotel has paid parking on site (around €16 per day) if you prefer, but you shouldn't need to pay to park. The location is excellent even if you're not driving, as it's just a short walk over the bridge to the impressive Mezquita, Alcazar and old town. It's a 4* hotel, part of the NH chain, and we had no complaints. We were there in December and it was cold outside, but nice and cosy in the room. The room was large, clean and modern, the bed was king-sized and very comfy and you could order extra pillows from a menu in the room if required. The staff on Reception were efficient and friendly. Being there in winter we obviously didn't use the pool, and we stayed on a room only basis so we didn't sample their breakfasts, but there was a little cafe 2 minutes walk away, just before the bridge, where you could get a good selection of teas, coffees and tasty tostadas at very reasonable prices. Visit the Hotel NH Cordoba Guadalquivir's website for more information, or click here to reserve a room, view lots of photos and read reviews from other travellers.
We enjoyed our visit to Cordoba so much in 2012 that we decided to spend 2 nights there in 2013, including New Year's Eve. We had spent 2012 New Year's Eve in Granada and had been slightly concerned that we would struggle to find places to eat and drink, because in Spain many places close down on New Year's Eve so that people can spend the evening having dinner with their family. However, we had a fantastic time in Granada and had no problems finding places to go so, perhaps naively, we thought it would be the same in a place like Cordoba which attracts many tourists from around the world. It was not to be! In fact, we found that not only was everywhere closed on New Year's Eve, it was also deserted on 1st January. We decided to cut our losses and check out a day early!

We arrived around midday on 31st December and found a place to park quite easily near the Hotel Hesperia where we stayed last year, just a 10-15 minute walk away. We had chosen an apartment (Apartamentos la Fuente) rather than a hotel room, in case we decided we wanted to cook something on New Year's Eve, but we decided not to use the kitchen in the end. The apartments were in a good central location, easy walking distance to the main attractions of Cordoba, but we were really disappointed in the room. It was a bit dark, dingy and old-fashioned, and the walls were really thin, so we kept being woken up with noises including running water, voices and moving furniture. The hairdryer was the worst ever! We couldn't hang up anything in the wardrobe as there were only two hangers there, and they were tiny and unusable! We didn't find the people on reception particularly friendly or helpful either, and we asked for spare pillows not long after checking in, but were told we'd have to wait till the next day for them. Disappointing. We had breakfast in the hotel (because on 1st January everywhere else was closed!) and it was quite nice and good value at €2.50 for coffee and tostada with tomato, or coffee and a large croissant. We wouldn't stay here again - there are better places in Cordoba.

Things to see and do in Cordoba
The impressive Mezquita, now known as the Holy Cathedral of Cordoba, is probably Cordoba's main attraction, so nobody should visit Cordoba and not see this spectacular cathedral. The art and architecture is the work of Islamic architects, who built it as a mosque in the 8th century, and the cathedral was added inside the mosque by the Christian conquerors in the early 13th century. In 1984 the historic center of Cordoba, including the Mezquita, was made a UNESCO World Heritage site.

Opening hours are as follows: (Note: Hours may vary so suggest you check while in town before visiting)
March - October: Monday to Saturday - 10am to 7pm, Sundays and holidays: 8:30 am to 10.30 pm and 2pm to 7pm
November - February: Monday to Saturday - 10am to 6pm, Sundays and holidays - 8.30am to 10.30pm and 2pm to 6pm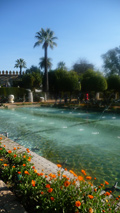 Entrance is €8 for adults, €4 for children of 10-14 years, and free for younger children. If you go before 10am, entry is actually free. Visit the official website for more information. This website is also quite helpful.

Another place worth a visit is the Alcazar de los Reyes Cristianos, just along from the Mezquita. It is peaceful and relaxing to explore the gardens and fountains. There's not a great deal to see in the actual palace, but it's worth climbing the winding stairs to the tower for some great views of the town. Click here for more information and opening hours.

Cordoba's old Jewish quarter (Juderia in Spanish) consists of a fascinating network of narrow lanes with picturesque buildings with whitewashed walls, cobbled streets, nice shops (some quite touristy admittedly, but nice to look round non-the-less) and restaurants. It's nice to stroll around this area and don't miss the cute Calleja de las Flores (a pretty narrow little alley with flowers in pots on the walls), although it will no doubt be full of tourists! Good photo opportunity at the end of the alley when you turn back and see the cathedral tower in the distance.
Bars and Restaurants in Cordoba
There is a good selection of restaurants and bars in Cordoba, and more nicely decorated, chill-out, candlelit bars than most places in Spain.

We had a very nice tapas lunch in 2012 at Garum 2.1.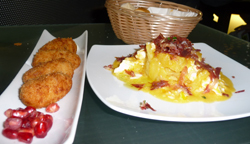 The tapas tasting menu is a good idea if you want to try some of their best dishes, but it included a lot of fish when we were there and Gareth isn't keen on fish so we decided just to select a few dishes. The menu was a bit confusing, but we eventually selected a few tapas to share. All were very nice. We'd probably describe it as modern tapas as the selections are slightly more interesting than standard tapas fare of croquetas, tortillas, albondigas, etc. Having said that, we did have some very nice croquetas! (see right) Their salmoneja soup (like gazpacho but slightly thicker) has won awards so we had to try it and it was very tasty. The broken eggs and ham (see right) was a meal in itself, and the russian salad with prawn was the nicest russian salad I've e€ver had, as it's something I'm not too keen on and tend to avoid. It was a bit too fishy for Gareth however. A delicious selection of breads and crackers were served with the tapas, and cost only €1. Drinks were reasonably priced too. A small beer cost €1.30 and a very nice glass of chilled rosé wine was only €2. Our total bill came to just €19.30 which we thought was good value for a very nice lunch.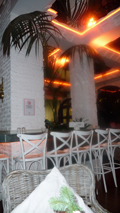 Had dinner the first night in 2012 at Fusion Restaurant on the riverside. A nice Cuban type vibe to the place,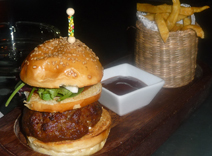 which had a trendy, upmarket feel to it, but wasn't too pricy. Rosé wine was €3 a glass which is a bit more than we're used to paying, but the food was reasonable and we enjoyed our Pork Sandwich (€8) and the Pappardelle with Prawns (€9.50) was absolutely delicious. We actually landed up here again the following night and I decided to have a glass of Cava (€3) but was disappointed to find that they didn't have any, so I had to resort to rosé again. Small beers were only €1 which was very good value. We'd had a menu del dia at lunchtime (disappointing food, but cute surrounds at Taberna Deanes in the Juderia) and some tapas earlier in the evening so decided to snack on an ox burger (€8 - see right) and an egg & chorizo tapas type dish (€4) - both nice. I was a bit disappointed when I went to order another glass of roé to find that they had now run out of that as well as cava, so decided to have a glass of white verdejo which was in fact very nice and only €2. So, nice place but they need to sort out their supply of cava and rosé wine!

A couple of nice bars along the riverside are Burlesque, nicely decorated with red lights and velvet, and Amarre, a popular place with a nice vibe.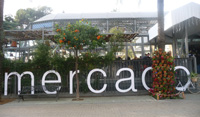 Mercado Victoria opened in 2013 and is a bit similar to Mercado San Miguel in Madrid, although a bit smaller. It has a nice vibe, is very popular with the locals (much more locals than tourists the day we were there) and a nice place to go for a bite to eat and/or a glass of wine or beer. There are stalls selling high quality burgers, croquettas, baked potatoes, salmoreja, prawns, tuna, ham, oysters, yoghurt, fresh fruit, cakes, etc. We got a nice glass of wine for just €1.80 too, so prices are very reasonable. Click here to visit their website for more information, including location.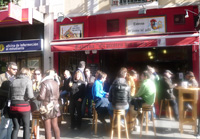 The bar "El Picoteo del Gallo" on Calle Angel de Saavedra always seemed to be busy and had a good atmosphere. It could take a bit of time to get served because it was so busy, but was a nice place to have a drink and, in typical Andalusian style, they gave you tapas with every drink.

On our way back to our hotel one evening we stopped for one last drink at Regadera at the riverside end of Calle de la Cruz. Regadera is a very highly rated restaurant in Cordoba (No 1 in Trip Advisor 2012/2013). The staff were very friendly and the place had a nice vibe. We'll try to eat here next time we're in Cordoba, though we'll probably have to book, as the restaurant is quite small.


Click here to reserve discount hotel rooms in Cordoba, Spain view photos and read travellers' reviews
Some other useful sites about Cordoba:
Cordoba Tourist Information
- Useful guide to tourism in Cordoba
Frommers
- Destination guide to Cordoba
Lonely Planet
- Useful info about Cordoba
Trip Advisor
- Reviews from other travellers and a useful forum
*Note: Prices quoted above were accurate in 2012 and 2013