SOME OF THE MOST BEAUTIFUL VILLAGES IN SPAIN

There are some amazingly beautiful villages in Spain and we love to visit them. It's obviously a totally different experience to visiting a large town or city, and some of these villages are very small so are best to pass through, take some photos and move on to the next place. The website 'Los Pueblos Mas Bonitos de Espana' (the most beautiful villages of Spain) is useful if you're planning a trip and want to visit some lovely villages. We've listed some of our favourites below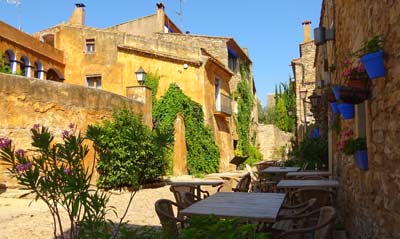 Peratallada
This pedestrianised village (you park on the edge of the village and walk through) in Catalunya is definitely one of our favourites and we spent a night there in 2018 after visiting on a day trip the year before and then visited again in 2021. It's a beautiful medieval village with cobbled streets, stone walls covered with beautiful plants and flowers and cute artisan shops, restaurants and cafes. We stayed at
Hostal Blau
both times and loved it. It's an interesting place with lots of character. Breakfast was delicious with lovely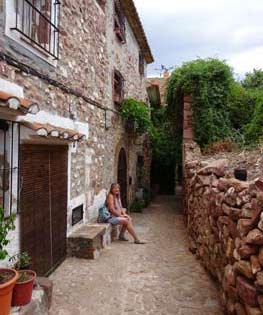 fresh fruit, including tasty strawberries, very fresh croissants, yoghurt, ham, cheese, catalan butifarra sausage, etc. The staff were all very friendly. The first time we were there we had a good meal at
El Borinot
just opposite our hotel, but had some trouble finding anywhere in 2021, possibly because a lot of places had closed due to Covid. We were grateful for the complimentary bottle of cava we'd got for booking Hostal Blau on their own website - see
here
. For more information about Peratallada click
here.
Begur
- We stopped off in this beautiful village for lunch in July 2021 and decided it was somewhere we'd like to return to. Because we were there at lunch time, lots of the shops were closed, but we had a nice snack lunch at L'Autentic and enjoyed strolling around the village.
Vilafames
Vilafames is another gorgeous village in the Castellon province in the Valencia Community, about an hour's drive from Valencia city. It's very photogenic with a castle at the top of the hill, and pink-red rock walls and stonework. We spent one night here in 2017 and stayed at L'Antiq Portal a nice, very friendly, family-run small hotel in a perfect location in the centre of Vilafames. We had a tasty but simple breakfast of coffee, orange juice, tostada with ham and cheese and croissant and there is free street parking close to the hotel. In 2022 we visited again and this time stayed at El Rullo, L'Antiq Portal's sister hotel just up the road. Check in is still at Antiq Portal and breakfast is served there, although El Rullo has it's own restaurant where we had a very nice dinner including one of the most delicious fillet steaks (from Galicia) that we have had in Spain.

Vilafames has a really good restaurant on the main street called La Vinya. We had an excellent meal there in 2017 but please contact them if you plan to eat there as we were disappointed to find it closed on a Friday night in 2022, when their Facebook page showed it would be open.. There are a few little bars there too, and a delicatessen type shop with a good selection of wines, olive oils, local products, etc. There is also a very interesting modern art museum (Museo de Arte Contemporaneo) on Carrer Diputació, 20. Note it closes on Mondays but is open Tuesday - Sunday 10am - 2pm and 4pm - 6.30pm.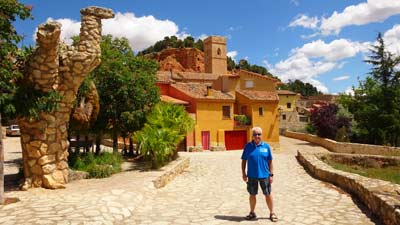 Anento
An incredibly beautiful village near Daroca in Aragon, between Teruel and Zaragoza, Anento is definitely worth a visit. It's a tiny place with only around 200 inhabitants and one hostal that was closed when we were there,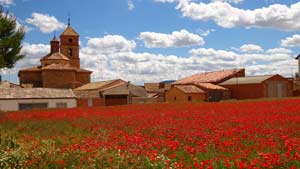 so maybe a place to pass through rather than stay the night. Climb up to the castle for lovely views, and visit the quaint church on the way.
You may be lucky as we were and drive past beautiful poppy fields on the way to Anento at the village of Lechón.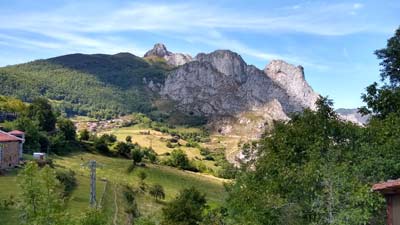 Dobres and Cucayo
There are so many beautiful villages in Cantabria, including Potes which we have featured on this page, but the villages of Dobres and Cucayo, close to Potes and the Picos de Europa in the Valle de Liébana were gorgeous with amazing mountain views and deserve a mention

Santillana del Mar (which despite its name isn't actually on the coast) is another pretty village in Cantabria, another of the 'pueblos mas bonitos'. Lierganes (don't miss the fish-man statue at the riverside), Comillas and Carmona are other lovely villages worth visiting in this area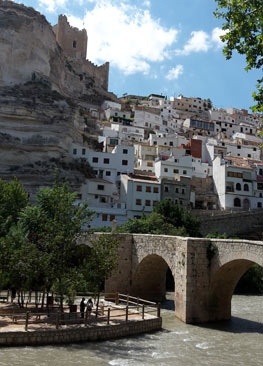 Alcalá del Júcar


Alcalá del Jucar is a village in Albacete province and another of the 'pueblos mas bonitos'. It has a dramatic setting in a deep gorge on a steep hillside overlooking the Júcar River. As you're driving down to the village stop on the way for amazing views of Alcalá del Júcar. Once you're there, it's well worth the climb up the cobbled path to the castle, a medieval Arab fortress with great panoramic views over the countryside. If you're there in the summer there is even a man-made beach which is really popular with those wanting to cool down in the river.

We spent a night in Alcala del Júcar in July 2016 and stayed at Hostal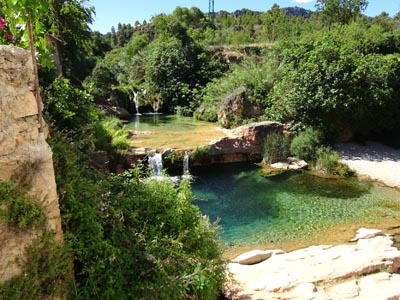 Alcala del Júcar - the room was clean and comfortable and shower was very powerful. Good value for money, in a good location with free parking, and breakfast was included. We ate at the restaurant of Hostal Rambla after looking at several menus and feeling a bit uninspired. The food was very nice and we had a lovely good-value bottle of wine to go with it.
Valderrobres
Valderrobres is another lovely village in the Matarraña region of eastern Aragon, sometimes known as the Spanish Tuscany, which we visited in June 2017. We stayed at the Hotel El Castell,a lovely hotel, beautifully restored, right next to castle. Free street parking in square round the corner from the hotel. Comfortable, attractive room with fridge and free bottle of water. Excellent large walk-in hydro massage shower. Delicious breakfast with fresh fruit (including cherries), eggs cooked to order, croissants, ham, cheese, etc. Friendly, helpful staff.
Visit the museum and the castle. If you visit Valderrobres it's worth taking a short detour to the village of Beceite which has a beautiful and very picturesque waterfall (see right).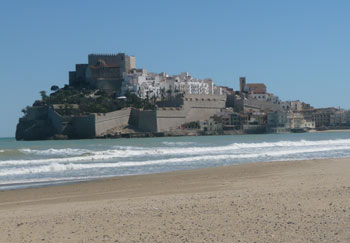 Peñíscola
Peñíscola is a pretty coastal town in the Castellon province in northern Valencia region. The old town with narrow cobbled streets and the castle at the top is very pretty and we chose to stay in the old town at Dios Esta Bien, a lovely small B&B with nice rooms with stone walls and a cute coffee shop. Note that it varies a lot throughout the year as it can get very busy in summer but is quiet in winter, with several restaurants closed.
Morella
Morella is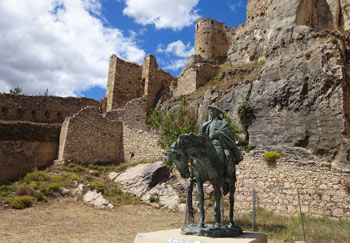 another lovely village in the Castellon province, about 2 hours north of Valencia. It's a beautiful walled town with a hilltop castle and is popular with day trippers from Valencia, but also worth an overnight stay. We stayed at Hotel Rey Don Jaume in a good central location. Nice breakfast, bar with outside terrace. Paid parking is available at the hotel for 9.50 but you can also find free street parking on the edge of town and just walk through, or pay just €2.50 a day up the hill from the hotel, in the parking area near the castle. There are many places to eat in the town, but we had a lovely meal at Daluan on Cuesta Cárcel. Food was very nice and beautifully presented.
You must climb up to the castle ruins for great views over Morella, and you should also visit the Church of Santa Maria la Major with its impressive spiral staircase. There are lots of nice little shops, many of them selling local produce such as honey, olive oil, cheese, etc. We'd also recommend that even if you're visiting Morella in the summer you should take a jacket as we were there is June but at night we were surprised at how much colder it was than anywhere nearby!
Ainsa
Another beautiful village on the list is the pretty medieval hilltop village of Ainsa in Huesca, near the Pyreneese, which we visited in June 2022. It is very popular with french tourists, so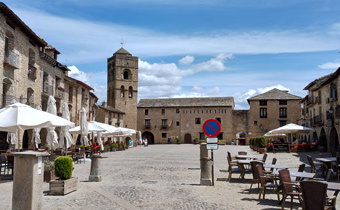 much so that the shop and restaurant owners tend to talk to everyone in french first, before spanish! We stayed in Dos Rios which is a hotel/apartment/hostal building with a restaurant and bar. We'd happily stay there again. We had a snack lunch there and a very nice breakfast which was included in our room rate. It's located down by the river in the modern part of the town, but just a short walk up to the old town and castle. It is quite a steep path, mind you, and we saw some elderly people really struggling to walk up there on a hot afternoon. It is possible to drive up if you don't fancy the walk, as there is a large car park at the top. Also, if you're going to climb up there, be aware that most of the shops will be closed for siesta between around 1pm - 5pm. Many were closed indefinitely when we were there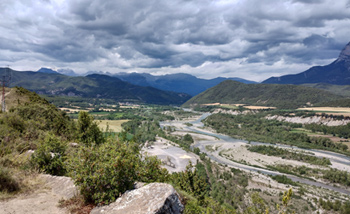 . There are quite a few restaurants in the main square but not as many as we'd expected.

There are some nice views from the castle ruins, and also some short walks that you can do including one from the car park at the end of the castle, which goes to Mirador del Cinca, a viewpoint with lovely views over the river, valley and village (see right). It's a walk of just around 1.5km with only a short climb.

We'd recommend that you visit the Eco Museum on the edge of the castle grounds. We saw many large birds in the area, including vultures, eages, etc and this museum has some displays to teach you about conservation in the area and explain how they are trying to help wildlife that is in danger of extinction. There is a short film with subtitles in several languages, and they have an area where they keep some birds that have been injured and are unable to be released into the wild. They have two bearded vultures (lammergeirs) who were rescued after damaging wings by flying into electric cables and who they are now trying to get to mate. There were also owls and another large bird that had lost an eye.

We had a very nice meal at Ordesa 88, just along the road from our hotel. Their menu del dia is available all day and was good value for €20/person including 3 courses, bread and drinks (1/2 bottle of wine per person). The salmorejo with watermelon was absolutely delicious, the beef with wild mushrooms was so tender and the desserts really tasty. Service was efficient and friendly too.


Visit this website for more information: Los Pueblos Mas Bonitos de Espana - The most beautiful villages in Spain


*Note: Prices quoted above were accurate in 2013-18