We first visited Phuket on our very first trip to the Far East in 1990 - the trip which awakened such a wanderlust in us! We stayed in Karon Beach then, returned to Karon Beach on our round-the-world trip in 1992, stayed in Kata Beach in December 2005 and in Kamala Beach in December 2006. There are many things to consider when you're visiting Phuket as some areas such as Patong are now very over-commercialised - a nightmare for some people, but perfect for those who want plenty of tourist facilities and places to party. We've written about some of the areas below.

Kamala Beach
A very pleasant, small, low key resort in the north of Phuket. Nice beach with deck chairs and umbrellas in the centre. Some bars and restaurants on the beach along the front and others on the main street. Probably best suited to couples and families but just about 10 minutes in a taxi from Patong for those who want to party.

Kata Beach
This is a very popular area in Phuket. As you can see from the photograph of Kata Yai Beach below, the main beach is very large and although there are lots of tourists the size of the beach means it always appears relatively uncrowded. The photo is taken in December 2005, in high season. There is a good selection of shops, restaurants and bars in the area. There is another beach, to the south called Kata Noi and it is a quieter beach, although much of the beachfront is occupied by the Kata Thani hotel.

Karon Beach Another good option if you're looking for a lively area to stay. Lots of hotels, bars, restaurants and shops and a nice long stretch of beach. Karon and Kata run into each other, Kata being further south and still a bit quieter. As you can imagine, we noticed an incredible difference in Karon when we visited in 2005 after having last been there in 1992! It has developed so much, but we would still go there before Patong any day!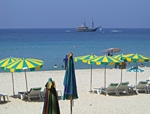 Surin Beach We didn't stay here but got a taxi from Kamala and had a look round. The beach (see left) was very nice (probably nicer than Kamala - less busy) and some nice beach restaurants, but I think it would have been too quiet at night for us. There weren't many shops or restaurants back from the beach and the main street was very quiet. Probably now it will have a bigger selection of accommodation and restaurants etc, and would be perfect for us!

Patong We first visited Patong in 1990 and found it a fun place to go for the day - good beach, nightlife, a bustling market. We went there once for a night in 1992 and didn't see much change, but when we decided to have an evening there in December 2006 we absolutely detested what we saw so much so that we got a taxi back to Kamala after about an hour and a half and were so relieved to be back there! We found it over-commercialised, overcrowded, polluted - not what we think of as the real Thailand. The central area was crammed full of neon lit noisy bars, all playing different music loudly - a complete assault on the senses. There was also an overwhelming smell of traffic pollution. Judging by the crowds of people, however, many do not share our view, although we suspect that people who have never been to Thailand before end up there courtesy of their travel agents, who put them there because it the longest established and busiest area with lots of hotels. Also, if someone requests nice beaches but lots of nightlife that might be a reason for travel agents to recommend Patong. Please note that we only walked around the centre of Patong at night in 2006, so maybe we're being unfair and there may be some very charming areas. The ambience during the day may be completely different. There do seem to be many lovely hotels and the beach is probably still nice, but to us Patong is the very worst side of Thailand. Interestingly, we were quoted 7100B in a shop on Patong main street for an item we'd seen for around 2000B in Bangkok and Ao Nang. When the assistant realised he wasn't going to be able to rip us off, he gradually kept reducing his price till he got down to 1700B!! Obviously by then we'd lost trust and doubted the quality of the item. Prices can vary from place to place, and it's always worth getting prices from a few different shops to compare, but we were never quoted such a ridiculously high and unrealistic price anywhere else.


Click here for great deals on Phuket hotels, with photos and travellers' reviews

Kamala Beach Resort
Stayed here in December 2006. It's a large hotel, almost definitely the biggest hotel in Kamala. We usually prefer smaller hotels but found this a nice place to stay. There are two beautiful swimming pools and ample chairs round the pools, it's right on the beach with clean rooms, a large restaurant, good massages (*300B per hour). The restaurant was good for lunch - a large selection and all the food we had was nice. V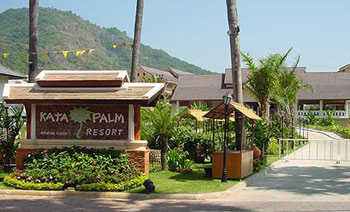 isit Kamala Beach Resort's website. Click here to make a reservation at Kamala Beach Resort, view photos and read reviews by other travellers.

Kata Palm Hotel
This is a very nice hotel in Kata Beach where we stayed in December 2005. The hotel has the most amazing pool - well, two pools in fact. The small one is nice and has a swim up bar, but the second one is spectacular. It is huge and meanders round beautiful gardens, underneath a waterfall and has the nicest ambiance. It was just so nice to swim in! Our room (superior, pool view) was nice and spotlessly clean. If you wanted to spend a bit more, the deluxe pool access rooms looked nice and you can enter the lovely pool direct from your balcony. It's about a 10 minute walk to the beach. We didn't eat at the restaurant, apart from breakfast which was fine. Visit Kata Palm's website. Click here to make a reservation at Kata Palm Hotel, view lots of photos and read reviews by other travellers br>

Restaurants and Bars on Phuket
Kamala
We ate lunch at our hotel,
Kamala Beach Resort
, a few times and had delicious chicken and coconut soup (nice and spicy) and fried rice.  
Manubai
on the main road is a lovely restaurant. The chicken sate and papaya salad were nice starters and huge portions. The green and red curries were nice, especially the green (the red lacked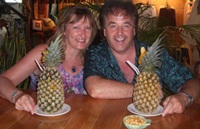 veggies) and a nice selection of wine at reasonable prices. The 'Lounge Bar' upstairs is lovely too, nice comfy sofas with cushions and good cocktails. Had delicious pizzas at
Salt & Pepper
, a Swedish run place on the main road, but with seats on the beach side, so you can have your meal listening to the sea. Had a Pizza Thailand which was a spicy one with mince and chillies and another one with mushroom, pepper and tomato. Both extremely yummy. Our favourite bar was
Ko-Khee bar
, also on the main street. The staff were very friendly, they had a great cocktail list and the Mai tai's which were served in a whole pineapple (see right), were amazing! Sometimes showed Premiership football on TVs at the back of the bar.

Kata Beach
We had a nice meal at Capriccio Italian Restaurant on the main road, just along from Kata Palm. We ordered a pizza and penne arrabiatta to share and a bruschetta to start. The starter was tasty and was brought quickly, but we waited ages for the main courses. The pasta came and we just shared it as there was no sign of the pizza. After we'd finished the pasta the pizza arrived! Both very nice, just a shame they hadn't come together!

Kata Cafe
, also on the main road, was nice for spring rolls, chicken fried rice and pineapple fried rice.
One of the nicest meals we had was at the Kampong Kata Hill Restaurant, up on a hill close to the main road on the very north of Kata. A lovely place, really cute and very Thai looking with lovely flowers, and most importantlydelicious food. We really enjoyed our Thai green curry and Stir fry with red curry (see photo). Recommended.
Things to do in Phuket
Trips from Phuket Some of the most interesting popular tours from Phuket are Phi Phi Island tours for snorkelling, Phang Nga bay (James Bond Island).
Khao Lak
is also quite close to Phuket (around 2 hours drive) and Phuket is the nearest airport, so if you fancy a two-centre holiday it is a good option.
A tour which gets rave reviews but which we have never done is John Gray's Sea Canoes tour 'Hongs by Starlight'. Get details
here
. If you book this tour after reading about it here, we'd be grateful if you'd tell them you found them on TravelJimmy.com - thanks!