We visited Koh Chang in December 2014 when we spent 6 nights at KC Grande Hotel on White Beach (Haad Sai Khao). To get there from Bangkok you can either travel overland or take a flight to Trat (a very cute small,lowrise airport), then a ferry to Koh Chang. The ferry takes about 30 minutes. There's then a short drive of about ½ hour from the ferry to White Beach - a longer drive if you're heading to one of the beaches further south. If you're flying to Trat Airport it takes about 3 hours from Bangkok and you'll get a mini bus at the airport to the ferry. We booked the transport from the airport to our accommodation on Koh Chang through Ian at IamKohChang.com and got a really good deal, all very efficient. We paid 370 baht each and if we'd turned up without a pre-booking it would have cost 500 baht each, so a good saving.

We really enjoyed Koh Chang - it's a great place to chill for a few days. The sunsets are amazing, the beach is very nice, the sea is lovely to swim in - clear, calm and shallow (certainly in December when we were there). On White Sand Beach there is a decent choice of restaurants, a few bars (but not girly bars like some of the more tourist resorts in Thailand) and small shops and stalls. Prices are generally lower than in the more touristy areas, and certainly lower than in Bangkok.

KC Grande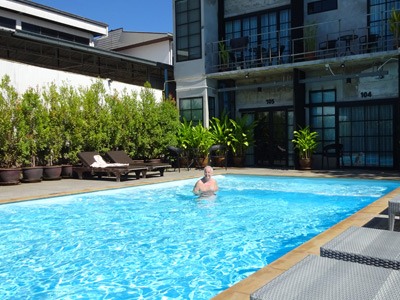 KC Grande is a luxury hotel on White Sand Beach. We stayed for 5 nights in a hillside room and the room was large, clean and very comfortable with a huge kingsize bed, minibar, aircon, etc. We also had a small balcony. The hotel has 5 swimming pools, including a huge pool next to the beach, and a beautiful infinity rooftop pool with great sunset views. The hotel seemed to be very well managed and we had no complaints during our stay. Breakfasts were well above average, with a huge selection of fresh fruit, cereals, fruit juices, made to order eggs or omelettes, a selection of rices and noodles, pancakes, waffles, breads and pastries. We didn't eat dinner at the hotel but had lunch there a few times and it was very nice and reasonably priced, considering this is one of the best hotels on the island. The only problem we had was getting sunbeds in the morning, due to the fact that the majority of guests put towels on the beds before going for breakfast. If it wasn't possible to get sunbeds on the lower level, by the beach, you could always find one at the rooftop pool, across the road. We don't usually choose large hotels, prefering smaller ones, but KC Grande was a lovely place to stay and we'd happily stay there again. View the hotel's website or click here to book a room at KC Grande Resort on White Beach, Koh Chang, view travellers' comments and see lots of photographs of the hotel.


Click here for discount hotels and accommodation in Koh Chang, view photos and read travellers' reviews
Restaurants and Bars in Koh Chang


Nightlife on Koh Chang is pretty low key, even on White Sand beach. It's very romantic at night because there are cushions and candles on the beach.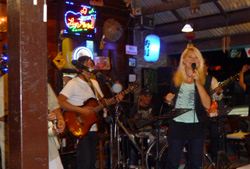 Live music at Oodies bar
If you like live music you must go to Oodies Bar on the main road, close to the KC Grande on White Beach. We met people there who had taken taxis or tuk-tuks from other parts of Koh Chang just to spend a night there, and if we returned to Koh Chang and stayed in a different area, we would do that. It was that good! Perhaps we were lucky that the band and guest artists were particularly good the time we were there - the standard was amazing - but the place obviously attracts top quality musicians and singers. We went to Oodies almost every night we were in Koh Chang. The evening typically started with some pleasant easy-listening, laid back music from a local couple and at around 10pm the star attractions would turn up and the rock and blues would start. There was a female singer from Nashville, Tami Jones Andrews, who had the most amazing voice. She spends 6 months of the year in Koh Chang and sings at Oodies most nights. The bar owner Oodie, plays guitar several nights a week and he is seemingly known as a top blues guitarist in Thailand. The bass player Pang was the smiliest person and looked like he was having such a great time! The food at Oodies is also very good - the Penang curry is delicious and the steak is very good if you fancy a change from Thai food.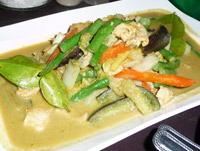 We read a lot of good things about Thor's Place (sometimes called Thor's Palace) so decided to give it a go. We ordered starters of prawn crackers and chicken satay and had just started eating the delicious crackers when our main courses arrived. We hadn't even started the satay! We could have asked them to take the main courses away, but decided it was easiest just to deal with it all at once. A bit disappointing and we didn't eat all the starters and felt a bit rushed to eat things before they went cold. The food was nice, particularly the green curry (see right), but not much better than others we'd had. The food was good value though. Nice location looking out at the beach, listening to the waves. We'd say give it a go, but if you plan on having a starter, be sure to ask them to serve it BEFORE you get your mains!

The food in Nong Bua Seafood Restaurant was also very good, and it always seems to be busy. We were originally put off, because we're not keen on seafood, but most people were eating Thai curries and stirfries the night we were there. It's not going to win any prizes for ambiance with its bright lights and plastic chairs, but the food is excellent and very good value for money. The Massaman curry was particularly good, although we had to ask for more chilli - sometimes these restaurants think you can't stand really spicy, but we can!

Had a delicious red curry and sweet and sour chicken with vegetables at Sabay, on the beach. There was live music - a very good band from The Philippines - and later there was a fire show on the beach. The food and drink were more expensive here (beers were 100 baht each) than most but the quality of food was very good, and we were getting entertainment also, so we didn't grudge the extra cost.
Things to do in Koh Chang
We chose to spend our time on Koh Chang chilling out completely and its a great place for a very relaxing few days break. However, if you don't fancy too lazy a time here there are things to do including boat trips which take you to nearby islands, jungle treks and snorkelling trips (although we heard that the snorkelling in this area isn't great).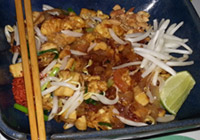 We did a Thai cookery course at
Koh Chang Thai Cooking School
. We had a great time and made some amazing food which we will try to replicate at home. Nam, who runs the course, is very good and explains everything in good english. Pad Thai made at Koh Chang Thai Cooking SchoolIf you visit their website you will see that there is a selection of courses. The one we did was at 2pm - 5pm and cost 1200 baht each (including transport from White Beach). We made delicious Pad Thai (see photo at left), Spring Rolls (they were amazing! - see photo right),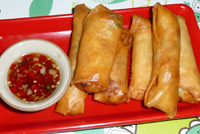 2 kinds of soup, Tom Kha Gai and Tom Yam Ghoong, a choice of Thai curry (we made a green curry and a penang curry - both very tasty), Papaya Salad and a dessert of Bananas in Coconut Milk (tastes much nicer than it sounds). One piece of advice - don't eat before you do this course! There's no way you can eat all the food you make, but you start off eating the Pad Thai and Spring Rolls, then at the end you sit down and try to eat the soup, salad, curry and dessert - impossible, no matter how delicious it was! One thing to note, we sent an e-mail to enquire about doing the course, but didn't get a reply which was a bit disappointing. Their website was also down but we found a telephone number for them and called and booked places. They could lose bookings because of this as some people would think they'd gone out of business or something.
Shopping in Koh Chang is very low key, consisting mostly of small stall-type shops selling shirts, t-shirts, etc.
Some useful sites about Koh Chang
:
IamKohChang - The Independent traveller's guide to Koh Chang with lots of useful information
Travelfish Koh Chang Travel Guide - More useful stuff about Koh Chang
Trip Advisor - Reviews from other travellers and a useful forum