HOI AN, VIETNAM
In our opinion Hoi An is a must-see in Vietnam. It's located on the east coast in Vietnam's central Quang Nam Province, on the north bank near the mouth of the Thu Bon River. Although it's on the coast, the majority of hotels, restaurants, bars and shops are in the old town. There are some hotels near the beach but we found that being near the old town was without doubt the best location and we cycled to the beach a couple of times, but felt that there was not enough at the beach to make us want to stay there. Hoi An was our favourite place in Vietnam in 2015, so we decided to return in 2018. There's no doubt it's very touristy but tourists flock there for a reason - it's a magical place, specially at night with all the colourful lanterns. The old town is great, but don't miss out on the countryside near the beach which is incredibly beautiful and peaceful with rice fields, rivers, palm trees, etc. To be honest, we felt that the old town was struggling a bit to cope with the number of tourists on our second visit. There were quite a lot of tour groups during the day, and at night it was quite dirty with piles of rubbish on some of the streets in the old town. Having said that we would still recommend Hoi An as a place to visit in Vietnam. It has a lot going for it and we still loved cycling around the beautiful countryside.

Transport
The nearest airport to Hoi An is at Da Nang, about 45 minutes drive away. Most hotels will arrange a car to pick you up and confirm the price ahead and from our experience they tend to be quite competitive, so you can decide whether to go with their driver or book elsewhere. Of course, you can just pick up a car at the airport, but it would be best to agree a fee before getting into the car just to be sure. There is also a train and bus station at Da Nang. The station is also around 45 minutes drive from Hoi An. You can get a public bus to Hoi An which will save you a lot of money but will take around 1 hour.

Accommodation in Hoi An
Gem Riverside Hotel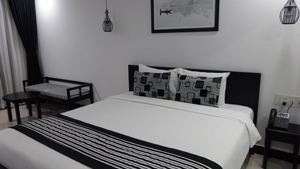 In 2018 we stayed at this fantastic new hotel for a week. It's in a good location, just 10 minutes walk from the old town and an easy walk over a bridge from Can Nam island. The rooms are very nice and modern, decorated in black and white with a large comfortable bed, fridge and TV. The spacious bathroom had a huge walk-in shower. Our room also had a balcony overlooking the river. Bicycles were available free of charge and were good quality. There is a spa although we didn't use it, a nice large swimming pool and a small gym. The staff were super-friendly and helpful. They were always asking what your plans were for the day to see if they could give you any advice, book tours, etc. We like to do our own thing, and plan our days on our own, but if you tend to look for assistance and recommendations on where to go, what to do, etc this would be perfect for you. Perhaps it was just because the hotel had recently opened, but we were surprised that they didn't seem to be pushing the restaurant at all, ie no real menu and there weren't often people there. There are plenty of restaurants in Hoi An so it wasn't a problem for us, but we know that some people like to spend a lot of time in their hotels so perhaps it would have been inconvenient for them. We did have breakfast included in our rate and the breakfasts were fine with a reasonably good choice including fresh fruit, eggs cooked to order, salad, rice, etc.
Click
here
to visit Gem Riverside Hotel's website or
click here to book a room, view lots of photos and read reviews from other travellers.
Goda Boutique Hotel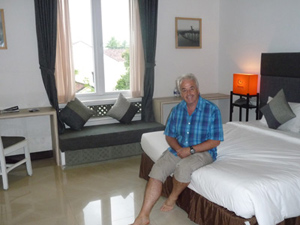 In 2015 we stayed at Goda Boutique Hotel - a fantastic hotel and amazing value for money. The owner Mrs Linh is a lovely lady who is doing an excellent job of running a very professional hotel. The rooms are lovely and the service is out of this world.

We stayed here for 4 nights. We'd read lots of good reviews and worried that it wouldn't live up to the hype, but it totally exceeded our expectations. The location is ideal if you wish to sample the old town area and the beach by bicycle (provided free by the hotel). It's about 20 minutes to cycle into the old town and about 40 minutes to walk, and even if you don't want to spend time at the beach, the cycle trip in that direction is well worth it as it is very beautiful, past rice paddies, and with lots of great photo opportunities. Don't be put off by the location if you don't want to walk or cycle as taxis between the hotel and the old town are ridiculously cheap.

The hotel is very new and the rooms are beautiful and of a very high standard, with large walk-in shower, king size bed, fridge, etc. Our room had a garden view and was very quiet. Amazingly, on your first night they give you a free dinner which is of excellent quality. Breakfasts are a la carte with a good selection of western or Asian dishes (omelette, scrambled eggs, noodles, rice, fresh fruit, banana and pineapple pancakes, etc).

The staff were all incredibly friendly and helpful, but particular mention must go to Mrs Linh, the owner. We contacted her a couple of days before arriving at the hotel, because at our previous destination in Vietnam we had a minor medical issue which required a dressing to be cleaned and changed every day, and wanted a recommendation for a suitable hospital or clinic in Hoi An to get this done. Not only did Mrs Linh arrange for a nurse to come to our hotel room daily to do this, but she also accompanied her in order to translate, and helped to make the whole experience less stressful.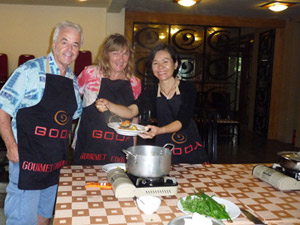 We did a cooking course with Mrs Linh (she kindly fitted us in at very short notice on a rainy morning!) and again this was very enjoyable and professionally done. The two of us got to choose one shared starter and a main course each. We chose chicken pho and vietnamese vegetable curry as our mains and for the starter we chose Green Mango Salad with beef. At the end of the course you get a printed copy of the recipes as well as a very handy julienne peeler/cutter which I use all the time back home.

On our first couple of days it was raining heavily, but this didn't stop us using the bicycles (which are available free of charge to guests) and having a great time. We might have visited the Marble Mountains in Danang if the weather had been better. Everything says that it is not safe to go when it is wet.
If you stay in Hoi An we can certainly recommend Goda Boutique Hotel and we would have no hesitation in staying here again. Click here to visit Goda Boutique Hotel's website or click here to book a room, view lots of photos and read reviews from other travellers.
Places to eat and drink in Hoi An
Hoi An has a large selection of bars and restaurants and we had some nice meals here. Some of our favourites are: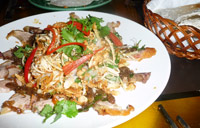 Morning Glory - We had two really delicious meals at this popular restaurant. In fact it's so popular that you can expect to have to queue to get a table if you haven't booked! The service was excellent, the staff very friendly, and they explain to you how to eat the dishes you order, which makes the meal experience more interesting. The food was possibly the very best we had in Vietnam, particularly the delicious duck breast and banana blossom salad (see left) which was served with crispy poppadom-like crackers. The Ban Xeo (crispy pancake) with pork, beansprouts and a satay peanut sauce was really nice too as were the crispy spring rolls.

On our second visit we couldn't resist having the duck salad again and it was as delicious as we'd remembered, but as our second dish we chose cinnamon beef stew which was served with rice and french bread. Very tasty with really nice flavours! The only disappointment was the flambeed bananas we shared for dessert, which were far too sweet for us.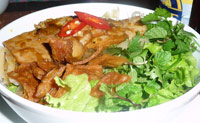 Streets
- This is a training restaurant where they train vulnerable, orphaned and other disadvantaged young people for careers in hospitality. There are several training restaurants throughout south-east Asia and they deserve to be supported because they are creating jobs and futures for many people who would otherwise struggle to make a living.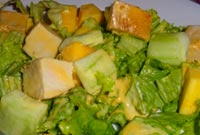 We met an ex-trainee of Streets when we were in Phu Quoc, working in a restaurant there, and he was full of praise for the training and assistance he had received there. They deserve to be supported as all the restaurant revenue goes towards supporting the programme. The food is very nice and the service is excellent. First time we had very tasty Cao Lau Noodles (see right) which is a Hoi An speciality with pork, croutons, mint, herbs and noodles with a spicy chilli sauce, and Com Ga which was a chicken and lemon dish and also very nice. Second time we went for lunch and had a delicious chicken and mango salad with a passion fruit dressing (see left).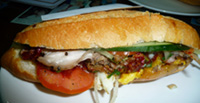 Phuong Banh Mi
- You can't go to Vietnam and not sample a Banh Mi sandwich. We had read about the incredible banh mis at this restaurant and decided to give it a try. We were not disappointed and, having tried it in 2015 we returned in 2018 and were just as impressed. This sandwich has an amazing amount of flavours! The bread is delicious and the fillings fresh and very tasty with egg and a delicious spicy sauce. They have quite a large menu, but we'd read in advance that Number 3 was the best and that was also our experience. At only 25,000 dong (around 75p) it must also be the best value sandwich on the planet! It's just a little cafe and doesn't look anything special from the outside, but it's well worth it.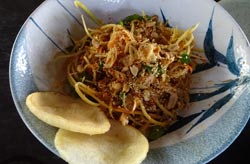 Son Hoi An
At 232 Cua Dai in Cam Chau this is a lovely place to have lunch if you're out cycling or exploring the area just out of Hoi An town overlooking the river. The papaya salad (see left) is amazing and their fruit shakes are really tasty. Prices are incredibly reasonable too.

Baby Mustard
This restaurant is a good place to stop for lunch if you're cycling from Hoi An to the beach. They have a garden next to the restaurant where they grow all their own vegetables, herbs, etc. It's a nice setting, very peaceful, but to be honest we were a bit disappointed with the food. The papaya salad with chicken was nice, but not close to the best we've had, and the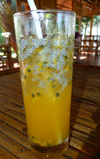 sweet and sour chicken with vegetables and rice was OK, but again we've had better, and the chicken was quite chewy. However, their 'secret' drink (see right) was wonderful - with passion fruit, lemon grass, lime juice, etc. Absolutely delicious!
Green Mango Bar
We had a drink in this stylish bar a couple of times toward the end of the evening. Vietnam is not a late night place and we were surprised to find that many places in Hoi An closed at around 10pm! We were the last people to leave this bar just after 10pm and it felt as if it was 3 in the morning!! Anyway, it's a nice place to have a drink and I can thoroughly recommend the Green Mango Mojito - delicious!


Things to do in Hoi An
Most hotels will let you use their bikes free of charge, so unless you're really nervous on a bike we'd recommend cycling along the main road from town to the beach. It's a beautiful journey, along the river where you'll see fishermen, farmers, buffalos, lovely green scenery. It's well worth it!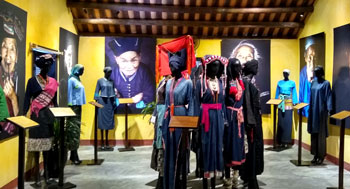 The
Precious Heritage Art Gallery Museum
on Phan Boi Chau Street down near the river is well worth a visit. French photograph Rehahn lives in Hoi An and has opened this amazing gallery with many exhibits, mostly portraits of ethnic people from Vietnam, but also from some other countries including Cuba, Borneo and Rajasthan. The majority are fantastic photographs capturing the beauty in the elderly and children and the museum has
'Five rooms spanning over 500 sqm in a 19th century French house, present hundreds of portraits, over 60 costumes, tribal songs and a sense of wonderment. As you visit each room, you can follow Réhahn on his 8 year journey to document 51 of the 54 ethnic tribes left in the country.
You can buy prints, books, etc but even if you're not looking to buy, it's worth visiting this fantastic museum. It's open 7 days a week from 8am until 8pm. There is also a shop on the main road in the town with displays of some of the prints but the museum has much more information and photos.
One of the most wonderful things about Hoi An is the amazing colourful lanterns that can be seen in the old town. You can buy them at a very reasonable price, but why not learn to make your own? We did a short course with
The Lantern Lady
at 09A Pham Hong Thai Street (Opposite Thai kitchen) +84 121 948 2335 30-60mins if you want to use her frame or 90mins roughly to make your own. They fold down to transport home. Book through Facebook
here.
Great fun for adults and children alike!
Click here to book hotels in Hoi An, read travellers reviews of those hotels and view lots of photos of the hotels
Some useful sites about Hoi An:
Trip Advisor - Reviews from other travellers and a useful forum
Travelfish Guide to Hoi An - Useful resource about Hoi An


*Note: Prices quoted above were accurate in 2015 - 2018