VALENCIA SPAIN
We have visited Valencia many times, the first time being in June 2006, and we think it is a lovely city. Spain's third largest city is quite unique in appearance as the Turia River that once flowed throughout the city was diverted because of floods in the 1960s. What was the river is now Turia Gardens, with parks, playgrounds, playing fields and cycle paths. The Palau de la Música is adjacent to the Turia Gardens and the spectacular City of Arts and Sciences lies at one end.

The Aerobus (line 150) is very good, cheap (€2.50 each way*) and reliable for transport to and from the airport and takes about 20 minutes to Valencia city centre. It runs from 6am to 10pm and the route from the airport drops you close to the main railway station. You just walk up to the station to get a taxi (if needed) to your hotel. Taxis in Valencia are generally very good value.

Although we haven't used the metro service from the airport yet, this is a great option for getting into the centre of Valencia. This site gives details of the metro routes which operate from 5am till midnight (check your route in case some don't run the same hours). Fares start at €1.50 - €3.90* for a single trip to any destination within the city limits (prices rising as you cover more zones).
You can buy tickets from machines or from the ticket office at the stations, but if you are planning to use the metro regularly during your stay, it may be worthwhile buying a combined travel T10 card (10 trips €7.20 - €20.00 depending on zones), or a Valencia tourist card (€15 for 1 day, €20 for 2 and €25 for 3 - or save 10% by buying it online which covers all transport and gives discounts to museums and other tourist attractions. Be sure to validate the ticket before you start to use it - there are validation machines at the entrance to the metro and on the buses and trams. Every journey must be validated - if the journey is not validated, then the journey will not be registered on the ticket. If your ticket is not registered as being valid for that journey and an inspector checks your ticket you could be subject to an instant fine. If you are using a T10 for more than one person then you must validate it for each person. To do this remove the ticket and re-inserting it again into the validation machine for each person that is using the ticket. The back of the ticket will show that it has been validated correctly as a line of text is printed on the back for each validation. You can, therefore, know how many journeys you have left by counting the number of validation lines.

Airport Parking - If you need to park at Valencia Airport, you could try Servirent. They took over from Seguro Parking which covers Alicante and Murcia and used to also work from Valencia. We used Servirent for the first time in November 2021 and were happy with the service. It takes away the stress of having to find a car hire company's office in the industrial estate closes to the airport, as they collect and return your car from/to the main airport carpark. They advise you of a place to park your car and there is a car parked nearby with a hole in it for you to deposit your keys, travel details, etc. When you return you simply go to the same place in the car park and they will return your car. They were waiting for us even though our flight was early. The only problem we had was trying to find the ticket machines to pay before we could exit the car park. If you check where they are before you go for your car it will save you some stress!
Valencia Hotels
Click here to book great value hotels in Valencia, view photos and read travellers' reviews
We have found the standard of hotels in Valencia very good and would happily stay in almost all of them again.

Sorolla Centro

We stayed in this central hotel for one night in July 2021. It is ideally location in the very centre of Valencia, 5 mins walk from central station and Xativa metro station.

Our room was nice, with a comfortable bed, large walk-in shower, large flat screen TV, etc. We didn't take the deal with breakfast but there is a bakery and several cafes more or less right on the hotel's doorstep. Visit their website for more information or make a booking at Sorolla Centro, Valencia, view lots of photos and read reviews from other travellers.


ABCYou B&B

We stayed at ABCYou B&B for one night in April 2014. It's a really nice B&B run by a friendly young Dutch couple, and the rooms are spotlessly clean, spacious, stylish and comfortable. It's in a good location too, just 5-10 minutes walk from Xativa and Colon metro stations and Valencia Nord Train station, and in a great area for nightlife with a huge selection of bars and restaurants in nearby Canovas and Russafa. There are some nice touches, such as a goodie bag with 2 small bottles of water, earplugs, a booklet about Valencia, and sachets of shower gel. Breakfast for an extra €6 each was nice too, and a bit different from standard breakfasts - individual trays with coffee/tea, fruit juice, some yoghurt with muesli, toast with a selection of ham, cheese, boiled egg, tomato, jam etc and a little sweet cake. It seems that they are trying very hard to make a success of this place, and they deserve to succeed. Very nice and very good value - we'd certainly be more than happy to stay here again. Visit their website for more information or make a booking at ABCYou B&B, Valencia, view lots of photos and read reviews from other travellers.

Hotel Vincci Palace

We stayed at the Vincci Palace Hotel for one night in June 2013. It's a really stylish, modern 4* hotel in an ideal location, just down the road from Plaza de la Reina, close to lots of shops and restaurants, and just 5 minutes walk from Colon metro station which is on the same metro line as the airport. Our room had a large omfortable bed and they have a pillow menu so you can even choose the type of pillow you like. The staff were very friendly and helpful, and the breakfasts were probably the best we've had in a hotel in Spain. We don't always book a room including breakfast as it can be very expensive, but we got a very good room deal which included breakfast and we were glad that we did. There was very tasty fresh fruit to start, a good selection of hams and cheeses, rolls, toast and nice little extras like tortilla (Spanish omelette), mini pastries with tuna and also some hot food like bacon, egg and fried tomatoes. There was also a nice selection of pastries, cakes and mini croissants if you prefer sweet things for breakfast.

When we were checking in, the receptionist noticed that it was Gareth's birthday, and when we returned to our room at night, there was a bottle of cava on ice, and some sweets - a very nice surprise, and a lovely touch. We would stay at the Vincci Palace again without hesitation. Visit the hotel's website for more information or make a booking at the Vincci Palace, Valencia, view lots of photos and read reviews from other travellers.

Hotel One Shot Palacio Reina Victoria (previously Husa Reina Victoria)

We stayed at the 4* Hotel Husa Reina Victoria for one night in July 2010. We thought the location was excellent, very central and just about 5 minutes walk from Colon Metro station, but found the rooms a bit dated looking although they were clean and comfortable and the buffet breakfast was good with plenty of choice. The Husa Reina Victoria has now been renovated and is now called One Shot Palacio Reina Victoria. Visit the hotel's website for more information or make a booking at the Hotel One Shot Palacio Reina Victoria, Valencia, view lots of photos and read reviews from other travellers.
Holiday Inn Express, Valencia
We stayed at the Holiday Inn Express for 3 nights at the end of March/beginning of April 2010, to meet up with friends. It's a nice hotel, about 15 minutes walk from the City of Arts & Sciences and is therefore very handy for that, but it's not very close to a metro and is quite a long walk to the city centre. As with most Holiday Inns there are usually lots of different offers available, and we got a good deal that included breakfast. If you don't have breakfast included it can be quite expensive to pay as you go and there aren't any cafes close to the hotel serving breakfast. Their buffet breakfast is quite extensive with fresh fruit, eggs, bacon, ham, cheese, toast, pastries - or you can just opt for coffee and a croissant in the cafe if you prefer. If you have a car, the hotel has a car park which costs an extra €16/day*. There is limited parking in the streets around the hotel but we couldn't find a space anywhere. They also charged for internet access, which was disappointing (hopefully this is no longer the case). The hotel has a gym and a small outdoor swimming pool which is open from the end of May until September. We'd only recommend this hotel if you particularly want to be close to the City of Arts & Sciences, otherwise it's preferable to be somewhere a bit more central. For more information, visit the hotel's website or make a booking at the Holiday Inn, Valencia, view lots of photos and read reviews from other travellers.
Hotel del Carmen, Valencia (previously called Acta del Carmen)

We spent one night at this 4* hotel in September 2009. It's a nice modern boutique hotel, about 10-15 minutes walk from Turia, Alameda or Colon metro stations and handy for the bars and restaurants in the Barrio del Carmen area of the city. It's probably the type of hotel that would appeal to couples more than families. The rooms are modern and bold, with a comfortable king size bed and a large walk-in shower. Breakfast was very nice, not the huge buffet selection you get in the bigger hotels, but nice bread, pastries, cheese, ham, fruit, yoghurt, etc. We'd be happy to stay here again. Visit their website for more information or make a booking at the Hotel del Carmen, Valencia, view lots of photos and read reviews from other travellers.
Hotel Silken Puerta Valencia
We have stayed twice at the Hotel Silken Puerta Valencia (Hotel Puerta Valencia) for one night when we have gone to the Mestalla to see football matches. It's easy walking distance to Valencia's Football Stadium (10 minutes) which makes this a good choice if you're going to a game. Otherwise, expect to walk a lot, or use the metro (it's just about 10 minutes walk from Aragon metro stations and Amistat is also close by). It's a relatively new, modern hotel and the rooms are nice. We'd stay here again without hesitation if we were going to a football match, but would probably choose somewhere more central if we were visiting the city for other reasons. The hotel buffet breakfast is good with nice freshly squeezed orange juice, delicious fruit (melon, pineapple, orange, apple and kiwi), a selection of hams, cheeses, rolls and toast. We wouldn't recommend having scrambled eggs, tortilla, bacon or sausage because, as can be the case with hotel hot buffet breakfasts, the food that was supposed to be hot was luke warm. We wouldn't pay extra to have the breakfast here (normally costs about €12.50 each), but if you can get a deal that includes it, it is definitely worthwhile. Parking in the hotel's private car park costs €12 a day. Visit the hotel's website for more information or make a booking at Hotel Silken Puerta Valencia, view lots of photos and read reviews from other travellers.

Another option if you're going to the Mestalla for a football match is Sweet Hotel Renasa where we stayed for one night in April 2017 when attending a game. It's less than 5 minutes walk from the stadium and very close to Valencia University. It's also very close to a metro station if you want to go into the centre of town. Visit their website for more information, or make a booking at Sweet Hotel Renasa, view lots of photos and read reviews from other travellers. The hotel has comfortable rooms, a bar and fitness centre. There is paid parking nearby for €15 and if you are lucky you may find free street parking in the area nearby. This will be harder if it's a match day and close to kick off time.

Hotel Eurostars Gran Valencia

We stayed at this 5* for one night in September 07 and one night in 2016. The first time was a last minute booking but we got a good deal on their 'romantic package' which included breakfast, parking, a nice chilled bottle of Cava and chocolates (we'd expected a small box of sweets but just got 4 individually wrapped chocolates with the hotel logo!). Parking is expensive so we took that into account, although the second time we stayed there we managed to park free on the street just round the corner from the hotel. The hotel is not centrally located, but is just round the corner from a metro station which makes getting into town very easy. It's also close to the Bioparc, Valencia's impressive zoo, and across the road from Valencia CF's New Mestalla Stadium (currently being built although there is no confirmed completion date). If you like being able to walk everywhere this hotel is not for you. The rooms are gorgeous (see photo in gallery above) and the breakfast buffet was very nice, with lovely fresh fruit, rolls, cheese, ham, scrambled egg, etc. You could even have a glass of Bucks Fizz with your breakfast! We'd happily stay here again even though it's not right in the centre. Visit Hotel Eurostars Gran Valencia's website or reserve a room at Hotel Eurostars Gran Valencia, view photos and read reviews from other travellers.

Hotel Dimar, Valencia (previously Husa Dimar)
The first time we were in Valencia in June 2006 we stayed at Husa Dimar, a 4* centrally located hotel. We chose it mainly because of the good reviews we'd read, but have to admit to being very disappointed. First impressions weren't great when we were unable to check in because the room we were initially allocated smelt really strongly of smoke (we'd requested a non smoking room). When we eventually got checked in a few hours later we were still a bit disappointed with the room. Breakfast was nice (a buffet with selection of cereals, fruits (including Valencian oranges), yoghurt, rolls, toast, cold meats, cheese, eggs, bacon, sausage, etc) and was included in our room rate. It's in a great location in the Canovas area which has a good selection of bars and restaurants and about 15 minutes walk from the Barrio del Carmen area. Note: The Husa Dimar has been totally refurbished since our visit and the hotel now gets excellent reviews on Trip Advisor and reservation websites, so we hope to give it another try in the future. Parking is available at a nearby location for €14/day. Visit Hotel Husa Dimar's website or reserve a room at Hotel Dimar Valencia, view lots of photos and read reviews from other travellers.


Things to see and do in Valencia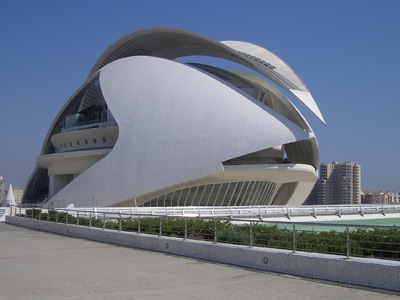 One of the main attractions in Valencia is the spectacular City of Arts & Sciences which comprises an Aquarium, Science Museum and Planetarium. The white building is a very impressive example of modern architecture, fronted by a large pool of bright blue water. You can buy a ticket for all three sections, or select the section/s you want. When we were there there was an IMAX film on at the Planetarium but the timing wasn't right for us, so we just went to the Science Museum and the Aquarium. The best bit of the Science Museum was the Space Shuttle simulator so look out for what times it is running. Generally it was probably more suitable for kids. The Aquarium is quite large - the biggest in Europe - and well worth a visit. Lots of tropical fish, an interesting dolphin show, Beluga whales, walruses, birds, etc. Visit the
City of Arts & Sciences website
for more information and to check what's on during your visit. If you're visiting in July or August it can get really busy, so go early to avoid huge queues.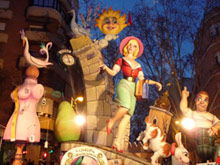 A good time to visit Valencia is during Las Fallas. This is a huge festival held in March only in Valencia, where amazing huge papier mache sculptures (ninots) are erected at various points throughout the city. On the final day of the festival, the sculptures are burned to the ground except for the winning one which is saved! Don't miss the Mascleta every day of the festival at 2pm where the loudest firecrackers in the world are let off and the ground shakes for about 10 minutes! There are regular parades all over the city where Valencianos dress up in their traditional costumes and carry offerings of flowers to the Plaza del Virgen, where a wooden tree shaped structure is filled up with all the flowers. Click here for more information about Las Fallas. If you're interested in learning more about this fascinating festival but aren't going to be in Valencia to experience it for yourself, the Fallas Museum is well worth a visit. Entry is just €2 Monday - Friday and free on holidays and weekends.
Valencia FC - If you're a football fan you may be lucky to time your visit when Valencia are playing at home. You can buy tickets from the club's website or direct at the stadium ticket office. If you're not there for a home game, you can still visit the stadium for a tour - full details and costs here.
The Bioparc Zoo in Valencia is well worth a visit! It's a zoo where the animals aren't all in cages and are encouraged to roam in environments close to their natural habitat. We'd recommend going early in the morning in the height of summer as there's a lot of walking to do to see all the exhibits and it can get hot! Have a look at their website for more information.

There are many areas worth a visit in the Valencia region including Altea, Alicante, Denia, Javea, Jalon Valley, Orba Valley, Peniscola.
Bars and Restaurants in Valencia

For several years our favourite restaurant in Valencia was the pleasantly-named Ginger Loft Cafe run by the friendly Peruvian Santi and Michael from Scotland. The food was absolutely delicious, whether you were looking for a four-course meal or just a snack. They have now opened a new restaurant called BAAT in Ruzafa district (Pintor Salvador Abril 8) serving multicultural food, including Thai, Peruvian, Korean, etc and also specialising in cocktails. We had one night in Valencia in July 2021 and headed to BAAT for an absolutely delicious meal. The Thai salad with squid and prawns was amazing (and we're not usually keen on squid!) and the Thai green chicken curry was authentic, full of lovely Thai flavours and just the right amount of spicyness. We'll look forward to eating there again next time we're in Valencia.

Our experience is that the Spanish aren't generally very good at Italian food, but Pomodoro, on Calle del Mar just off Plaza de la Reina is an exception. We had a delicious meal in June 2013. We had a nice starter of little pieces of slightly crispy bread rolls with dips - tomato, cream cheese and olive pate. We then shared a really nice Kikka salad (see left - chicken, avocado, rocket, parmesan) and a very tasty Pancettona pizza (buffalo mozzarella, ham, cherry tomatoes & rucola). Visit their website for more information and full menu.

Pomodoro's sister restaurant Pappardella is just round the corner from the Cathedral and also has a nice ambience and good selection of salads and pastas (they don't do pizzas here). Visit their website for more information.

A place that gets great reviews but didn't really do it for us is Tinto Fino Ultramarino, close to the Cathedral on Calle Corregeria 38. We visited in 2013 and had their Menu del Dia, great value for 3 courses, a drink and coffee, and friendly staff, but we found the food a bit bland. Still, we seem to be in a minority as these reviews show. Visit their website for more information.

The Barrio del Carmen area in the old quarter is a quaint area with narrow cobbled streets and lots of bars and open air cafes. There's a nice little bar in Plaza Negrito, La Cava del Negret, just off the main street Calle Caballero where you can sit and watch the world go by with a jug of Aqua de Valencia. Agua de Valencia is Valencia's speciality cocktail. It tastes like a Bucks Fizz but with a bit of a kick - orange juice, cava with vodka or gin added, usually vodka. Very nice!.


Another nice little bar with seats outside is Cafe de Sant Jaume on the corner of Calle Cabellero and Plaza del Esparto. They also do great Agua de Valencias but we had a very interesting variation here, made with cava and lemon ice cream. Delicious and very refreshing!
Some useful sites about Valencia:
Click here to book great value hotels in Valencia, view photos and read reviews by other tourists
VLC Valencia Valencia Tourism & Convention Bureau's site with lots of useful information
This is Valencia - What's on in Valencia, bars, restaurants and sightseeing
The Guardian - Valencia - Some useful articles from The Guardian on Valencia

Trip Advisor - Reviews from other travellers and a useful forum

Click here to book great value hotels in Valencia
*Note: Prices quoted above were accurate in 2013-18