We visited Khao Lak in December 2006 and December 2008 - we were very close to visiting in December 2004 and count ourselves very lucky that we couldn't get the flights we wanted and landed up going to Cuba. The tsunami devastated the area and around 5000 people lost their lives. We found Khao Lak to be a magical place with very friendly people, especially after what they have been through. It is somewhere that I am certain we will return to.

The nearest airport to Khao Lak is Phuket, approximately 1½hours away. For transportation from Khao Lak to Phuket airport, we used Khaolak Travel & Tours Center, which is the first travel office on the main road just round the corner from the Baan KhaoLak Resort. You can call them on (66)076 485065 or e-mail them. We found them to be friendly and efficient. Cost was 1200B in December 2008

Baan Khaolak Resort, Nang Thong Beach (Khao Lak Town)
This is one of the nicest hotels we have ever stayed in. In 2006 we stayed in a seaview villa and we have certainly never taken so many photographs of a hotel room before! It was really gorgeous.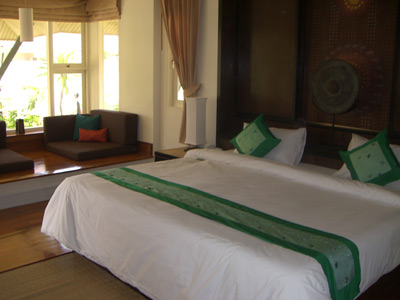 The whole resort is laid out in a very low key manner. It's luxurious without being pretentious, and just has a really nice ambiance. We initially tried to book a superior room, but they were fully booked so we were offered a good discount on a seaview villa. We didn't regret that, as the villa (R203) was just gorgeous. Decorated in Thai contemporary style, large with a king size bed, a lovely seating area by the window, looking out to sea, and a step up to a 2 cushion seat. There's a fridge with free drinking water supplied daily and a TV. The door from the main room opens to a large sink and dressing area with wardrobe, safe and cupboards, steps down to a huge walk-in shower and a separate door to the toilet. There are robes, slippers and big fluffy towels. Very impressive! In 2008 we stayed in a two storey cottage room. Although we would still opt for the seaview villa if money was no option, we were really happy with the two storey cottage room. Apart from the smaller balcony and lack of seating area, there is not really much difference to be honest and we'd be more than happy to return to a two storey cottage room in the future.

The swimming pool is gorgeous and absolutely lovely to swim in and the beach restaurant was a nice place to have lunch (we didn't eat there in the evening). The bar was nice to have a cocktail while watching the sunset and the staff were all very friendly. There was a library room and a small gym. We have absolutely no hesitation in recommending this hotel and we certainly hope to return here one day in the not too distant future. The hotel is located on the best section of Nang Thong beach. There are some nice comfortable beach loungers but watch out for some people putting their towels out then not using them for a couple of hours - happens everywhere! The sea was lovely to swim in too. It was nice to go for walks along the beach but further along was much stonier. The location of the hotel is also good for eating out at night or shopping. It's on the edge of Khao Lak town and easy to walk to nearby facilities. Some of the hotels in Khao Lak were a bit isolated and would require a taxi to get into town, but we liked being able to walk everywhere. Visit Baan Khaolak's website or click here to make a reservation at Baan Khaolak, view photos and read reviews by other travellers.

Restaurants and Bars in Khao Lak
 
Khao Lak nightlife is very low key. There are quite a good selection of restaurants and bars, but no nightclubs or girlie bars. Great for couples or families. Don't leave it too late to eat as some restaurants turned people away after 10pm. Some good places to eat and drink were:

Baan Khaolak Resort - Although we absolutely love this hotel, the restaurant wasn't the best. We only ate there at lunchtime and weren't too impressed with the food, which is more expensive than average. Their papaya salad with fried chicken was an exception - very tasty and incredibly spicy! The club sandwich was soggy, the fried rice was OK but the chicken with it was incredibly chewy. Tough, chewy chicken also spoiled the otherwise delicious coconut and chicken soup. Hopefully they've sorted things out now, as this was 2008.

Nang Ton Beach Resort on the beach next door to Baan Khaolak is a good place to go for lunch. We went twice and the food was good both times. Sweet & sour chicken was very tasty with lots of crunchy vegetables, the fried rice with chicken was very good and the chicken and coconut milk soup was also very tasty. Prices were very reasonable too.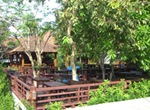 Jai - Excellent value and very tasty food at this popular restaurant on the main road. Nice papaya salad to start and very good massamum and penaeng curries.


Ruen Thai (see left) - Another popular place on the main road. Ate here in 2008 and had a very tasty red curry with potatoes and a nice green curry with nice corn and other vegetables. in 2006 had nice spring rolls and enjoyed our red and yellow Thai curries although the yellow one had a flavour of Indian curry which was odd!

Phukhaolak - Directly opposite Baan Khaolak Resort on the main road, this place has a lovely atmosphere with seats outside with candles on the table and trees covered in fairy lights (maybe just for Christmas), with cute subtle Thai music playing. The food was excellent and the place very popular, although it's slightly more expensive than most of the restaurants in Khaolak. We thought it was worth it though. We loved the chicken satay (a huge portion, more than big enough for 2 to share) with nice peanut and cucumber sauces. The massamum curry and penaeng curry with chicken were absolutely delicious but the penaeng was the most spicy dish we had the whole holiday! We did tell them that we liked spicy, because generally we find the Thais don't make it spicy enough for the tourists, but if we went back we'd ask for medium spicy! We originally went to this restaurant just after it had opened in 2006 when we thought it had lots of potential, but terrible service. They have definitely sorted out their problems as the service was excellent in December 2008.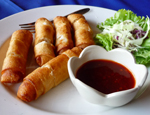 Happy Lagoon - The spring rolls here (see right) are to die for! Absolutely delicious spring rolls with prawns and the most delicious spicy sauce. The fried rice with chicken was tasty too. The bar next door is a nice place to have a drink in the evening.

Viking Steak Restaurant - Very popular restaurant. We ate there twice in 2006 and both times were delicious. However we went back in 2008 and were extremely disappointed. It was by far the most expensive meal we had in Khao Lak but by no means the most enjoyable. Maybe we just got them on an off night, or maybe they feel they don't have to try so hard now because the restaurant is so popular. The sauce with the Chicken with wine and mushroom sauce was really salty and very heavy - I landed up scraping it all off and just eating the chicken (which was very tender). The huge potato wedges served with it were delicious. The meat was very nice in the Steak and Pork Fillet Combo (can't remember exactly what the dish was called) but again the sauce was overpowering and too salty. The potato that came with it was cold, so we had to ask them to heat it up for us. No apology though. Complimentary salad to start is a nice touch. Doubt if we'd go back again as there are much better restaurants in Khao Lak.

The staff were very friendly at La Dolce Vita Italian Restaurant. The food wasn't bad either. We enjoyed the bruschetta to start and then shared Arrabiatta Penne Pasta and a Pizza Diavola. The pasta was tasty but the pizza was a bit bland. Nice change though.

 We had a delicious pizza in Khao Lak Restaurant, also on the main street. The pasta looked really nice too and the place was very popular. Again, however, the service was terrible. This was certainly not the fault of the Thai staff who were running about trying their best to serve everyone. The western owner didn't seem to be making any effort to help them.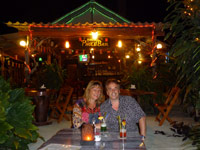 Phulay Bar - This is a great little bar (see left), next to Phukhaolak restaurant. They do the best cocktails in Khaolak and for a bargain 100B each*. We particularly loved the Mai Tai, Pina Colada and Khaolak Legacy. The owner Puu is very friendly and also runs the travel office next door with his brother.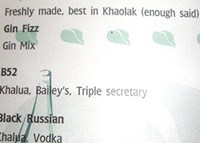 D-Time - We had a drink here a couple of times and had a very tasty lunch here too. The spring rolls were a close second to those at Happy Lagoon and the fried rice with chicken was one of the nicest we had. Service was good too. We noticed that they'd changed their menu but when we were here In 2006 the cocktail menu had us in stitches. B52's ingredients are Khalua, Baileys and Triple Secretary!!!
Things to do in Khao Lak
Shopping
Shopping in Khao Lak is very low key. No large malls but plenty of small shops where you can buy clothes, souvenirs, silk, wooden items, paintings, etc. There is a large supermarket in Khao Lak Town, several opticians (we can recommend Top Charoen Optical - helpful, friendly staff and very good quality) and tailors, and several small stores like 7-11 where you can buy drinks, toiletries, books, etc
Trips from Khao Lak
There are many things to do from Khao Lak.
Khao Sok National Park
is nearby where you can go elephant trekking or canoing. Khao Lak is an ideal base for visiting the Similan Islands, some of the best dive sites in the world where you can go on a day trip or stay on a boat for a multi-day dive tour. There are tours to James Bond Island, featured in the James Bond movie The Man with the Golden Gun.
Another option is to hire a car and explore the area yourself. A reliable place to hire from is PCC Adventures (13/44 M.7, in Khao Lak town on a side street off the main road, down from the main supermarket, Tel: 076 485 126 or 089 6469195)). They are Budget Car Hire approved but we hired a car in high season and their Budget cars were fully booked. They were still able to give us a Suzuki Jeep for just 1100B per day*. Very friendly and we'd go back there to hire again although we'd book in advance to try to get a better car. The roads are fairly quiet, the standard of roads are good and it's nice to have some freedom to explore. Try to get a decent map before you head out though, as some roads aren't marked well and the map we had was useless. We decided to drive north to Takuapa and then get the ferry over to Kho Koh Khao, but we couldn't find the turn off for the ferry and we finally decided it was 'a sign' and moved on! If you fancy going to Kho Koh Khao make sure you get good directions first!
On the main road at Bang Niang there is the Tsunami Museum. It's a small, low key museum but is interesting to look round, and there is a donation box where all money received goes to local children. Just along from the museum is a chilling reminder of the tsunami - a police boat that was swept about 3km inland, across the main road and into a field from the power of the wave.


Some useful sites about Khao Lak
Khao Lak Lovers
- Useful site with an excellent
forum
. Ted who runs the site is incredibly helpful and knowledgeable about the area
My Khao Lak
- a German site which is soon to be translated into English. The useful forum has some posts in English
Trip Advisor - Reviews from other travellers and a useful forum