We spent 2 nights in Knysna, a nice town on the Garden Route, one of the Southern Cape coast's best known holiday destinations, situated on a lagoon.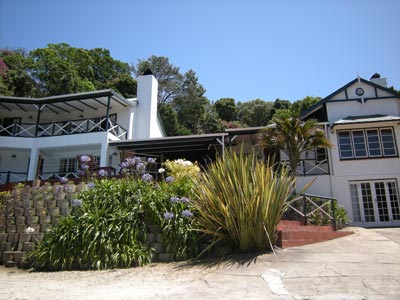 We stayed at Hideaway Guest House which is about a 20 minute walk from the centre of Knysna, but it feels very safe there so you don't have to worry about walking. It's a nice place and hosts Cecil and Colleen are very helpful, if not a bit too efficient. When you arrive you have to fill in forms with all your details, advising what you want for breakfast each morning, what time you want it, etc - we found this a bit regimental as it's difficult to know what you're going to feel like for breakfast in 2 days time, or even next morning! Anyway, they were very helpful and gave some good tips on what to do, where to eat, etc in the area. Our room was nice, but smelt really bad - think it was mothballs. There were bathrobes and a nice range of complimentary toiletries in the bathroom. Click here to book a room, view lots of photos and read reviews by other travellers.

Well worth a visit if you're in Knysna on a Saturday is Sedgefield Farmers Market. Sedgefield is about 10 minutes drive from Knysna, but this market is fun and colourful. There are lots of stalls selling everything from clothes to paintings to honey, indian food, antiques jewellery ....... There was a nice vibe and musicians playing there too..

You can't go to Knysna without going on a cruise to Knysna Heads. Leaving from the waterfront at regular intervals, our cruise cost R90 each*. We were a bit disappointed when we got on the boat that there was hardly any outside sitting. The boat was set up inside with tables for eating and drinking. However, we were ready for lunch and prices were reasonable, so you could sit at a table, eat and drink as you wish, then wander outside when you want to take photographs, etc. There are some amazing houses overlooking the water - lots of rich people in Knysna obviously. It's a nice relaxing way to spend an hour and a half, particularly if it's a nice sunny day. When you get back from the cruise there are some nice shops and restaurants around the waterfront.

We didn't find a restaurant we'd recommend in Knysna, but found a really nice pub called Olde's Pub & Grill, close to the waterfront. The place had a nice atmosphere. We were maybe just unlucky at Cafe Marios, an Italian Restaurant at the waterfront. The place was always packed out and we had to wait for a table. Our bruschetta starter was very tasty but we were extremely disappointed with our pasta main courses - soggy pasty and tough chicken.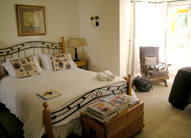 Swellendam
We spent one night in Swellendam, just as a stop over. Can't really comment on the place as we only really saw our guest house and the restaurant down the road. If you're looking for somewhere to split the journey like us, Braeside Guest House was a nice place and the owners, Leon and Ian, were very friendly. They also have a small swimming pool.
Port Elizabeth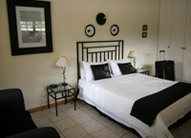 We stayed one night in Port Elizabeth en route to our safari. It's not somewhere we'd rush back to and seemed quite an industrial city, but we stayed in a nice guest house, Lange's in Summerstrand, an upmarket area which is quite close to the Boardwalk. It was pouring rain so we didn't see it at its best but there are some nice shops, restaurants and even a casino. We had a nice meal at Leonardo's - the Chicken Diavolo pizza was particularly tasty. So, our thoughts on Port Elizabeth were that it was OK for a nights stopover but not any more than that.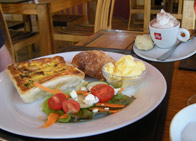 Rooiberg Winery
If you're driving the Garden Route and find yourself near Robertson at lunch time, do yourself a favour and stop at Rooiberg Winery for lunch. Delicious food and wine at amazingly low prices. Highly recommended. We bought a couple of bottles of wine here too including a nice, smooth Cabernet Merlot for the ridiculously low price of R23. Wine in the restaurant was even cheaper! The pumpkin, spinach and blue cheese quiche (see right) was very light and tasty - the nicest quiche I've ever had in fact. The chicken, ham and leek pie was also light and tasty. Finish off with a Baby Chino - a mini hot chocolate with froth on top, served in an espresso cup, with a tasty biscuit - for just R5! Yummy! Click here to visit Rooiberg Winery's website.

Some useful sites about Knysna and the Garden Route:

Garden Route - Useful site with lots of information about Garden Route
SA Explored - Garden Route - more useful info about the Garden Route including accommodation
Trip Advisor - Reviews from other travellers and a useful forum
Knysna - Guide to Knysna