Franschhoek is a lovely, picturesque little village about an hour's drive from Cape Town. It's close enough to visit as a day trip, but we chose to stay 3 nights there and were really glad we did. It's a very relaxing place to stay, with a good selection of high quality guest houses and small hotels and lots of excellent restaurants and vineyards. Franschhoek is known as the 'Food & Wine Capital of South Africa' and certainly lives up to its name. You'll taste some delicious food and drink some wonderful wine for a fraction of the price you'd pay at home. There are also some nice little shops, art shops and galleries in Franschhoek, so if you are only going for a day trip make sure you give yourself enough time.

Franschhoek is situated in a really scenic mountain valley and is one of the prettiest places we've seen - we thought there was something Californian about it. If you're looking for a hectic night life it won't be for you (there's one pub in the village and when we were there in high season it was pretty quiet most nights!) but it's a lovely place to spend a few relaxing days. It's also a very safe village so you can walk about with no worries.

Plumwood Inn, Franschhoek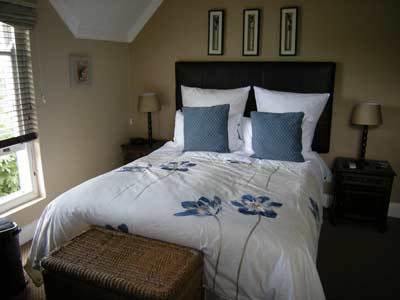 We stayed at the Plumwood Inn, a pretty colonial type guesthouse a couple of streets back from the main road. Our room was very nice with high beams and nice decor, with a large bathroom. The owners Roel & Lucienne have done this place up really nicely. There are a couple of swimming pools, although one is very small, nice lounges and a breakfast area with seating inside and out. There is also an honesty fridge in the breakfast room where you can get drinks - water, soft drinks and wine. Breakfasts were very nice with a selection of fresh fruit, cereal, delicious fresh rolls, etc which you can help yourself to. You can order toast and eggs too if you wish. Hazel (the Manageress?) was very helpful and can make reservations at restaurants, for tours etc. You can hire bikes there to explore the area. We'd certainly recommend staying at the Plumwood Inn. Click here to view their website or click here to make a booking, view lots of photos and read reviews by other travellers.
e tours will stop at several along the way to encourage you to buy things. You obviously don't have to buy but we got a few things - and probably paid more than we would have in a regular shop! At least you feel that the money is going to a worthwhile cause. We did the tour with Babi's Tours who kindly ran the tour for just the two of us on our own, and fitted us in at the last moment after the staff at An African Villa contacted Babi. The tour was great, although we were kept waiting a while to be collected from the guest house. We also heard good things about Hylton Ross who do a full day cultural tour which goes to a township in the morning and Robben Island in the afternoon, picking you up from your hotel at 0815 and dropping you back there at about 1800.
Eating out in Franschhoek
There is no shortage of places to eat out in Franschhoek. Following are some of the ones we tried:
We booked a table at Reubens for our first night in Franschhoek. We'd read several glowing reports about this place and decided to try it but we were very disappointed. Our first disappointment was on entering the restaurant - too bright with no ambiance. We'd passed the restaurant earlier that day and had looked at the menu outside where we saw several dishes that we fancied. When we received our menus however, they were completely different. We mentioned this to our waitress who advised that they were just sample menus outside. It's a shame they can't put up-to-date menus outside. Anyway, we struggled to find something we fancied on the new menu. Settled for a blue cheese tart (quite tasty but a bit sweet) and an avocado salad (very tasteless) for starters. For mains, we chose Lamb in a curry sauce with rice, poppadum and mango (tasty but not delicious) and Baby Chicken with rice and tomato chutney (very dry and disappointing, not much eating in the chicken). The desserts (White Chocolate Mousse with berries and Gooseberry Cheesecake) were quite tasty but not exceptional. All in all the experience at Reubens was a serious disappointment. Maybe our expectations had been too high. The food was OK but nothing special at all, and we found many better places. Click here to visit Reubens website.


Our favourite restaurant was French Connection which is on the main street. We had an absolutely delicious meal and the restaurant had a nice ambiance - much nicer place with better food than Reubens in our opinion. Our main courses of fillet mignon with a mushroom sauce (very tasty and the steak was cooked to perfection) and duck with a sauce with raspberries and blackberries with peppadew (mmm......) potatoes were absolutely delicious. We shared a warm Belgium Chocolate Tart with ice-cream for dessert and it was yummy and very light. Our wine was also one of the nicest we had on the whole trip - a Chataigne Marron, a blend of merlot, cabernet sauvignon and pinotage.

We had mixed experiences at Burgundy. We'd been warned off it by the staff at Plumwood Inn who told us the service was poor, but we decided to try it for lunch. We had a Chicken, Mayo & Peppadew Tramezzini Sandwich which was absolutely delicious, and a tasty Chicken Sate bagel. The chicken sandwich was so good, that when we went back to Franschhoek on a day visit at the end of our trip we went back there to have this sandwich - only to find it wasn't on the menu. That day we had a very disappointing lunch (poor food and very bad service) and made our feelings clear to the manager, who didn't seem to be interested. We also ate there one evening. We shared a delicious starter of Prawn, Duck & Avocado Salad. Gareth tried to order Lamb Wellington for his main course but the waitress told him that she wouldn't recommend it as lots of people had complained about it! He then chose Beef Medallions but when the food came it was actually one piece of steak. Very tasty though, as was the pork fillet with fig & balsamic - the most tender pork I have ever had. So, mixed reviews about this place. We'd go back but check the menu first. .

The only pub in Franschhoek is The Elephant and Barrel. It's an English style pub with seating inside and out in a courtyard round from French Connection restaurant. They serve food but we didn't actually eat there. A nice place to have a drink if you're not ready to go to bed after your meal!


Wine Tours


We really enjoyed the wine tour we did. Our guide, Aylmer was excellent and gave lots of information on the area and on wine. We went to 3 different vineyards and sampled quite a few wines. The first was Graham Beck where we tried a few sparkling wines but didn't like any enough to buy. We liked quite a few of the wines at the next place, Rustenberg, and actually bought a red (Mourvedre Grenache) and a rose, both very reasonably priced. Didn't like any so much at the next place (Tokara) but the views there were spectacular. We learnt quite a lot about wine and the type of wines we like and ones we should avoid. Very nice way to spend a half day.

You can visit most of the vineyards independently, but for some you have to book ahead.


Shopping

There are some really nice shops in Franschhoek. We particularly liked Soul of Africa, situated in the courtyard next to the Elephant & Barrel, which has some gorgeous African arts, crafts, figurines and carvings.


Click here to book hotels in Franschhoek, view photos and read traveller reviews


Some useful sites about Franschhoek:

Franschhoek Tourist Info - Useful site with lots of information about Franschhoek including accommodation and what's on
Guide to Franschhoek - Lots of stuff about Franschhoek, including accommodation, restaurants, shopping, etc
Trip Advisor - Reviews from other travellers and a useful forum