MADRID SPAIN

We have spent 3 nights in Madrid in June 2004, 2 nights in September 2008, 2 nights in December 2009, 2 nights in October 2013 and 2 nights in May 2017, and we love the city. Madrid is the capital of Spain and the largest city, but the centre is quite compact, very walkable, with wide tree-lined streets and several lovely squares with cafes.

Madrid's metro system is excellent and you can use it to get to the centre of the city from the airport. The Barajas Airport Metro station is situated at Terminal T2 and trains leave every 5 minutes from 6.00am to 2.00am. Line 8 goes straight to the newly reformed Nuevos Ministerios Metro station in the centre of Madrid, with a journey time of just 12 minutes. A single ticket from the airport costs €4.50 - €5 (including a €3 airport supplement). Normal single tickets are just €1.50/2.00. Ten trip tickets range from €11 to €18, are valid for both the Metro and bus and can be shared by more than one person (simply pass the ticket back when one person has gone through the turnstyle). To check that these prices are still valid, click here. You can pick up metro maps (plano del metro) at any station.

The Airport Bus (number 200) leaves from Terminal 2 and passes Terminal 1 before heading for the Avenida de America interchange which is the last stop. As with the metro, buy a single trip ticket or a 10-trip ticket to use during your stay.
Hotels in Madrid

We've been to Madrid six times and each time we have stayed in nice hotels that we would happily return to, all central in very good locations. We've reviewed them all below.
Madrid Hotels
Click here to book great value hotels in Madrid, view photos and read travellers' reviews
Hostal Nersan
We spent 2 nights at Hostal Nerson in May 2017. It's good value budget accommodation with nice clean rooms in the centre of Madrid, just off Gran Via, close to Plaza de Espana metro station. It wasn't a problem for us, but there were lots of steps even to get to the lift to the 4th floor, so it wouldn't be suitable for disabled guests. Click here to visit Hostal Nersan's website or click here to make a booking, view lots of photos and read reviews from other travellers.

Madrid City Rooms

In October 2013 we spent 2 nights at Madrid City Rooms on Calle Cruz in the city centre. The rooms are very comfortable, amazing value for money and bang in the centre of Madrid. Our room was 'Passion', just next to Reception and the bed was extremely comfortable, with an orthopaedic memory mattress. The pillows were also very good, which is unusual for a budget hotel. All makes for a good night's sleep? Mmm... The only problem is that although the central location is great for heading home after a night on the town, being in such a central location means that you will inevitably get noise from nearby bars and nightclubs, some of which stay open till about 6am on Saturday nights! Our room looked right onto Cruz, so some at the back may be quieter, and also the room does have a double glazed sliding door, so if you don't mind sleeping without a window open, you shouldn't have a problem. We like to have a window open and slept very well on the Friday night, but found it very noisy on Saturday. The hydromassage shower is very good. The young guy on Reception was very friendly, there was free bottled water in the fridge (which chills drinks very well unlike some hotels we've been to recently), a box of biscuits as a gift on our second night, and chocolates left on the bed - a nice touch. Visit the hotel's website for more information or click here to make a booking, view lots of photos and read reviews from other travellers.

Hotel Villa Real

In December 2009 we stayed at Hotel Villa Real. We got an amazing deal on this 5* hotel, possibly because there were road works going on directly outside the hotel. Sometimes you stay in a 5* hotel and don't quite understand why it has been given 5 stars, but this hotel, part of the Derby Hotel Group, felt like it. We were given a really nice duplex room with a separate lounge area on a lower level from the bedroom. Very nice and very comfortable. Another nice touch was the complimentary bottle of red wine. The rate we got didn't include breakfast but there are many places in Madrid and the location is very good, about 5 minutes walking distance from Puerta del Sol. If we found a similar deal again we'd jump at it! Visit the hotel's website for more information or click here to make a booking, view lots of photos and read reviews from other travellers.


Hotel Quo Puerta del Sol (now called Hotel Quatro Puerta del Sol)

In September 2008 we stayed at Hotel Quo Puerta del Sol on Calle de Sevilla 4. it's a really nice hotel in a great central location and midway between two metro stations, Sol and Sevilla. We really liked this hotel and would happily stay here again. Our room was like a mini suite with a separate lounge area - and the location was ideal. Although we got a good deal on the room rate we were unable to find a deal including breakfast so can't comment on that. There is a cafe next door and lots of other places nearby if, like us, you don't get breakfast included in your deal. Visit their website for more information or click here to make a booking, view lots of photos and read reviews from other travellers.

Hotel Petit Palace Posada del Peine
This is another nice hotel in the centre of Madrid, on Calle Postas 17, very close to Sol metro station. The hotel is equipped with flat screen televisions, wonderful walk-in hydro-showers and free internet access throughout. Breakfast wasn't included in our deal, but there are plenty of places around. We'd have stayed in this hotel on our next visit, but there were no good deals available on the dates we needed. Visit their website for more information and click here to make a booking, view lots of photos and read reviews from other travellers.


Hotel HH Campomanes, Madrid (now Hotel Mario, Madrid)

We loved the HH Campomanes boutique hotel where we stayed in June 2004 but it has now changed name and is called the Hotel Mario, and is part of the Room Mates chain. We obviously can't comment on any changes that may have been made since it changed, but we would definitely stay there again based on our visit. We had a very nice modern, clean room with spotless bathroom and large, soft towels. It's in a great location too, just round the corner from Opera metro station, 5 minutes walk from the Royal Palace, close to the impressive Plaza Mayor and 10 minutes walk to Puerta del Sol. Visit Hotel Mario's website and book a room at Hotel Mario here , see lots of photos and read reviews from other travellers.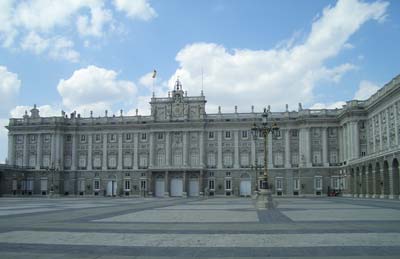 Things to see and do in Madrid
As it's quite a large city and there is a lot to see, it is worth doing the open top bus tour, Go Madrid (previously called Madrid Vision) on your first visit to help you get your bearings. There are 3 routes, historic, modern and monumental Madrid although the routes overlap. Visit their website for more information. The tour takes in all the main sights and goes to all the museums and galleries. You can get a one day or two day ticket.
Visit the impressive Royal Palace (right) which is still used for state occasions although the Royal Family do not live there. Only some of the rooms are open to the public but it is very ornate and decorated in a variety of styles. Click here for more information.
Parco de Retiro is a nice place to spend an hour or two. It is the most popular park in Madrid and has a rose garden, several cafes, a boating lake and the crystal palace which regularly holds art exhibitions.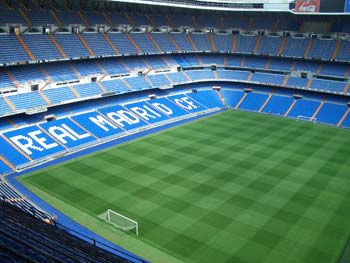 Atocha Station (Estacion del Mediodia) is more like a botanical garden than a railway station and worth a visit. Make sure you don't miss the turtles!
If you're at all interested in football, you must visit Real Madrid's stadium and do a tour of the Bernabeu where you get to visit the dressing rooms, walk up the players tunnel, sit on the bench and in the directors area, and visit the trophies exhibition. If you're lucky you may even get to go to a game. Visit Real Madrid's official website.

If Real Madrid isn't playing at home when you're there, Atletico Madrid may be. They are a hugely successful club and their new stadium, the Wanda Metropolitano is very impressive. Check out their website for details.
The shopping in Madrid is excellent! There are all the usual chains, a huge amount of shoe shops as is the norm in Spain, but Madrid also has lots of unique and original shops and boutiques.
A nice place to spend some time, do some shopping, have a glass of wine and eat some tapas is the lively Mercado San Miguel.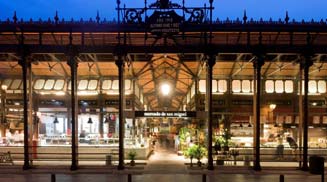 It's an indoor market with stalls selling gifts and food, but also has bars and stands where you can buy tapas or snacks - everything from olives to oysters. You can get a glass of wine from one stall (we like the rosado at Pinkleton Wine's stall - €3 per glass in October 2013, see left), then buy something to eat from another and wander around the market or (if you're lucky enough to get a seat!) sit down and enjoy! The food and drink aren't cheap, but the quality is good and the place has a real buzz about it. We've been there a few times now and it's now a must-go for us when we're in Madrid. Visit their website for more information.

Mercado San Anton is another similar place to Mercado San Miguel. There are food stalls selling fruit, vegetables, fish, cheese, bread, etc on the first floor, then a selection of places where you can have some tapas and a drink, and there's a roof top terrace. We didn't like it as much as San Miguel as we felt it didn't have a same buzz about it, but it's still worth a visit. Visit their website for more information.

Bars and Restaurants in Madrid
At night we like the area around Plaza Santa Ana, a square just off Puerta del Sol and situated in an older barrio of Madrid which has a really nice atmosphere at night and a good selection of bars and restaurants with seats inside and out.

The Plaza Mayor area also has a lot of bars and cafes but is more touristy and you can expect to pay more because of the location.The square is a nice place to sit and have a drink but if you're going to eat there, check the price first.
We have twice eaten at Pasta Nostra, Pizza Nostra (Carrera de San Jeronimo 32) with a great selection of pasta and pizza at reasonable prices. This is a chain with several branches throughout Spain, and their lunch deals are particularly good value.

If you get the munchies at the end of the evening, try some thick hot chocolate and churros (long, skinny version of the donut!) at Chocolateria San Gines near Calle del Arenal. It's open from 6pm till 7am! Not the healthiest of late night snacks, but probably good to soak up some of that alcohol! Visit their website.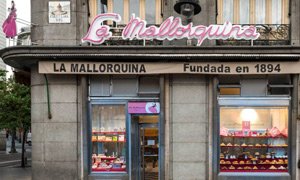 There's an amazing bakery on Plaza de la Puerta del Sol, 2 near to the Sol Metro station called La Mallorquina. It's an institution in Madrid, established in the late 1800s, and it feels like you've stepped back in time, but it always seems to be packed out the door and its popularity is well deserved. Try their cakes, pastries, sandwiches etc, many still warm and freshly baked. Mmmm...!!! There is a coffee shop upstairs where you can sit down and have a coffee and snack. Visit their website for more information.

El Museo de Jamon is a very popular chain of bars selling low price beer and snacks. As the the name suggests, the focus is on ham and you can get a sandwich or plate of ham to have with your drink. It's not luxurious, but is busy with locals and tourists alike and the prices are very cheap. They also do breakfasts, and other food such as paella, burgers, salads, croissants, etc and even a menu del dia. Visit their website for more information.

We had nice stuffed croissants (one with chicken in a mango and curry sauce and one with tuna with cherry tomatoes) at Pepe Botella at Plaza de 2 de Mayo in the Malasana area.

Some useful sites about Madrid:
Click here to book great value hotels in Madrid, view photos and read reviews by other tourists
EsMadrid
- Whats on in Madrid, lots of useful travel info and links to Madrid travel blogs
Time Out Madrid
- Lots of stuff about Madrid, including shopping, restaurants and bars and tourist information
The Guardian - Madrid
- Some useful articles from The Guardian on Madrid
Trip Advisor
- Reviews from other travellers and a useful forum
*Note: Prices quoted above were accurate in 2013-18