We visited Koh Lanta in December 2005 and had an enjoyable few days there. Koh Lanta is located in southern Thailand, in Krabi province, and Krabi airport is the closest. A speedboat from Krabi Pier (about 45 minutes to an hour from Krabi airport) to Lanta pier will take around 15 minutes. You can also get to Koh Lanta from Phuket on a slower ferry, and can go from Krabi via Koh Phi Phi if you want to have a stopover there. Visit this website for some useful information on how to get there.

Lanta Palace Hotel We stayed here in December 2005. Lanta Palace is a budget hotel located at Klong Toab Beach, close to Klong Nin in the centre of Koh Lanta, about 20 minutes from the pier. First impressions not good, as the hotel was down a dirt track, past a building site (Rawi Warin hotel being built) with nothing much around and we were then checked in by an unsmiling, unfriendly guy on Reception. The room was quite basic but clean, bright and airy. We had no soap so we asked at Reception and were told that there was a 7/11 up on the main road and that we could get some there! The beach looked lovely from a distance but it was really stony, which put us off swimming there. To make things worse, there was a layer of scum on the pool! The food in the restaurant was quite good - we had a delicious stir fried red curry and chicken with macaroni - both quite spicy and really tasty, but didn't think much of the cocktails at the bar - small, very expensive and tasteless. We had booked four nights here but checked out after two - it just wasn't for us. Visit Lanta Palace's website Tip: If you are collected from the Pier by someone from the hotel, check whether they are waiting for another boat. We sat for an hour and a quarter waiting for the next boat to come in, in case the driver was able to pick up some more customers. If we'd known we'd have to sit in the back of the van for so long, we'd have paid for a taxi.


We moved from the isolated Klong Toab beach, deciding that we preferred the look of Klong Dao beach. When researching Koh Lanta, we had been concerned that Klong Dao, being the main beach on the island, would be too commercialised and busy, however December is high season and the beach was virtually deserted. Also on the plus side, there was a selection of restaurants, mostly on the beach, and a few shops around. Just the right balance, we thought. We explored Long Beach and Klong Dao and looked at accommodation at several places along the way. We thought that both beaches were better than Klong Taob, but Klong Dao was the nicest. A lovely long stretch of beach with soft sand and clear sea which is shallow for a long way out. We loved the atmosphere at night on Klong Dao too. Lovely, cute little beach bars and restaurants, many with colourful cushions for you to sit on. Easy to chill.

Our general opinion was that the standard of accommodation wasn't too good. It's probably OK if you are looking for budget accommodation as there were lots of cheap, basic beach bungalows, but there didn't seem to be much in the mid price range. If we had been on a bigger budget we would have checked into the Best Western Hotel (now called the Maya Koh Lanta. The rooms were gorgeous and although it's not on the nicest bit of the beach (lots of rocks around), it's just a couple of minutes walk from a nicer bit. The pool is small, but when the sea is so gorgeous to swim in who needs a pool?
Click here to book a room, view photos and read reviews by other tourists.

The Royal Lanta was another nice hotel on the nicest stretch of beach (near Southern Lanta), and had lovely bungalows and beautiful grounds - unfortunately the only room they had available was an executive at 11,000B!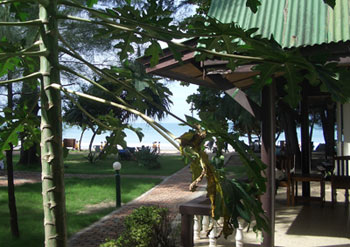 After researching the area and bearing in mind it was high season (December 2005) and many places were full, we decided this was our best option. The hotel is on the best stretch of beach and walking distance to the bars and restaurants along the beach. Having said that, the rooms aren't anything special - a bit dingy. The bungalows are quite nice, the grounds are nice with a lovely peaceful area in the centre for massage, and the staff friendly (much friendlier than Lanta Palace). We didn't eat in the restaurant, apart from breakfast which was OK. Visit Southern Lanta's website. Click here to book a room, view photos and read reviews by other tourists.
Things to do in Koh Lanta
Trips from Koh Lanta
We went on the 4 Island Tour in December 2005 (1300B each*). The first stop was for snorkelling. The main attraction there was the incredibly brightly coloured coral - blue, purple, pink and green - very pretty and very bright colours. There was a large selection of fish there too, and the sea was lovely and warm. Second stop was at the Emerald Cave. We had to swim through a pitch black cave (quite spooky) and at the end of it there was a little bay surrounded by high rocks with a white sand beach and green water. The hardest bit was trying to swim wearing a life jacket!
Next stop was Koh Kradan, a beautiful island with white sand and lovely clear turquoise sea. We had lunch there and some time to relax and swi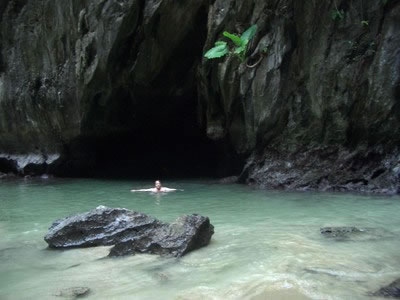 m. The final stop was one we'd been looking forward to - Koh Ngai. We'd seen photos and the beach looked incredibly beautiful so we were really disappointed when the boat stopped for snorkelling and we realised we weren't actually going to the island, just snorkelling off it. The snorkelling was quite good with lots of gorgeous bluey purple giant clams and quite a lot of fish. It was a nice way to spend a day.
Restaurants and Bars in Koh Lanta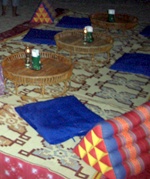 We loved the relaxed atmosphere at night on Klong Dao beach. Nightlife on Koh Lanta is very low key, but there are some bars and a decent selection of restaurants, mostly along the beach. It's lovely sitting in a cute little restaurant with candles, listening to the waves and running your toes through the sand. We particularly loved the colourful cushions where you could sit and have a drink - really lovely.

The picture on the right is from Easy Bar. Apart from the cushions, they have normal tables where you can sit if you want to eat. We had delicious food there - a green Thai curry and a sweet and sour chicken. Very reasonable and lots of 'squeaky' vegetables. We also had a good meal at Bai Bua where the staff were very friendly and attentive - very spicy curries there too!

Koh Lanta is one of the best places we've ever been for sunsets. Quite spectacular. It was nice to go to the Golden Bay Bar for a cocktail in their happy hour and watch the sunset. The Mai Tais were delicious and only 95B*.

Click here to book great value hotels on Koh Lanta, view photos and read reviews by other travellers.

Some useful sites about Koh Lanta:
KohLanta.net
- Useful site with good maps, reviews, hotel information, etc
Trip Advisor - Reviews from other travellers and a useful forum
LantaInfo.com - More useful information about Koh Lanta