FUENTE DÉ, PICOS DE EUROPA, SPAIN
Our day trip to Fuente De to walk in the Picos de Europa National Park was one of the highlights of our visit to Cantabria, and we'd recommend it to anyone who is reasonably fit and enjoys walking. We drove to Fuente Dé from Potes (takes about half an hour) to take the cable car up and walk back down. We'd read a lot about this circular walk (PR PNPE 24) and were really looking forward to it, and it was absolutely fantastic! You take the cable car up to the top of the mountain and walk back round to Fuente De. There is a Parador in Fuente Dé, but there's not a lot else in the actual village, so we decided to stay in Potes and drive there - many people had the same idea.
The cable car is quite expensive as it costs €11 one way or €17 return but if you're a member of a walking club show your card for €1 discount each way. Get more information about the cable car here. It's quite a smooth ride, nothing to be scared of, even if your head for heights isn't great! We were there in June on a very pleasant day but it was pretty cold at the top and there was quite a bit of snow. It didn't take long to warm up though, and we had an amazing walk. The scenery was spectacular - horses, cows, goats, sheepdogs, eagles, beautiful mountains (Picos de Europa), green hills, wild flowers.............. The path was very good quality and easy to walk on. It's quite a long walk but there's a Refugio about just over an hour into the walk where you can get drinks and sandwiches. The bocadillo with tortilla (€5) was very tasty and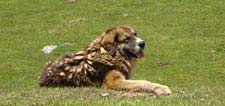 big enough for 2 to share. It's obvious what direction you go, but you get a choice about half an hour after the Refugio to turn off to go to Fuente De (which we did and which is the main path back) or to go on to Espinama. If you take the path to Espinama you have to follow an asphalt road for 3 km to get back to the cable car but the forest track to the right goes directly back to the start of the cable car without you having to walk on the main road. The walk is quite different from there as you walk through a forest with lots of trees and little in the way of spectacular views, although there were lots of butterflies and some nice wild flowers. It's not a difficult walk but the path is quite steep and narrow and you have to watch your feet, particularly on the sections that were really muddy. There had been a lot of rain the week before and the sun hadn't had a chance to dry the path. We walked a total of 15.4km (26,116 steps) and took about 5 hrs 15 mins with about half an hour for lunch and lots of stops to take photos. This is a good article with lots of information and photos from this walk.

If you don't want to walk so far or don't have time, the 5km circular route from Brez is meant to be excellent. This is one of the shortest hikes in the Picos de Europa so is good for families with children. The starting and ending points are in Brez, a really pretty village in northern Cantabria, which is framed by the gorgeous mountains. The trail goes through the Valley of Camale and part of the massif of the Andara.
Some useful sites about Fuente Dé:
Lonely Planet
Guide to Picos de Europa and Fuente De

Trip Advisor
- Reviews from other travellers and a useful forum