SAIGON / HO CHI MINH CITY, VIETNAM
We spent 3 nights in Saigon in 2015 at the beginning of our trip, then had one further night at the end. We enjoyed the city and there is plenty to do to keep you occupied for a few days. Note that Saigon has been officially called Ho Chi Minh City since 1976 and will be called this in most official documents. We found however that most people, particularly the locals, still called it Saigon.

When you arrive in Saigon International Airport you will probably find that many people will approach you to ask if you want a taxi, and there are also many desks offering a set price taxi service. We had researched before and knew that the most reliable and trustworthy companies to use for taxis were Mai Linh and Vinasun, but at the arrivals level we couldn't see any taxis for either of these companies! There were some people claiming to work for them, but the legitimate taxis for these companies will bear the company names and the drivers will have a badge and uniform. We walked from one end to the other looking for legitimate taxis from these companies but couldn't find any, so in the end we landed up going to one of the desks and paying over the odds for a taxi - exactly what we were trying to avoid doing!! We paid 220,000 dong (prepaid at the desk) for a taxi to our hotel in central Saigon, and on the way back to the airport, using a Vinasun taxi, the fare was only 130,000!!! If the same thing happens to you at arrivals, we recommend that you go to the departure level, where taxis are frequently dropping people off. We did not encounter this problem at the domestic terminal where there was less hassle, and more taxis available. We used those two companies many times throughout our time in Saigon and they always used the meter and never tried to rip us off.


Accommodation in Saigon / Ho Chi Minh City


Grand Silverland Hotel
We stayed here on two separate occasions in December 2015, firstly for 3 nights in a premium deluxe room and then at the end of our trip we Room at Grand Silverland Hotelspent 1 night in a deluxe room without a window. Both rooms were more or less identical except for the lack of window, but it didn't matter to us having no window on our last night. The rooms didn't look as good as it did in the photos and were a little dark and dated, but were clean, comfortable and perfectly adequate. Rooms have Jacuzzi baths, but we just used the over-bath shower. The one criticism of the rooms is that they have a trip hazard between the entrance/bathroom area and the main part of the room. This is because they have fitted laminate flooring to the main part of the rooms, and there is a 1-2cm lip at the edge of the flooring. It is too easy to trip over this (or stub your toe when leaving the bathroom) and I'm sure many people have sworn at this, as did we. We probably should have mentioned this to Reception but are highlighting it now as it is probably something they should look at taking action to modify. The hotel offers free high tea with sweet and savoury items from 3-5pm daily which is a nice touch (try the delicious passion fruit mousse!!) and a small rooftop pool and bar, although again we didn't use either. Unusually, the hotel doesn't have a bar/cafe open throughout the day apart from on the top floor, but there was a nice bar directly across the road (Lamenda Cafe Bar) which was a good place to have a drink and watch the world go by. We tried to use the spa on our last day, but unfortunately it was fully booked, so make a reservation in advance if you think you will want to use it. Our flight was late in the evening, but even though we'd checked out at noon they allowed us to use the showers in the spa area to clean and change before leaving for the airport. The Reception staff were very friendly and helpful. Breakfasts were very good, self service buffet style with a good selection of fresh fruit, Asian dishes, egg station with eggs made to order, etc. Their poached eggs were perfectly cooked and delicious. Service was very good. When we checked in we discovered that the shower wasn't working properly so we reported it to Reception on our way out. When we got back, it had been fixed and a typed letter posted under the door apologising for the problem and hoping that everything was OK. Location is good, just 2 mins walk to Ben Thanh market, 20 mins to the War Museum. We walked most of the time but taxis were plentiful and cheap. Click
here
to visit Grand Silverland's website, or
here
to book a room, read travellers reviews and view lots of photos of the hotel.
Places to visit in Saigon / Ho Chi Minh City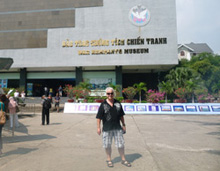 The War Remnants Museum
is a must, but give yourself plenty time as there is lots to see and read. It's quite harrowing, but very interesting. It's very cheap to get in (15,000 dong - less than 50p) and your ticket will get you back in later in the day if you are unable to see everything. Note that it closes every day between 12 noon and 1.30pm.
The Independence Palace
(also known as Reunification Palace) is another must see. See where the army tank bulldozed through the main gate, signalling the end of the Vietnam War in 1975, visit the bunkers in the basement of the building and look at the many rooms where important moments of Vietnam's history took place. It's possible to get guided tours, but it's easy just to wander around and look.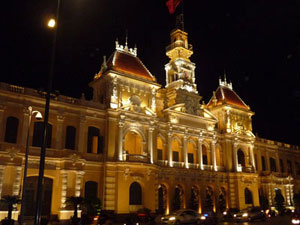 Ho Chi Minh Square
with the statue is a lovely part of the city and City Hall (left) is a really impressive building. Be sure to see it in the day and at night as it's totally different.
Wewould have like to have done a
Mekong River tour
, but research showed that it was best to have an overnight stay, and many of the quick day trips get slagged to bits and seem to be excuses to take you to shops, markets etc to buy things rather than simply seeing the sights. We were short of time, so we'll save that for next time!
Bars and Restaurants in Saigon / Ho Chi Minh City
We found some great places to eat in Saigon - some of our favourite restaurants and bars are noted below:
Saffron
- If you fancy a change from Vietnamese food when you're in Saigon don't look any further than Saffron Mediterranean Bistro.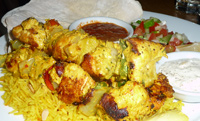 We found it by chance and were immediately impressed to be offered a complimentary glass of prosecco and a delicious bread basket with olive dip, hummus and roasted garlic, again complimentary. The staff were incredibly friendly, specially restaurant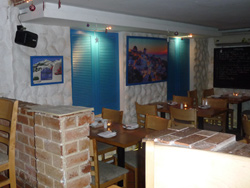 manager Trinh and the restaurant has a lovely ambiance, and candlelit tables. We ordered 2 main courses, one of their specials of the day, Greek Chicken, which was nice, and the other Chicken Shish Taouk (see left) served with pitta bread, rice, harissa dip and garlic cream dip which was outstanding - the chicken was so tender! Then they gave us a complimentary chocolate dessert and a glass of delicious homemade limoncello!
We enjoyed our meal, and the whole experience at Saffron so much that we booked a table when we returned to Saigon for the last night of our holiday. We both had the Chicken Shish Taouk which was as delicious as we'd remembered. This time we received 3 or 4 glasses of prosecco, a complimentary dessert again, and limoncello! Click here to view Saffron's menu. Highly recommended.
Bloom -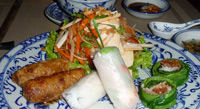 This is a training restaurant which means they are a non-profit organisation who train underpriviledged children and prepare them for careers in the hospitality industry. The biggest problem is finding the restaurant! We showed the address to our taxi driver who dropped us on the main road near to where he thought the restaurant was, but we then spent about 15 minutes wandering about, asking various people and thought we were never going to find it when we heard western voices and were finally pointed in the right direction. It's worth finding the place because the food is very nice, and it is all for a good cause. We enjoyed our mixed starter of spring rolls and salad (see left), and the chicken with lemon grass was nice. The mixed skewers were a bit disappointing. The beef was delicious, the pork OK, but the chicken wasn't at all good (too much skin) although the chicken we had in the other dish was fine.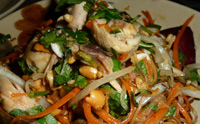 Mountain Retreat - We went here on our first night in Saigon after reading some great reviews. It was a bit strange! To get to the restaurant you have to climb up about 6 floors of really grotty steps, then climb over some obstacles and more steps to get to the rooftop. Not the nicest approach and it was almost empty so we wondered what we'd got ourselves into! However, the food was very nice. The spring rolls were OK, the chicken salad in banana leaf was delicious (see right) and the chicken and pumpkin was also very nice.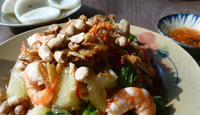 Quan Bui - We had a nice meal here one lunchtime. Service was a bit slow and we were very thirsty after a long walk in the heat. We waited a long time for drinks and had to call over the manager to remind him and he told us they'd run out of cold water and had to go and buy more! The bottle of water finally came, but of course it was warm, so we then had to ask for ice, which we had to wait for..... They also brought us dishes that had chips out of them, which wasn't a good start. Anyway, after the bad start the food was very nice, particularly the delicious pomelo salad with chicken and prawn (see left). It was very fresh with delicious flavours, and was served with prawn crackers and chilli sauce. Our other dish, chicken with lemon grass and chilli was quite nice, but not the best we'd had.


Caravelle Hotel Bar - This hotel was opened in 1959 and was a hub of communication and popular haunt of journalists and war correspondents during the war. It is still a popular place and the rooftop bar offers great views of the city and is a nice place with friendly staff. The mango mojitos (see right) are delicious! Click here for more information.

Bitexco Tower Bar - Treat yourself to a cocktail at the bar at the Bitexco Tower and check out the incredible views. You can pay around 200,000 dong to go to the Sky Deck observation platform on the 49th floor just to see the view, or you can pay just a little more (220,000 + Tax for a cocktail (the Mai Tais were very nice), or 150,000 for a beer) for a drink in the bar on the 52nd floor. We thought the views were amazing and it was worth the money for a one-off experience.


Shopping in Saigon

There are several large shopping centres, mostly selling high end, designer products. At the other end of the scale there is Ben Thanh Market where you can bargain hard for souvenirs, from bags to local coffee, spices and handicrafts. We'd read that it tended to be overpriced and overcrowded but for us the worst thing was the aggressiveness of the vendors. You couldn't walk 2 steps without being hassled by someone, and they prodded at us, pointed at us, shouted at us and generally left us feeling so uncomfortable that we couldn't wait to get out of the place!! We've been in several similar markets in Asia but that was by far the worst! Just a short walk away is the Saigon Centre which was similar in terms of products available but a hundred times more comfortable as generally they left you to browse at your leisure.

Click here to book hotels in Saigon / Ho Chi Minh City, read travellers reviews of those hotels and view lots of photos of the hotels


Some useful sites about Saigon/'Ho Chi Minh City:
Trip Advisor - Reviews from other travellers and a useful forum
Vietnam Online - Useful information here about Saigon/Ho Chi Minh City


*Note: Prices quoted above were accurate in 2015