ALTEA SPAIN
We have spent one night in Altea in November 2022, June 2020, February 2015, May 2014 and September 2012, but have visited several times as day trips as it's a nice place to take visitors. It's a very pretty town, and we particularly like the old town with its narrow streets, whitewashed buildings, nice craft and gift shops, galleries and restaurants. Altea is close to Benidorm in location (just 11km), but miles away in terms of vibe and appearance. Altea is about 45 minutes drive north of Alicante airport.

Altea has two main beaches which are a mixture of sand and pebbles, Playa de la Roda and Playa Cap Blanc. There are shops, bars and restaurants and many hotels down by the beach, but we are not really familiar with them, as we prefer the charm of the old town. If you stay by the beach, it is quite a climb, up many steps, to reach the old town. If a steep climb doesn't appeal, we'd recommend you get a taxi there, as it's well worth a visit. There's a lovely blue-domed church (Nuestra Senora del Consuelo) in the square which is very photogenic from the outside, and beautiful inside.


Altea Hotels
In November 2022 we stayed one night at
Blue Sardine Hotel
on Carrer la Mar, 54, close to the beach but still walkable to the old town if you are reasonably fit (it is an uphill climb!). It's a nice small hotel with stylish rooms, very comfortable beds with super-soft sheets and big fluffy towels (always a good sign!) and a good fridge. There's no reception but you get easy instructions for check in and out and are given room keys on check-in. There are lots of different room types that you can choose depending on your budget. Free parking is just 5 minutes walk away, near the station. Breakfast isn't available, but there are plenty of cafes nearby, and we had a really nice breakfast at Casa del Mar Hostel Restobar just across from the hotel on the sea front.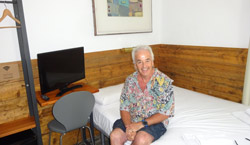 In June 2020 we spent one night at the
Gran H La Marina
l near the station and just one block back from the beach. The location is very good and it's a nice, stylish small hotel in a historic building (the first hotel built in Altea in 1920) with comfortable rooms and excellent value for money. Breakfast was included in our room rate and it was an excellent breakfast with some fresh fruit, croissant, tostada with ham, cheese and tomato, OJ and coffee/tea.
Visit their website
or
click here to book at room at Hotel Gran H L Marina
, view lots of photos and read reviews by other travellers.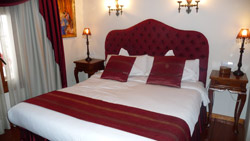 In February 2015 we stayed one night in the lovely
Hotel Abaco
. It's a well run family hotel with very friendly, helpful staff, attractively designed, comfortable rooms, with hydromassage baths, aircon, minibar. Some of the rooms even have a small balcony. The hotel is in a good location, just 10 minutes walk from the old town. The rooms are all different, with individual themes such as Moulin Rouge, Moroccan, Copa America, etc. It's not cheap, but not really expensive either, and it's a nice place to go for a special occasion because they offer many romantic add-ons such as candles, rose petals, cava and chocolates. We'd recommend that you look for a deal that includes breakfast.
Visit their website
or
click here to book a room at Hotel Abaco,
view lots of photos and read reviews by other travellers.
Click here to book great value hotels in Altea, view photos and read travellers' reviews


In 2014 we spent one night at Hostal Fornet. It's in a great location on Calle Beniarda, just on the edge of the old town, and therefore ideal for exploring the shops, bars and restaurants at night. It's nothing fancy but the rates are very reasonable, staff are friendly and rooms are clean and have large bathrooms, a/c + heating, TV and terraces. Breakfast is included in the rate and although quite basic, it was perfectly acceptable and included fruit juice, coffee, toast (with choice of ham, cheese, jam etc) fresh fruit and yoghurt. There is free parking just 2 minutes walk away on the corner of Calle Benidorm and Calle Alcoy. Our only real complaint was that it was very noisy through the night with loud traffic (surprising as it seems quite a quiet street generally), bin collections, etc. We do, however, like to sleep with the window open, so if you're happy to have a closed window or were using the air con, it's unlikely to be a problem. We'd stay here again because of the price and location. Click here to reserve a room at Hostal Fornet, view lots of photos and read reviews from other travellers.

We stayed the night in 2012 at Hotel Tossal D'Altea, a beautiful converted olive mill on the edge of town, but only about 10-15 minutes walk to the old town and close to Altea Concert Hall. The rooms are large and modern and ours had a small balcony with lovely views. The restaurant looked very nice and we've heard good things about it, but we were only spending one night in Altea so we wanted to go into the old town for dinner. We were there in late September so didn't get a chance to use the swimming pool, but the pool and area around it were very nice. Breakfast was a bit disappointing to be honest. We read comments about omelettes made to order, etc but when we were there there was no sign of that. There's an outdoor area where you can sit and have a drink - we had a very nice glass of cava! There is free, private parking at the hotel. Visit the Hotel Tossal D'Altea's website for more information, or click here to reserve a room, view lots of photos and read reviews from other travellers.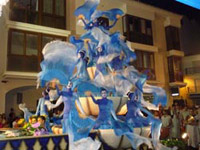 Altea Moors & Christians
If you're lucky enough to be in Altea on the 4th Sunday in September, you mustn't miss their spectacular Moors & Christians parade.

Bars and Restaurants in Altea
A great place to go for lunch is Cafe Opera down on the front, beside the marina. We first heard about this place by reading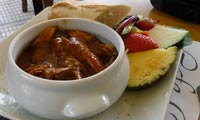 the great reviews on Trip Advisor, and it totally lives up to (or even exceeds!)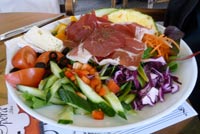 expectations. Their salads are just incredible! We have been several times and it's always good. We have tried many of their salads including one with ham and brie (see left), and one with prawn and avocado. The chicken served with a delicious Sate peanut sauce and a nice piece of warm french bread, fruit and salad (see right) is also very tasty. They have daily specials and a large selection of baguette sandwiches. Their carajillo is fantastic too! - you get a cup of coffee, a huge shot of brandy in a separate jug and a dish of fresh cream. They do some very good desserts too! Cafe Opera is open Tuesday - Sunday from 9.30am until 8pm - closed on Mondays.

Cafe Rosa on the seafront at Avenida del Puerto 4 is another excellent cafe on the front. We have only been once (in November 2022) but have no doubt that we'll return. We only wanted a snack lunch and shared a large plate of Nachos with chilli and guacamole which was very tasty. Their salads looked really nice, the burgers were very popular and there were several things on their menu that we fancied. Our friendly waitress Sophia told us that the apple pie is amazing, so we may be tempted to try it next time!! It's very popular and open all day from 10am every day except Thursdays.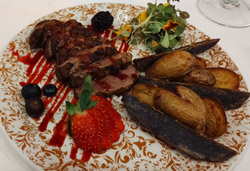 We had a nice meal in November 2022 at Shabby Chic on Calle Salamanca in the old town. We shared a delicious salad with Burrata and strawberries, then had duck with a red fruit sauce (see right), and cajun chicken for our mains. Both were delicious. We had a bottle of red wine and water and the bill came to just over €60, so not cheap but very nice food. They are closed on Mondays and have recently opened another branch in Albir.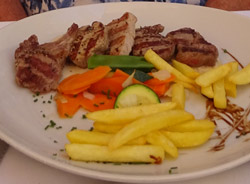 We've had a couple of delicious lunches at Dels Artistes in the Old Town square. We'd noticed that it always seemed to be busy and decided to give it a try and we're glad we did as the food is very nice. We had the Menu del dia both times which cost €18 (drinks not included). The mains were excellent - the mixed grill (see left) was absolutely delicious with all meats cooked perfectly and super-tender. The tarragon chicken was also really tasty. Desserts were nice too. In fact, the only disappointment was the prawn cocktail.

Another nice place to eat in Altea is Xef Pirata. Situated just down from the Old Town, close to the Hotel Abaco, this is the place to go for tapas with a twist. The restaurant has a lovely ambiance which is often lacking in Spain, with candlelit tables and good low-key music. We went for the Tasting Menu for €19 a head and for that we got about 6 different tapas dishes, including carpaccio, mushroom and parmesan risotto, carprese salad and mini burgers. Wine was priced at around €12.50 for a nice rose.

In 2014 we had a delicious meal at Oustau on Calle Mayor. It's a really nice restaurant with a lovely ambiance, excellent service and good food. The prices aren't cheap, but give good value for money with a good selection of food including steaks and several fish dishes. It's the sort of restaurant that would be perfect for a special occasion. The fillet steak with strawberry sauce was very good, the sole meuniere very tasty and the tagliatelle with prawns was delicious, if a touch heavy. The steak and fish were served with a nice selection of vegetables and potatoes. Only slight gripe was being charged €1.50/person for a bread roll, but this seems to be the norm in Altea. Oustau is a restaurant that I'm certain we'll return to again.

Another nice place is El Castell where we've had lunch a few times - pizza, salad and some tapas - on different occasions. It's a lovely location and you can sit inside, out on the front terrace or on their roof terrace. We've liked it enough to return to, partly because of it's prime location, and the food has been nice without being exceptional.

Away from the old town, there is a nice Italian restaurant, Bussola, opposite the Cap Negrat hotel. We went there one night in October 2019 with friends who were staying there. The caprese salad was delicious with excellent mozzarella and the veal escalope with mushrooms and white wine was very tasty. Service was friendly. We wouldn't recommend another Italian, La Tradizionale, on the sea front. We ate there in June 2020 and the caprese salad to start was disappointing, as was the pizza and lasagne which we shared. We were also disappointed to see that the man who was making the pizza wasn't wearing a mask, which shouldn't be happening at this time of Covid-19.

A nice place with a good atmosphere was Diferens on the sea front. We went there for a very nice coffee (served with a jug of cream and a biscuit) and at night went back for a glass of cava served with a strawberry (albeit a frozen one!). Service was good and it had a nice vibe.


Some useful sites about Altea:
Click here to book great value hotels in Altea, view photos and read reviews by other tourists
Visit Altea
- Useful guide to tourism in Altea
Trip Advisor
- Reviews from other travellers and a useful forum
*Note: Prices quoted above were accurate in 2013-18