RONDA SPAIN
We spent a night in Ronda in December 2012 and it's well worth a visit for its amazing setting and some spectacular scenery. Ronda is situated just 100km from Malaga, just 1½ hours drive, just an hour from Marbella, and can also be reached by train from Cordoba in a couple of hours. We were driving, and found driving in Ronda easier than many of the other small Andalucian towns. Having said that, it's an easy town to walk around and some of the centre is pedestrianised, so it's best to drive to your hotel, leave the car and walk.

Ronda Hotels
Click here to book great value hotels in Ronda, view photos and read travellers' reviews

We stayed in the gorgeous
Catalonia Reina Victoria
. Our room was lovely with spectacular views and a large terrace. You do pay extra for rooms with views, but if you can at all afford it, it's well worth the extra as the views are beautiful and add to the experience of staying here. We were here in winter but still sat on our large balcony at night with a glass of cava, with scarves and jackets on! The hotel is lovely with a luxurious feel to it, and the rooms are modern and tastefully decorated, with a comfortable bed and nice large walk-in shower. There is plenty street parking nearby, although, like us, you may need to drive round the block a couple of times to find somewhere. Best place to try is up the hill from the hotel, further away from the town. Unless it's particularly busy for some reason, there should be no need to pay to use the expensive hotel car park, but at least it's there if you need it. It's an easy 10 minute walk to the centre of Ronda. The hotel has a spa (for extra charge) and swimming pool, but we didn't use them. We didn't use the hotel restaurant either, so we can't comment on the quality of food, but we looked at the dinner menu and it sounded very nice and not too expensive for a 4* hotel. If we'd been staying for more than one night we'd have given it a go, but we wanted to go into town to see what it was like in the evening. Visit the Catalonia Reina Victoria's website for more information or click here to book a room, view lots of photos and read reviews by other travellers.
Things to see and do in Ronda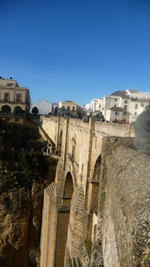 Ronda is spectacularly situated in a very mountainous area about 750 meters (2,460 ft) above sea level. The Guadalevin River runs through the city, dividing it in two and carving out the deep El Tajo gorge. Three bridges, Puente Romano, Puente Viejo and Puente Nuevo, span the canyon. The Puente Nuevo (see right) is the tallest and most impressive of the bridges, towering 120 metres (390 ft) above the canyon floor. There are spectacular views from the bridge and the area behind the Parador Hotel.
The Bullring is worth a visit and is said to be the oldest in Spain, built in 1785. You can walk round the actual bullring, and there's a museum which is quite interesting. It's worth spending an hour or so here.
Ronda is a spectacular place with fabulous views so there are lots of great walks and hikes around. See
this page
for more information.
Bars and Restaurants in Ronda
Although we only stayed one night in Ronda, we have a few recommendations for places to eat and drink.

We had a very nice meal at Pizza Michelangelo on Calle Lorenzo Borrego, just round the corner from Plaza del Socorro. This restaurant doesn't look very luxurious, just like a cafe, but the food is excellent. We shared a Tagliatelle Michelangelo with mushrooms, ham, tomato and cream and a Pizza Lucia with chicken, ham, mozzarella, etc. Both were absolutely delicious and very good value at only €6.50 each. We have found that Italian food can be a bit bland in Spain, but both these dishes were reallly tasty. We'd definitely eat here again if we came back to Ronda. The Swiss owner was friendly. The quality of food served in this restaurant was so good but we felt that if they improved the decor inside (it's a bit scruffy and dull - but don't let that put you off!) it would be much more popular.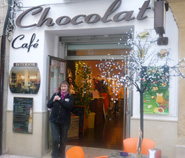 We found a really nice place to have breakfast. Chocolat Cafe, on Calle Carrera del Espinel, serves delicious croissants with ham and cheese and molletes (delicious rolls, a bit like ciabatta but not as hard) with tomato and olive oil. They also have a good selection of teas and coffees. The cafe actually sell chocolates (thus the name) but if you're looking for a continental breakfast it's worth a look. Amazing value too - the mollete breakfast (a roll with tomato & olive oil and tea or coffee) cost only €1.95*.

Casa Ortega on Plaza del Socorro is a nice place to have a drink. There seemed to be a shortage of bars in Ronda, although there are plenty of restaurants. This place does serve food, and I think they had a restaurant upstairs, but it's fine to go for just a drink and we had a nice glass of rosé for just €1.50*. They were showing bullfighting on TV, not everyone's cup of tea of course, but you didn't have to watch it, and the bar had a nice ambiance and was quite busy.

There are a few branches in town of the coffee shop Confiteria Daver, so if you're in Ronda and fancy a coffee and cake, this is the place for you! It was mobbed, so we just had to stand at the counter, but had a very nice coffee and shared a delicious piece of chocolate cake. Prices are very reasonable and you can also buy cakes to take away. Click here for more information.
Click here to reserve discount hotel rooms in Ronda, Spain and read reviews by other travellers
Some other useful sites about Ronda:
Frommers
- Destination guide to Ronda
Lonely Planet
- Useful info about Ronda
Trip Advisor - Reviews from other travellers and a useful forum

*Note: Prices quoted above were accurate in 2012