We first visited Krabi in 1992 when we drove through Ao Nang before deciding to head to Phi Phi as there wasn't enough at Ao Nang to tempt us. Returning in December 2005 we could hardly recognise the place, but although it is much more touristy now it has been developed in a nice, low key way and is a very easy, laid back place to stay. There are plenty hotels, restaurants, shops and bars. The beach at Ao Nang itself isn't great but if you're looking for a nice beach they don't come much better than Railay which is a 10 minute longtail boat ride away. Because of the facilities, we believe that Ao Nang is the best place to base yourself, but make the most of the lovely islands and beaches in the area and either book a tour at one of the many travel agents in Ao Nang, or hire a longtail boat to go there.

Transport from Krabi Airport

The journey from Krabi Airport to Ao Nang takes about 30 minutes by taxi and should cost around 600B (as of 2018). There appears to be a standard fee for all taxis. They don't use meters, you can't negotiate and they will only allow 3 in a taxi. There is one official airport bus service, serving destinations in Ao Nang and Krabi Town only. Prices are 100 baht to Krabi Town and 150 baht to Ao Nang per person; buses leave 10 – 12 times daily between 8am – 8pm or when there are enough passengers to fill them.

Hotels in Krabi
We have stayed in two hotels in Ao Nang and would thoroughly recommend them both.

Ao Nang Princeville Hotel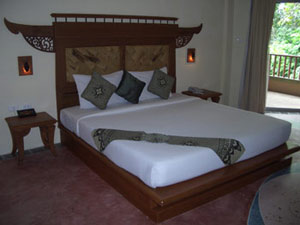 Perfectly situated down a short lane from the main road in Ao Nang, across the road from the beach and close to where the longtail boats leave for most destinations. This is a small hotel with a nice swimming pool and two different types of room, deluxe and superior. Breakfast is served in the little outdoor restaurant just past the pool. There is also a massage area just next to Reception where we had a couple of good massages. The staff were very friendly. We stayed in a deluxe room (Room No 1308 upstairs and the very last room at the end of the corridor) which we thought was gorgeous. It was a very large room with a double bed, balcony, toilet with bath and a huge walk-in shower, air conditioning. We stayed at this hotel in December 2005 and would have returned in December 2006 but rooms were fully booked. Visit Ao Nang Princeville's website or click here to book, view lots of photos and read reviews from other travellers.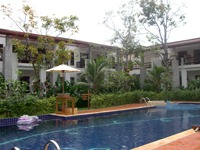 Duang Jai Hotel Stayed here in December 2006. The hotel had just opened earlier in the year and is a lovely small hotel with nice spacious, spotlessly clean rooms, comfy bed, large walk-in shower, large balcony overlooking the pool, a pleasant breakfast area with good selection of food, and friendly staff. The hotel is situated between Ao Nang and Nopparat Thara, up a very quiet street with nothing much around it. It is walkable to the centre of Ao Nang in about 10-15 minutes or you can get a motorbike taxi for just 20B per person*, so it's not a major problem and is ideal if you're looking for somewhere quiet. Duang Jai has the same owners as Ayara Villas in Khao Lak. Visit Duang Jai's website or click here to book a room, view photos and read travellers reviews.
Restaurants and Bars in Ao Nang

Ao Nang has a great selection of places to eat and drink. It's not a party town and is more geared towards couples and families, not for you if you're looking for nightclubs and girly bars. We have had a few really nice meals, our favourite being Tanta Restaurant. It's very popular, very reasonable and excellent food. They specialise in Thai food and seafood and you can choose your fish from one of the tanks outside - very fresh! We loved their Thai curries and their spring rolls are the best we've ever had. They also have reasonably priced bottles of Ozzie wine. Wine can be hard to find in Thailand and can be hit or miss when you do find it! We had pizza once at Tantas but it was a bit disappointing.

We had nice Thai food at Aning on the main street - and again very cheap. Eden, also on the main street, was a very popular restaurant and the kebabs we had to start were delicious, but we found their Thai curries a bit bland. We ate at Azzurra Italian Restaurant in 2005 and loved it but when we went back in 2006 we had a really disapointing meal - it's more expensive than most too.

Our favourite bar was 'Upstairs' just next to Tanta's. The staff are very friendly, they have a great cocktail list and it's a great place to chill. JJs on the main street is an English owned bar with friendly staff and cheap pitchers of beer. They sometimes show Premiership football matches, as does the Irish bar just up the side street from JJs. At the other side of Ao Nang, the Full Moon bar was nice and so was The Lost Pirate - both good places to chill and watch the world go by. Ao Nang's good for that!

Click here to book hotels in Ao Nang, Krabi and read reviews by other travellers

Taxi Driver

In December 2006 we had to get to Phuket from Ao Nang and used a driver called Mr Reed. He was very reliable with a nice, comfortable car (Toyota Camry) and we'd use him again if we had a long journey. He can be contacted on 089-8715949.

Things to do in Krabi
Railay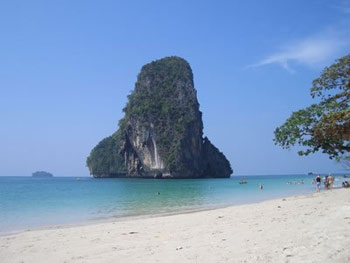 You just can't stay in Ao Nang and not go to Railay. Get a longtail boat (60B per person each way in December 2005 and 2006*) from Ao Nang beach and it just takes about 10-15 minutes. The boats used to just take you to West Railay which is a long beach, quite spectacular with high rocks around, but the sea isn't anything special. If you get off the boat at West Railay (most of the accommodation is there so if you are staying there, this is where you will get off) you have to walk through to Phranang which is by far the best beach. In December 2006, boats were taking people direct to Phranang. We had mixed feelings about this. It's good to be able to go there direct, but too many noisy, smelly longtails may spoil the beauty and the ambiance. It's a beautiful beach with white sand and turquoise, clear, calm sea which is wonderful to swim in. Railay is also good for rock climbing. By the way if you're looking for shops, restaurants etc you have to go to West Railay although even it is very low key. All there is on Phranang is the 5* Rayavadee Resort (for residents only) and two or three longtail boats selling drinks and sandwiches. Railay, and particulary Phranang beach is a must visit.
Click here to book hotels on Railay, see photos and read reviews by other travellers.
Tours from Ao Nang
We went on a tour to Hong Island in December 2005. The weather had been fabulous and we were looking forward to snorkelling.

However it was a cloudy day when we left Ao Nang and conditions got worse, so when we arrived at Hong it was decidedly chilly and not too appealing to go snorkelling. The beach was nice with white sand and the sea was very clear and a nice greeny shade (see photo above) but the chilly weather definitely spoilt it for us. A tip if you're thinking of doing the Hong Island tour and can't decide on whether to choose the option for snorkelling or kayaking. If you choose snorkelling, that's all you get to do and there wasn't a great deal of fish to see when we were there; if you choose kayaking you still have time to snorkel after lunch, so you get the best of both worlds. The huge monitor lizards on Hong Island are quite fascinating to see. The tour was meant to take us to a couple of other islands but we missed out because of the weather. Went to Lading Island which I'm sure would have been absolutely beautiful if the sun had shone.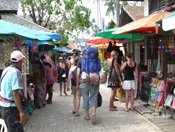 In December 2006 we went on the Phi Phi Island tour by speedboat (1200B each*). We had stayed at Phi Phi in December 2002 and had actually tried to book there in 2006 but couldn't get accommodation. We wanted to see how it had recovered from the Tsunami and how it compared to before. The weather was great but the sea was really choppy, and it was a bumpy ride, particulary on the way back. Even if you don't usually get seasick, it's worth taking a motion sickness tablet if the sea is a bit rough. Despite the rough seas, it was a great trip, highly recommended and good value for money. First stop was Bamboo Island which was a beach stop - lovely white sand and turquoise sea. Second stop was the Viking Cave but we just had to look from the boat. It sounded as if you were usually taken inside the cave, but we couldn't do it because of the rough sea. Third stop was for snorkelling at Loh Samah Bay. It was good - warm, clear water and a lot of colourful fish.
Next stop was the infamous Maya Bay (from The Beach movie). There's no double it's a beautiful beach with gorgous soft white sand and clearturquoise water, but there are so many people there because of all the tour boats, so it loses something. Still very nice and lovely to swim in the sea. Next stop was Phi Phi Don, the main island on Phi Phi where all accommodation is. Had lunch then had some time for ourselves to have a look round. It was very busy, loads of shops, even more tour offices. Although it has been rebuilt, it still looks pretty much as it did last time we were there although some of it not surprisingly still looks pretty flattened and there is heaps of building going on. We didn't see enough of the island to be able to give an opinion, but it's certainly great to see it's doing so well and the locals are back on their feet again. There were two more stops for snorkelling on the way back - Monkey Bay and Kin Klarng but neither were as good as Loh Samah. Good trip though.

Click here to book hotels on Phi Phi Island, view photos and read reviews by other travellers.

There are other tours such as the 4 island tour which goes to Poda, Tuk, Chicken Island and Phranang. There are waterfalls, hot springs, temples and lots more in the area. Krabi Town is the provincial capital and about half an hour from Ao Nang.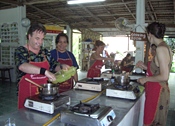 If you like cooking and like Thai food, we'd highly recommend the Ya's Cookery School, formerly called Krabi Thai Cookery School, which is run by a lovely lady called Ya. There are a few options depending on what dishes you want to learn, and costs from 1200B per person as at 2020 including transport from your hotel. We made green, red, yellow and Penang curry pastes and then made curries using the pastes. We also learnt to make fried rice and Pad thai noodles, stir fried chicken, chicken and coconut soup, two spicy clear soups and spicy papaya salad and once you've made all the dishes comes the best bit when you get to sample everything! We got lots of useful tips and you get a recipe book to take away with you. You certainly don't have to be expert at cooking, it's just good fun, but we have been able to make really great thai curries since we got home! Highly recommended.