Bangkok is a fascinating city and we have been there several times, the first time being in 1990. Most flights to Thailand arrive in Bangkok and a fews days in the Thai capital is a must before heading to your next destination. With such sights as the Grand Palace, Wat Po, boat trips up the Chao Praya River, amazing shopping and great restaurants there is plenty to fill a few days. The standard of hotels in Bangkok is excellent and you will find that you get more for your money here than in most other major cities in the world, certainly compared to hotels in Europe.

Transport in Bangkok

Despite all the horror stories you may hear, we have had no problems with taxis in Bangkok. Try to go for a meter taxi if at all possible. Ask the driver to use the meter and if he says no, get out and find another taxi unless you can agree a fee that you're happy with. Sometimes the driver won't want to use the meter if the traffic is really horrendous and you don't want to go far.

Tuk tuks tend to be more expensive than taxis - again make sure you agree a fee but also make sure they're going to take you directly to your destination - some tuk tuk drivers offer a very low fee for an hour or two's service but then take you on a detour to a shop where they get commission for everyone they bring there. Tuk tuk journeys are also much more scary and you'll get a lot more pollution, so probably best to use them once for the novelty.

When you arrive at Bangkok International Airport (Suvarnabhumi) head downstairs to join the queue for the metered taxis. Don't pay any attention to people who come up to you when you're making your waythrough the terminal asking if you want a taxi. You'll pay about double the fare for these taxis. When you get to the front of the queue for metered taxis there is a desk where they will ask you where you're going and give you a voucher to give the driver. We have never been overcharged using this system and the taxis are very good value. Note that there will be a charge for the tolls, but it isn't much. All the airport taxi drivers should use their meters so if your driver doesn't put the meter on, ask him to do so. Click here for more information about the airport. Bangkok's other airport is Don Mueang and there is a free shuttle that runs between the 2 airports with a journey time of anywhere from 50 minutes to two hours depending on time of day and traffic. Don Meuang is a smaller airport and handles domestic flights and some international regional flights. It is closer to central Bangkok than Suvarnabhumi and flight fares, hotel prices and public transportation are usually cheaper.

The Skytrain is a great way to get around, and a good way to avoid traffic jams (which happen a lot!). You can buy individual tickets or purchase a Skycard for around 100 baht* which can be topped up as and when required. Costs are by zone and there are maps in all the stations. Click here for more information.

The Bangkok Metro, otherwise known as the Mass Rapid Transit (MRT), is another option for getting around the city, although with a total of 18 stations it doesn't cover a huge area. Click here for more information.


Hotels in Bangkok, Thailand

Silom Two
We stayed here for 3 nights in December 2014. It's in quite a good location on Silom Road although, from our experience, there's not many good restaurants within walking distance. The nearest Skytrain station is Chong Nonsi which is about a 15 minute walk away. We booked a double room for 3 nights via Agoda.com and for the price paid thought the room was exceptional. It was very large and modern, with a king size bed, a separate cloakroom, a settee, and desk; and a double door led through to a very spacious bathroom with a separate bath and walk in shower.

Only disappointment was how early this hotel (and its sister hotel the Narai next door) closes their restaurants in the evening. We arrived from the airport on a Saturday evening and after unpacking were ready to eat at around 10:15pm. We were shocked to find that both hotels' restaurants has stopped serving food at 10pm. It was pouring rain so we did not want to walk far and were told that the nearest place where we might still get food was the Silom Village which is about 5 minutes walk away. We went there, but frankly the food and service there was awful.

The included breakfast buffet was OK, but not as good as we've had in other hotels in Thailand. The coffee was particularly strange. They did not let you serve yourself, and when you ordered a coffee it was brought in a tall mug which was only half-full, if that! Very odd! The fresh mango however, was amazing. The bar/restaurant adjacent to the street and the hotel lobby was OK but a bit lacking in atmosphere an a bit overpriced for drinks compared with other bars in Bangkok. The reception staff were very friendly and helpful. We were due to depart from Bangkok International airport at 1am so we asked reception if we could get a later checkout and we got to keep our room until 6pm for an additional 1750 baht which we thought was reasonable and meant we could take our time to pack and have a shower before checking out at 6pm and going out for the evening for dinner.Visit Silom Two's website or Book a room at Silom Two Hotel Bangkok, view lots of photos and read reviews by other travellers.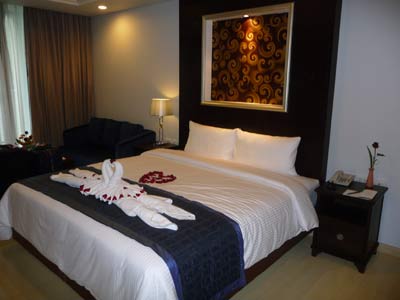 Admiral Premier Hotel
We stayed here for 4 nights in December 2008 and found it to be a really nice hotel, great value for money. The rooms are very large, modern and stylish and have a seating area and kitchen with microwave and large fridge. There's also a 32" LCD TV and DVD player in all rooms. It's well located just off Sukhumvit Soi 23 - about a 10 minute walk to the Asok Skytrain Station or the Sukhumvit Metro Station - and there are plenty bars and restaurants nearby. If you don't fancy the walk to the Sky Train or Metro, the hotel has a tuk-tuk that will take you there free of charge. There's a nice roof-top swimming pool and wi-fi internet connection (check the deal you are offered, as we had complimentary breakfast and unlimited free wi-fi in our room). Breakfast was good, not the usual buffet but made to order. You could get American (with bacon, eggs, etc) Continental (with pancakes and maple syrup), Thai or Japanese. All breakfasts came with orange juice and fresh fruit A minor gripe would be that no matter how careful we were in the shower in our room (over the bath) the floor landed up soaking wet - a bit of a design flaw. Also, we twice had to contact housekeeping because they'd forgotten to leave towels and toilet roll one time, and towels and water (you get two free bottles daily) another time. However we would stay here again without hesitation. Visit the Admiral Premier's website or Book a room at Admiral Premier Hotel Bangkok, view lots of photos and read reviews by other travellers.

Legacy Suites Hotel
Owned by the same company that own the Admiral Premier Hotel, Legacy Suites is another really nice hotel on Sukhumvit Soi 29. We stayed here for 2 nights in December 2008. If we had to compare Legacy Suites with the Admiral Premier it'd be hard to choose a favourite. The room was probably marginally nicer at Admiral Premier, although both were great value for money and very stylish and both had a kitchenette, 32" flat screen LCD TV with DVD player and Wi-Fi Internet service. The powerful walk-in shower at Legacy Suites was the best we had on our trip. There is a beautiful swimming pool on the ground floor and a gym. Again, this hotel is in a good location and about 10 minutes walk to either Asok or Phrom Phong skytrain station. Visit the Legacy Suites Hotel's website. Book a room at Legacy Suites Hotel Bangkok, view lots of photos and read reviews by other travellers.


Majestic Grande Hotel
We stayed at the Majestic Grande in December 2005 and December 2006. and would not hesitate to stay there again. It's in a good location on Sukhumvit Soi 2, just along from the J R Marriott. It's 5-10 minutes walk to either Nana or Ploen Chit skytrain stations and therefore easy to get anywhere. Nice, comfortable rooms, two restaurants, small swimming pool,
gym, sauna, jacuzzi and massage rooms and a business centre
- excellent value for money. Good selection for breakfast, although for some reason they never seem to have hot coffee! A tip:, if upstairs is full they send you down to the restaurant on the ground floor for breakfast. Both times we had breakfast there it was much better than it was upstairs. Only minor complaint about the Majestic Grande is the lifts. There are only two small lifts which isn't really enough for the size of hotel, and sometimes you have to wait a while for one. Visit the
Majestic Grande's website
.
Make a reservation at Majestic Grande Hotel Bangkok, view photos and read reviews by other travellers.

Silver Gold Hotel
We stayed here for one night in December 2008 when we flew into Bangkok late afternoon and had an early morning flight the next day. We therefore wanted a hotel near Bangkok airport where we could try to catch up on our sleep. The free transport was also a bonus.When we checked in we were allocated a double room on the ground floor just around the corner from reception. Room was very basic, but clean. However its location turned out to be disastrous for noise due to the proximity to reception's office where the phone rang repeatedly, and you could always hear people talking loudly. We therefore managed to get very little sleep. Maybe the noise is not a problem on other floors of this hotel, so if using it insist on a room on a higher floor. The restaurant adjacent to the hotel was very good, but we wouldn't stay here again because of the noise problem. Please also note: If you want to settle your bill by credit card this hotel charges you extra.

Asia Hotel
The first time we were in Bangkok (1990) we stayed at the Asia Hotel. It is a large, centrally located hotel with its own skytrain stop. We visited it again in 2005 (didn't see any rooms) and it is still very popular, excellent value for money but looking a bit tired and in need of a facelift. Still, a good budget option, with a good restaurant and great location. Visit Asia Hotel's website or make a reservation at Asia Hotel, view photographs and read travellers' reviews.

New Merry V Guesthouse
When we were backpacking in Thailand in 1992 we stayed at a backpackers guesthouse called the New Merry V (not to be confused with the more basic original Merry V). It is ideally situated in Banglamphu, just across the road from the riverboat stop and close to Khao San Road, but in a more pleasant, quieter location. It had just opened when we stayed there so it was spotlessly clean. We walked past it in 2005 and it looked the same, but we didn't see any of the rooms. The rooms are all very basic but some have bathroom and a/c, and the more basic ones have shared facilities and fan. There is a restaurant and a travel agent, and several other restaurants nearby. There are loads of budget and backpacker accommodation around this area, and on Khao San Road. Best to ask to see a room before you commit to somewhere. If you don't like the look of the place, move on to the next one.

Things to see and do in Bangkok

The Grand Palace is awesome, an absolute must see. Note there are clothing regulations and knees and shoulders must be covered, although they will rent out appropriate clothing if you need. To get there, take the Chaophraya Express Boat to Chang Pier (Tha Chang). Walk through the pier then through the market and you'll see the white wall of the Grand Palace across the street on your right. The entrance is at the second gate. Don't miss the Emerald Budha. Watch out for touts outside the Palace telling you it's closed because it won't be! Don't forget your camera - you'll take loads of photos of this amazing complex! Open daily from 8.30am to 3.30pm, entrance fee 500B as of early 2020.

Wat Po - Another must see. Close to the Grand Palace, Wat Po is also known as the Temple of the Reclining Buddha because of the very impressive gigantic gold plated Buddha which is a massive 46 metres long and 15 metres high. There is also a massage school here, with a very good reputation. Open daily from 8.00am to 5.00pm, entrance fee 100B as of early 2020.

Chao Phrya River - River taxis and tourist boats go regularly up and down the river stopping at many points, and it's well worth exploring this way.  You pay on the boat (costs vary - we never understood how they worked out how much it should be!! - but were minimal).
From some of the stops you can also arrange Klong tours on your own private longtail boat. These tour the canals (klongs) which go off the river. We did this the first time we were in Bangkok and thought it was really magical. It was a bit disappointing second time but we were maybe just unlucky. We just opted for the 1 hour tour because we'd done it before, but on reflection an hour probably wasn't enough. You can get charters from most of the canal stops, we got one at Tha Chang. Ask them to take you up the smaller side canals - they're usually the most interesting.

River Kwai - Well worth taking a day trip to the River Kwai in Kanchanaburi, 130km west of Bangkok. The famous bridge and the beginning of the 'Death Railway' which lies just outside town are a poignant reminder of the thousands of POWs who died in the Second World War. Walk over the bridge, visit the War Cemetery and the moving Jeath War Museum.

Floating Market - The floating market at Damnoen Saduak, 110 kms west of Bangkok has become a very touristy event but is like nothing you'll see anywhere else and still worth a visit to see the Thai's traditional way of selling and buying fruit and vegetables from their boats. Although it's full of tourists, it's still colourful and fun.

Bangkok Gem Scam
A scam that has been going on in Bangkok for many, many years is the Gem Scam where tourists are advised that there is a sale for one day only, and are encouraged to buy gems believing them to be good quality, high value stones, only to find that they are practically worthless. It is an absolute disgrace that the authorities in Bangkok still let this go on, and many Thai police are also involved in the scam, but at least we can make people aware of it, so hopefully less will be caught out.
The tourist will be approached (usually approaching a popular tourist area such as the Grand Palace, Wat Po or a Tourist Office) by a smartly dressed Thai who speaks perfect English. The Thai then asks the tourist where he is going and then advises him that the particular tourist attraction he is planning to visit is closed today for a special holiday. The Thai tells you that he is trained to assist tourists and proceeds to tell you how lucky you are because today there is a great special offer where you can buy sapphires or other gems for a specially discounted price and that you can sell them when you are back home for a huge profit. He gets a tuk tuk for you and of course the tuk tuk driver is in on the deal and reiterates what a great deal it is and how lucky you are to be allowed to buy. If you are approached by a Thai person be on your guard, especially if he tells you somewhere is closed. Just thank him for his advice and carry on your way.Click here and here to read more about the Bangkok Gem Scam.