Restaurants and Bars in Bangkok
There are lots of great places to eat in Bangkok and we have listed a handful of these below:
Tealicious
(492 Trok To, Soi Charoen Krung 49, Bangrak) which is at the bottom of Silom Road, close to the river. It's in a little lane on the right (beside the Cafe Ice) and looks like a little cafe but the food and service (and value for money) is exceptional. We had chicken sate to start then a panang curry which was absolutely delicious, possibly the best panang we've ever had, and a jungle curry which was also nice, but on reflection probably wasn't the best dish we could have ordered.
Cafe Ice
on Silom Road (round the corner from Tealicious, above) was a real disappointment. It always seemed to be buzzing when we went past and the food was being freshly cooked. It was more expensive than most and the chicken with cashew nuts and sweet & sour chicken were really bland. We wished we'd just gone back round the corner to Tealicious!
Lemongrass
(5/1 Sukhumvit Rd, close to Phrom Phong skytrain stop). Went here because we'd read so many good reviews. It's nothing much to look at - pretty basic inside with lots of wood and antiques - and was very quiet which surprised us, considering its reputation. We had a Sauteed Chicken with southern sauce which was spicy with a slightly coconuty flavour. Looked pretty unappetising but tasted very nice and the chicken was exceptionally tender. The other dish was Chicken Curry with coconut milk which tasted just like a Green Thai Curry, but spicier than most and very tasty.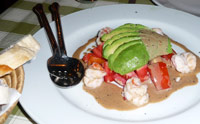 Basilico's Italian Restaurant
(Sukhumvit Soi 33). We'd read recommendations about this place and these recommendations were certainly justified. This is the best Italian meal we've ever had in Thailand. We shared a delicious Prawn & Avocado Salad (see left) and a Mexican pizza. The pizza wasn't too heavy or cheesey, but had a nice crispy base and fresh, tasty topping. They have a wood fire oven and you can actually watch them spinning the dough, making the pizzas. We'd definitely go back here again.
Pomodoro Italian Restaurant
(87 Sukhumvit Soi 5, opposite the Landmark Hotel). We ate here in December 2005. The complimentary warm bread with a hint of garlic and tomato, mozzarella, basil and onion to spoon on it, meant you could make your own bruschetta. It was absolutely delicious. The Penne alla Vodka was tasty but the pizza with ham, mushroom, tomato and mozzarella was very average. Wine very expensive, although that is quite common in Thailand.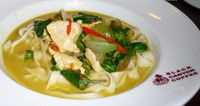 Black Canyon Coffee Shop
- We first discovered a branch of this chain restaurant in the MBK centre when we needed a coffee break. The coffees were delicious and served with little complimentary biscuits and with the Viennese Coffee you also got a glass of green tea. The menu sounded interesting so we went back for lunch one day and weren't disappointed. We've since eaten at a few different branches in different locations and have always enjoyed the food. The green thai curry with chicken and pasta (see right) is absolutely delicious and exceptional value for money. The green thai curry with rice is also very tasty, and their iced coffee is wonderful!
Oriental Hotel Verandah Restaurant
- Treat yourself and visit for lunch, looking out over the river and have a look round this impressive hotel. Lunch is expensive for Bangkok but still cheap compared to what we're used to in Europe, and we found the food very nice. The Oriental has its own stop on the river. Visit the
Oriental Hotel's website
for more information and to view their menu.
Banyan Tree Moon Bar
at Banyan Tree Hotel is definitely worth a visit. There are spectacular views over Bangkok from this amazing bar on the roof of the Banyan Tree. Treat yourself to a delicious cocktail and enjoy the view (see left). It's like no other bar you've ever been to! There is also a restaurant (Vertigo) but we didn't eat there and heard it was really overpriced. Visit the Banyan Tree's website for more information.
Gullivers (Sukhumvit Soi 5, just down from the Amari Hotel) - a lively sports bar, which also serves very good food. We landed there by accident in December 2008 when we were planning to go to Thai House 2 (see above). We were pleasantly surprised by the food at Gullivers. The prawn spring rolls were tasty and the Massamum Curry and Penaeng Curry with chicken were delicious. Service was good and the beers were ice cold!
Shopping in Bangkok


A huge selection of things to buy and very low prices make Bangkok a shopper's paradise! There are several markets. Asiatique The Riverfront opened in May 2012 and many of the stalls from our previous favouriite, Suan Lum, have relocated here. It can get really busy but we thought it was one of the best markets in Bangkok with a wide selection of goods, and several restaurants. This market is located between Charoen Krung Road and the Chao Phraya River and is open from 5pm until midnight daily. There is a free shuttle boat from the pier but in our opinion it's not worth waiting for it unless there is a very small queue. We had to queue for ages and in the end we discovered that we could have got a taxi for next to nothing which would have got us there much quicker. For more information and directions, visit Asiatique's website for more information

Chatuchak Market is a huge market held at the weekend (also known as JJ Market). Take the metro to Kamphaengphet or take the Skytrain to the end terminal (Morchit) which is where the market is located. Turn up early, before 10 am, to avoid the heat and crowds. You can buy just about anything here - crafts, antiques, clothes, food, books, plants - even live animals!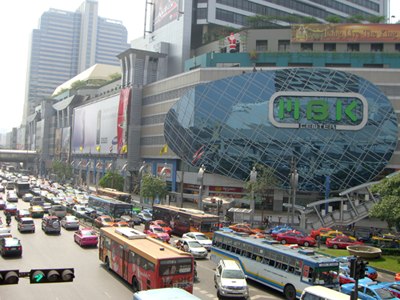 Patpong Market - The Patpong area is infamous for its sex shows and girlie bars, but also hosts a large outdoor market selling pirate CDs and DVDs, copy designer clothing, watches and leather goods. Haggle over the prices as at all markets. Not as big a selection or as good quality goods as at Asiatique.

MBK Shopping Centre (Phayathai Road) - A massive shopping centre with thousands of shops and stalls on 8 floors. Everything from jewellery, watches, clothes, shoes, software, DVDs, CDs, mobile phones, Thai handicrafts and furniture. Also several restaurants and a food court. Very popular shopping centre. Visit the MBK's website.

Siam Paragon (Rama 1 Road) - A large, upmarket shopping centre with lots of high end and designer shops. On the ground floor is a large food court and excellent supermarket where you can buy Thai curry paste, kaffir lime leaves, etc . Also home to a multiplex movie theatre and the Siam Ocean World. Visit Siam Paragon's website.

Pantip Plaza (New Phetchaburi Road) is a huge shopping centre on 5 floors devoted to computer hardware and software. Huge selection of computers, cameras and other electronic equipment and lots of stalls selling pirate computer software and DVDs.
Click here for more photos and information about Bangkok, including hotels, transport and things to do

Some useful sites about Bangkok:
Trip Advisor Bangkok - Reviews from other travellers and a useful forum
The Guardian - Bangkok - Some useful articles from The Guardian on Bangkok
Nancy Chandler - Highly recommended map of Bangkok and other interesting products