We visited Chiang Mai in December 2018. We had previously spent a few days in 1992 after spending some time in Bangkok, and found it very pleasant and relaxing after the noise, buzz and polution of Bangkok (polution in Bangkok doesn't seem so bad these days, possibly because of the Skytrain). We only stayed a few days though and our main reason for going was to do a trek. We decided to do a one day trek which included walking, rafting, elephant riding and visiting Thai villages. When we returned in 2018 we wondered why it had taken so long for us to return!! We loved it. It is so laid back compared to lots of other parts of Thailand. The people are amazingly friendly, there is virtually no hassle wherever you go, there are lots of lovely places to eat, great shopping, and if you wish to do tours there are lots of places to visit nearby.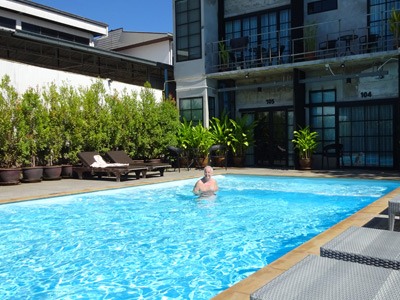 We stayed in 2018 at The Warehouse, a friendly, new establishment 10 minutes walk from the centre. The rooms were clean, comfortable and very good value for money. There was a fridge in the room and you got free bottled water daily. The salt water pool was very nice to swim in, but it could be difficult to get sunbeds as there were only a few around the pool. The staff were very friendly and keen to help and the owner was a lovely lady. There wasn't a lot in the area around the hotel but that wasn't really a problem, as a 10-15 minute walk took you right into the centre. There isn't a restaurant but they do basic breakfasts which you have to order ahead. We didn't bother as there were some nice places to have breakfast nearby. It's also possible to have a beer or cocktail at the small bar at night served by friendly barmaid Pom. We'd happily stay at the Warehouse again and found it amazing value for money and a well run budget hotel. Click here to make a booking, view lots of photos and read some of the excellent reviews from other travellers.

Click here to reserve great quality hotel rooms in Chiang Mai, Thailand, view photos and read travellers' reviews
Click here for discount hotels and accommodation in Chiang Mai, view photos and read travellers' reviews
Things to do in Chiang Mai
Cookery Courses
If you like Thai food it's great fun to do a cookery course and there are many places offering cookery courses in Chiang Mai. Go to
Trip Advisor
and read some reviews then link to the websites of the ones you like the sound of. Most of them will give details of what dishes you get to cook so that can help you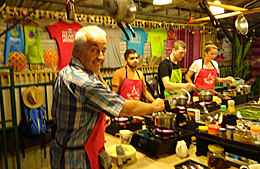 choose, and of course there can be quite a variation in price. Some of them include a market visit but we'd done that before so chose one without. We went to
Thai Akha
and were very impressed. It was a professional set up and you got a nice cookery book at the end.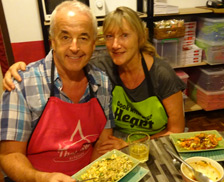 If we were being picky we'd say that they try to fit in too many dishes. Some things were done ahead for you so you didn't have to chop everything up and you got to watch some of the dishes being made, rather than preparing everything yourselves. The spring roll fillings were also prepared ahead although we got to roll them up and fry them. We loved the Tom Yam soup and the Massaman Curry, but were a bit disappointed with the papaya salad (we'd learned to make it before at Thai Cookery courses elsewhere and thought this version was a bit bland), the Pad Thai and the Chicken with Cashew Nuts. You get to choose what type of Thai curry paste you want to make and then make a curry with the paste, you then have a choice of soups and stir-frys. If we went back to Chiang Mai and were going to do another cookery course we'd choose one that showed you how to make Khao Soi which was our favourite dish in Chiang Mai. The Thai Akha course also includes some dishes from the Akha Tribe in northern Thailand, so it's a bit different from the rest because of that.
Massage Courses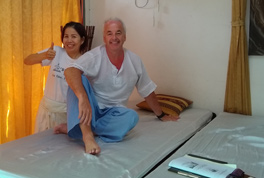 We did a 3 hour massage course at
Sabai de Ka
which was great fun. There are lots of massage schools but most of them run longer courses that last 2 or 3 days or longer. We just wanted to learn a little for fun, so we chose the Head, face, back, neck, and shoulder course. You're not going to be an expert in 3 hours but we learnt enough to make it worthwhile and Arun, our teacher, was lovely. We were also lucky that we were the only people on the course. You get a leaflet each with diagrams of all the massage steps. Arun demonstrates the steps on one of us and the other had to write down an explanation next to the diagrams. It was quite difficult to write this and watch what was going on at the same time. Perhaps a more detailed booklet would help. Anyway, we really enjoyed the course and would recommend it as an enjoyable way to spend a few hours.
Massage
- As with everywhere in Thailand, there are thousands of places offering massages and it can be difficult to choose where to go. They vary a lot in quality and price, although generally the standard appears to be good. We had good massages at Lila Thai Massage where ex women prisoners are trained in massage prior to their release, going through an extensive training program which allows them to make a living and contribute to society. There are several branches throughout the city.

The Lanna Folklife Museum is worth a visit to find out more about the history of Chiang Mai. It has been beautifully done in a white colonial style and encompasses a life recreation of a Lanna village. Life sized dioramas explain the traditions, symbols and habits of the Lanna people in a magnificent series. The Chiang Mai City Art and Cultural Centre is not far from the monument. This museum is a fascinating way to learn all about Chiang Mai and the history of the city. The exhibits show the way the city developed and grew and explains how Chiang Mai transformed into a modern city. There are cultural and historical artefacts on display from the early Lanna villages. Part of what makes this museum so interesting is the exhibitions of interactive audiovisual displays, old artefacts, maps and photos. The price of a ticket includes access to the Lanna Folklife Museum, the Historical Centre and the Arts and Cultural Centre.

Treks/Elephants/Rafting
There are many were options for trekking in the area around Chiang Mai and it pays to research so you are sure you will get what you want. In 1992 we did a full one-day trek which was fun. It started off with a long, rather treacherous walk to the waterfall - shoes with a good grip strongly recommended! We then walked further to the Karen hilltribe village. It was interesting, but we felt a bit like intruders and don't think the villagers really want tourists wandering around, taking photos. This was one of the reasons we didn't do a trek on our return in 2018 - it didn't feel right to intrude on the villagers. Some people say you are providing them with money by doing these tours, but we have heard that the tour companies take most of the money and most give very little to the villagers themselves. Next was bamboo rafting. Here you're guaranteed to get wet! We were on a really basic raft which partly submersed in water before we even got moving! When the raft got stuck on a rock at a very steep bit, it toppled over and we all fell in. It was quite scary as there was a really strong current. We tried to hold on to rocks but the current was too strong. Eventually we managed to scramble to the side, but not without being pulled further downstream and being bashed against rocks. It wouldn't have been nearly so scary if it hadn't been so rocky. My shorts were torn to shreds and we had a few bruises to show for it. Fun to look back on, just don't expect an easy trip, even though it's anything but white water rafting! And take a change of clothing or you'll be wearing soggy clothes for the elephant ride! We rode on the elephants through the jungle for about half an hour. Please note that this is another area where you need to do your research. It's now thought not to be good for the elephants to sit on a seat on their back, as the weight causes damage to the elephant's back. There are several elephant sanctuaries now in Chiang Mai and the surrounding area, and some of them work hard to take care of the elephants in an ethical and cruel free manner. Some of these are very expensive to visit but at least you know that the elephants are being taken care of. After the elephant ride, we started walking again to another hilltribe village. Felt even more like intruders here - even the dogs growled at us! The walk back to the bus was fun but really hard work - about 30 - 45 minutes up and down steep hills. It was a fun day though.

Night Bazaar/ - Chiang Mai's Night Bazaar lives up to its reputation. A huge market, with lots of bargains to be had. As with all Thai markets, be prepared to haggle!

There are several shopping centres in Chiang Mai although we found them to be rather expensive on the whole, with lots of designer-type shops. If you like shopping they're worth a visit - Maya Lifestyle Shopping Centre is one of the most impressive malls to recently open in the city and is based in trendy Nimmanhaemin, a hugely popular area. Central Festival is another popular one, and if you want to shop with the locals visit Warorot Market between Thapae Road and Chang Moi Road - a huge authentic market with everything from dried fruit, spices, clothes, bags, beauty products, etc.

Doi Suthep Temple - impressive temple with fabulous views of Chiang Mai from the top. You can also visit the grounds of the Winter Palace nearby, although you don't actually get to go inside the Palace. We visited this temple in 1992 but didn't go back here in 2018.

Chiang Mai Zoo - If you like zoos, or just feel like doing something different, this place may be worth a visit. In 1992 there was a good selection of animals and they appear to be well cared for. We didn't go in 2018 but it sounded like the pandas are now the main attraction, although it costs more to see them. It sounds like it has deteriorated though, and I was sad to hear that there is one lonely Orang Utan who looked very depressed, and I believe it is the same for a tiger and jaguar.

Northern Cities - Other possible places to visit close to Chiang Mai are Chiang Rai and Pai. We'll try to add these to our future plans!

Chiang Mai Restaurants


We had some amazing food in Chiang Mai. We've always loved Thai food and there were some real highlights here. For example, Khao Soi - wow! Khao Soi is a Thai curry from northern Thailand which originated in South China and Myanmar and has a rich, delicious flavour, topped with crispy noodles. Although we were only in Chiang Mai for a week, I managed to have Khao Soi 3 times!! Each time it was absolutely delicious - one of my favourite dishes ever. Anyway, below are some of the restaurants we would recommend after our visit.
Reform Cafe, 1/4 Sripoom Rd. Lane 7
Didn't have Khao Soi here, but had the most amazing fruit shakes ever so if you like shakes this place is a must visit!! We had already had a few tasty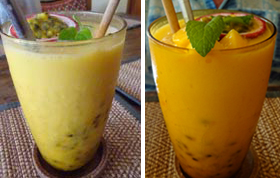 shakes, but this one was the best by a long way. We had a passion fruit and mango smoothie and a passion fruit lassi (see right) and both were outstanding. Reform Cafe is a vegan cafe but if, like us, you aren't vegan or vegetarian don't let this put you off. The smoothies are made with almond milk which we weren't sure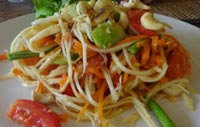 about when we ordered it, but there was no almond flavour. We will dream about these drinks for a long time to come, specially in the summer!! We ordered food too, a Papaya Salad (see left) and Pad Thai. If we'd known the portions were so huge, we'd have only ordered the salad. It was excellent, nice and spicy with lovely flavours (and we've had quite a few Papaya salads to compare it with!). The Pad Thai was nice but was the only dish we felt lacked something being a vegan version (ie egg and chicken!). If we're in Chiang Mai again we'll definitely return to Reform Cafe and hope they still have these wonderful drinks and salad. It's a little bit off the beaten track, but worth a walk to find it.
Dash Restaurant, 38/2 Moon Maung Road | Soi 2
Very nice food, prices a bit higher than average. We ate here twice - first time had spring rolls to start followed by penang and green chicken curries. The dessert of green mango and chilli sorbet was very intriguing and delicious, and one that we'll remember for a long time!! On our last night we shared a very nice red chicken curry and a Khao Soi which had really nice big chunks of chicken. Note they don't accept credit cards which we thought was unusual for a restaurant of this standard.
Nice Kitchen 15/1 Moon Muang Soi 6, was a lovely little family run restaurant. It was popular for breakfast and lunch and had an extensive menu. Their homemade yoghurt was absolutely delicious and they did great egg dishes, fried rice, etc.
Ginger & House, 199 The House, Munmueang Road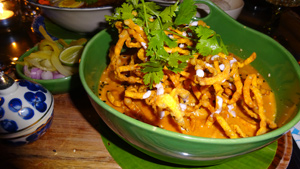 A very nice, upmarket restaurant where you feel that you are somewhere a bit special. The restaurant is beautifully decorated and service is excellent. Some of the food looked better than it tasted - for example the spring rolls (see below) looked incredible and I don't think we've ever eat food that looked so beautiful. They had interesting flavours of prawn, mango, and coriander, but unfortunately tasted a bit bland and chewy.

The main courses were delicious - a pork dish with egg from northern Thailand and a very tasty Khao Soi (see left). This was our most expensive meal of the trip but at a total of 1200 baht (around £30 including some nice red wine) still not expensive compared to what we pay in Europe. There is a nice shop as part of the complex and a coffee shop. Visit their website for more photos and information.