We first visited Koh Samui on our very first trip to the far east in 1990. We stayed in the quiet resort of Chaweng, not such a quiet resort when we went back there in 1992, and even less of a quiet resort today! We haven't been back to Samui since 1992 so we can't begin to advise or recommend anywhere there. We hardly recognised the place when we went back just over 2 years after our first visit so we are sure it will have changed a lot now!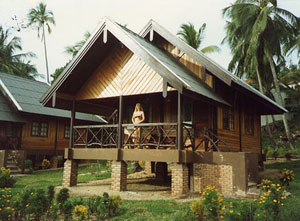 The first time we visited Koh Samui we stayed at New Star Bungalows, large but fairly basic bungalows on the beach on the south side of Chaweng Beach, close to the Imperial Samui hotel. The location was fabulous, the beach gorgeous and very quiet. New Star Bungalows still exist but almost unrecognisable from when we were there. It looks amazing and very upmarket. There was nothing close by and a rather scary walk in the pitch dark at night to the centre of Chaweng for about 10 minutes before there was any sign of life - definitely not like that now!!

When we returned at Christmas 1992, we stayed in a nice place called JR Palace, also on Chaweng Beach but further north. The rooms here were lovely (specially for us as we were backpacking and staying in cheap resorts) and very reasonable (we paid 400B*). We've recently heard that it burned down in 1997 due to a fire in the kitchen, which is a shame.


Click here to book hotels on Koh Samui, see photos and read reviews by other travellers.
Because our visit to Samui was so long ago, we can't offer any advice, but you may find these photos from 1990 and 1992 interesting!

Things to do on Koh Samui
Places to visit include day trips to Koh Tao or Koh Phangnang, visit to the phallic Grandmother and Grandfather rocks just south of Lamai beach and Elephant trekking.