MALLORCA SPAIN
We visited Mallorca (sometimes spelt Majorca) in September 2019 and again in September 2022 to celebrate our wedding anniversary. The first time, decided to stay in Soller. It was actually more touristy than we'd expected and perhaps we thought we have been better staying at Puerto de Soller rather than in Soller town, so we stayed there the second time we visited. We'd read that the port was more touristy than the town but that wasn't our impression - if anything, it seemed the other way round. During the day there are lots of tourists in Soller using the tourist tram. We didn't take it as we had a hire car on our first visit, but if you didn't have your own transport it would be a nice way to travel between the port and the town, although it is quite expensive at €7 each way. Click here for more information about the tram and timings.

On our second visit we had 4 nights so decided to spend 2 nights in Puerto de Soller and 2 nights in Palma. This proved to be a great balance and we had a fantastic time. We decided not to hire a car, and just used public transport. We took the A1 airport bus and it was €5 flat fare one way or €8 return and you need to buy your ticket before getting on the bus at a stand close to the bus stop. It takes about 10-15 mins to get to Palma and we got off at Placa Espanya / Estacio Intermodal (for us it was just the second stop from the airport but check with the driver if you're unsure). The bus station is underground, so take the escalator down from the main entrance. Then Bus 204 TIB runs to Port de Sóller every half hour and the journey takes around 45 minutes. In Port de Soller the bus stop is located on the roundabout at the entrance, 450 metres from the beach and port. We found the buses very efficient and easy to use and it made for a stress-free journey without having to worry about routes, parking, etc. We would not hesitate to use the bus again. It is a cashless system too. You hold your credit card up to the machine on entering the bus and then again when you disembark. Very easy.

You could also consider getting the train from Palma station to Soller which is located next to Placa de España. The 28km journey takes an hour in an old-fashioned wooden train and some of the journey is through lovely mountain scenery and countryside with orange and olive groves.
Puerto de Soller Hotel - Hotel Marina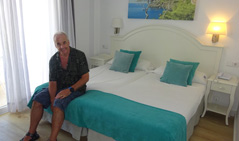 In September 2022 we spent 2 nights at Hotel Marina in Puerto de Soller at Paseo de la playa, just across from the beach. It was a nice hotel in a good location, although it was a walk of 10-15 minutes to the centre of Puerto de Soller. Check in was a bit of a palavar. First of all our room wasn't ready, then they allocated us the wrong room type which was a bit frustrating when we were only there for 2 nights. However we were happy with the hotel. Breakfast was included in our rate and there was a good selection including fruit, eggs made to order, nice coffee. The hotel offers spa treatments and Gareth had a very relaxing massage using orange oils. We swam in the pool each day after having a refreshing dip in the sea. Visit Hotel Marina's website or click here to book a room, view photos and read travellers' reviews


Palma Hotel - Hotel Canavall
We spent 2 nights at the Hotel Canavall, Carrer de Can Pueyo 13 in Palma old town in September 2022. We had a nice room with comfortable bed, good shower, decent fridge, and it was very quiet despite being very central. A good breakfast was included in our room rate.Visit
Hotel Canavall's website
or click
here
to book a room, view photos and read travellers' reviews
Soller Hotel - SolleRooms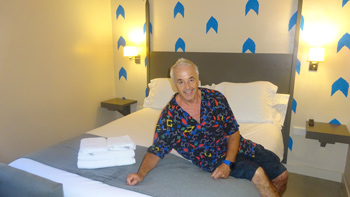 We spent 3 nights here in September 2019. It's a guest house, not a hotel so there is no Reception or facilities other than your room. The room was perfect - spotlessly clean with a comfortable bed, walk in shower, full size fridge, etc. They send you instructions as to how to get your room key etc and these instructions were very easy to follow. They also sent information about nearby parking and we used it the first day, but then found it easy to park for free on the main road when you enter Soller, Carretera de Sóller (MA11) - anywhere between the roundabout near the garage and the Botanic garden is ideal - and it was just a 10 minute walk from there. We'd happily stay at SolleRooms again. Visit their website for more information or go here to book a room, read reviews and view photographs.
Bars and Restaurants in Mallorca

Puerto de Soller Restaurants
We had a very tasty lunch the first day at Ocea. They have a great selection of healthy, delicious fruit smoothies - just what we needed on a hot day - and we enjoyed the chicken wrap and avocado and feta toast. Lunch on the second day was at Lemon Pie Tearoom where we had a really delicious bagel with sweet chilli chicken and a slightly disappointing poached egg with avocado. Service was friendly.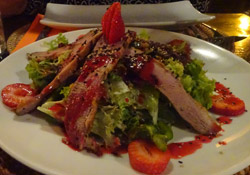 On our first night we had a very nice meal at Pirata overlooking the marina. We just shared a very delicious duck salad with raspberry dressing for €18 (see right) and a chicken taco (nice, but very small and really just a starter). We thought the prices were on the high side but Mallorca is probably a bit pricier than mainland spain and the food was good.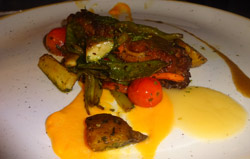 On our second night we liked the look of Espiritu Libre but they were full (maybe next time!) and shut at 9.30pm which we thought was a bit strange, so we opted for the cool looking Randemar, Passeig Es Traves 16. A bit concerned that it might be a case of style over substance we needn't have worried as the food was delicious. We shared a Thai style salad with crispy duck (€19.50) which wasn't really authentic but still tasted very nice, and then the most amazing slow cooked lamb with pear chutney (€23.50) - the nicest lamb we've ever had (see left). Again, prices aren't cheap but this meal was definitely worth it. Wine prices were very high too with the cheapest bottle being €26. The ambiance is really nice with gorgeous lighting and chill music, but service wasn't great and we gave up waiting for the dessert menu.!
Palma Restaurants
We found a nice little bar for lunch in the heart of the old town called Cafe Es Rebost de Cort on Calle Llums, run by a friendly French family. It's a quirky place with lots of photos of old celebrities inside, and an excellent value menu del dia for €14. Our starters were melon & ham and tomato & mozzarella salad with pesto and both were delicious and big portions. Mains were chicken in breadcrumbs which was a bit dry but tasty nonetheless and entrecote which was surprisingly good. They also do a tapas menu which seemed to be quite popular.

On our first night in Palma we headed to the Santa Catalina area which has lots of bars and restaurants. We ate at Bianco e Rosso on Calle Fabrica 6. Mostly we found it very disappointing but our starter Vitello Tonato was spectacularly good - the best we've ever had. It was worth eating there for that!! It all went downhill from there. The pizza was very average, service was poor, we're still waiting for the dessert menu (seems to be a habit!).

We had actually hoped to be able to eat at Can Toni on Calle Costa Santa Creu 5. We read some good reviews saying it is the best place in the city to eat local dishes, including Suckling Pig. We passed it during the day and it was packed out (and sold out) at lunch time, but unfortunately it was already fully booked for night.

We were surprised how different the centre of Palma was on a Sunday. Most shops and restaurants were closed and the area that had such a buzz the day before was so quiet we struggled to find somewhere for lunch. We eventually found a little cafe, Le Bon Vivre on Calle Bosseria, where we had delicious sandwiches (a tuna bagel and a chicken baguette) and a very nice tinto de verano.

On our second night we ate at Sandro Restaurant on Carrer Ramon y Cahal. Again, we were surprised how quiet the city was on a Sunday night and many restaurants were closed. We were therefore surprised that this restaurant was so quiet, specially as it had such good reviews. We shared Vitello tonato to start which was nice without being outstanding. The mains were both a bit disappointing although we maybe just chose the wrong dishes. A lot of their dishes contained truffle which we aren't keen on so choice was a bit limited. My ravioli stuffed with pigs cheeks and Gareth's beef dish were both a bit heavy.

Soller Restaurants
We had two very nice meals at Sa Granaje in Placa de La Constitucion in Soller. The food here was very nice and the service good and friendly. We tried their steak, salmon and chicken kebab and all were tasty. The steak and salmon were excellent and perfectly cooked. The chicken wasn't quite as nice, but was a huge portion with 2 kebabs, with big chunks of chicken and vegetables. The nice bottle of cava (Anna de Codorniu Blanc de Blanc) was also delicious and well priced. Unfortunately, we had to eat inside because there were so many smokers on the terrace.
We also had a meal at Central, also in the main square in Soller. The Tumbet do Pollo (A Mallorcan chicken dish served with a selection of peppers and onion like ratatouille with potatoes) was very nice but the leg of lamb wasn't great. In general, we felt it was a bit overpriced and service wasn't as friendly as Sa Granaje.

We had breakfast at the bakery Horno Santo Christo. It's a popular place but has a terrace through the back if the tables in the main bakery are full, but just be warned that people can smoke there. The croissants were fresh and tasty and there was a large selection of cakes and pastries including Coca Patata which is a local speciality. The empanadas looked delicious so we bought a couple of chicken ones to take away. What a disappointment! They were overly salty and we had to throw them out.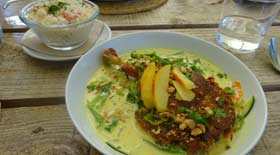 Valldemossa - We had a very nice meal in Es Taller in Valldemossa. We only ordered main courses and had a Thai Duck curry with rice (see left) and a Suckling Pig. Both were tasty, although the curry wasn't very spicy and not really authentic. We were going to order dessert and asked the waitress to bring the menu but she didn't bring it, so we eventually gave up waiting and decided not to bother. Service was slow but it's a lovely place and has an interesting menu. You can view their menu and get more info at their website
Places to visit in Mallorca
We loved Deia, a place often described as the prettiest village in Mallorca, in the north west of the island and home to many of the rich and famous. Parking can be difficult but we found somewhere on the outskirts and walked up to the town. There are meant to be some excellent hiking trails around here, but we didn't have time for this on our short break.
Another beautiful villages is Fornalutx, which is actually the only place in the Balearics which features on 'Los Pueblos Mas Bonitos de Espana' (The Most Beautiful Villages in Spain) and it certainly deserves its place there. Walk around the narrow cobbled streets, lovely stone buildings and pretty green countryside.
Palma is a beautiful city with huge wide avenues, an impressive cathedral, nice shops, galleries, restaurants and bars.


Some useful sites about Mallorca:

The Telegraph - 48 hours in Mallorca