HUE, VIETNAM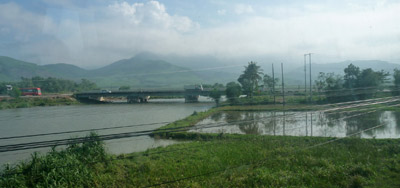 We spent 2 nights in Hue in December 2015. One of the reasons we decided to go there was that we wanted to take the train to Hue from Danang, reading that it was a spectacular coastal journey. We weren't disappointed. The 2½ hour journey passed very quickly and some of the views were fantastic. It's a very cheap way to travel too - our tickets cost around £3 each for a first class ticket - at that price don't even consider going second class as you'll be sitting on really hard benches and the first class seats are quite comfortable! One tip - if possible, get a seat on the right hand side (ocean side of the train) if going north from Danang for the best views. If you're staying in Hoi An, the station in Danang is about 45 minutes drive from there. This website is very useful for information about train travel in Vietnam
Accommodation in Hue
Alba Spa Hotel
We stayed here for 2 nights in December 2015. The room was very modern, stylish and attractive, with excellent views of the city through 2 big windows. We had perhaps been spoiled by the incredibly friendly staff we encountered at our hotels in Saigon, Phu Quoc and Hoi An before arriving here, but the staff here were not particularly friendly or helpful and didn't smile much, which we found to be very unusual for Vietnam.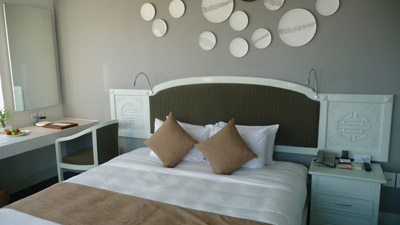 Our first impressions on arriving in the lobby were not good, as the floor tiling and sofas looked tarnished and stained and the lobby area is a bit cold and unwelcoming (nice smell of lemongrass though!). When we checked in, we found that the room safe and the wi-fi in our room wasn't working. We reported it to Reception when we went out for the evening and when we returned we found that the safe had been fixed but the wi-fi was still terrible and kept disconnecting. We reported the problem to Reception a further 2 times during our stay, but it was never resolved and they never apologised. The last time we actually phoned Reception from our room to report it, we understood that they were sending someone to our room to investigate but no-one appeared in the further 2 hours or more that we were in the room and the problem was still there when we checked out. This was very inconvenient as we needed wi-fi to deal with business related emails. We had no such problems elsewhere in our travels in Vietnam.

There was a decent selection at breakfast including a good selection of fresh fruit, Asian dishes such as fried rice and noodles, fried and scrambled eggs and omelettes made to order, salad, nice mini baguette rolls, etc. but both mornings were totally chaotic as the dining room was so congested with people and the staff seemed to struggle to top up several items. The tables in the dining room are very narrow and when people sat next to us at our table we felt as if we were sitting in airplane seats!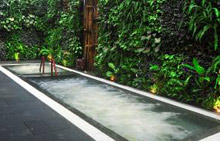 We tried to use the Spa but unfortunately it was fully booked, so best to book ahead on check-in if you want to use it. We did, however, use the hot and cold Jacuzzis (see right) which are available free of charge to hotel guests between 4pm and 7pm and would recommend that as a nice means of relaxation.

Location is good because it is near the main area for bars and restaurants (5 mins walk) although the street the hotel is on is really scruffy and dirty and it doesn't feel very pleasant walking back late at night. We walked to the Citadel from the hotel which probably took around 30-40 minutes.
Click here to visit Alba Spa Hotel's website, or here to book a room, read travellers reviews and view lots of photos of the hotel.
Places to eat and drink in Hue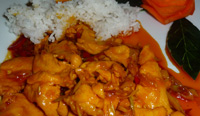 Serene Hotel
- We decided to eat here on Christmas Day after reading the excellent reviews on Trip Advisor but when we found it after walking up a narrow alley it didn't have the look of a top restaurant with overly bright lights and basic furnishings. Anyway, we decided to go for it and were so glad we did as the food was excellent. To start we had pumpkin soup and chicken and banana blossom salad which were both absolutely delicious. For mains we had beef on skewers with vegetables which was nice, but the stir fried chicken with lemongrass and chilli (see right) was amazing - the nicest we had (and we'd had other very nice ones!) We decided to share crepe suzette for dessert and it was a bit of a let down, but we found that desserts in Vietnam weren't generally very memorable. Service was very good and the staff very friendly and it deserves its spot at the top on Trip Advisor. Don't be put off by the decor!
Risotto Restaurant
- We had lunch at this Italian restaurant and ate Vietnamese food! We had read that the local food here was very good, and although they gave us complimentary Bruschetta to start we didn't really feel like Italian. We saw a few people eating pizzas and they did look quite nice. Anyway, we had chicken & banana blossom salad and stir fried chicken with noodles and veggies and both were very nice. The complimentary passion fruit for dessert was very tasty too!
Ancient Town Restaurant
- This restaurant is on walking street, overlooking the Perfume River, so it's a nice location at night watching the colour changing on the bridge. The spring rolls to start were OK, but nowhere near the best we'd had. When we ordered the chicken they confirmed that they used fillet of chicken without skin, but the chicken in the curry with coconut milk was really chewy and not at all good. The sauce and the vegetables were quite delicious but there was more chicken than veggies, and not enough sauce, so we'd recommend you go for the vegetable curry and avoid the chicken. Unfortunately both our main courses were chicken! The second dish was bbq'd chicken with lemongrass and lemon, and the chicken was much nicer but unfortunately the dish was far too salty so we could hardly eat any of it. They did ask for feedback but seemed a bit taken aback when we complained about the quality of the chicken and being unable to eat the salty food. One other tip, if you eat here try to avoid using the toilets! There are portacabin type toilets 5 minutes walk away at the end of Walking Street but they are quite dirty and there are no facilities to wash your hands afterwards! Gareth asked the waitress if they had any hand wipes but they didn't. However she took him to a big pot full of water near the kitchen, took a little bucket and poured water from the pot over his hands! Nowhere to dry them of course, and needless to say I decided not to sample the delights of the toilets here!
Click here to book hotels in Hue, read travellers reviews of those hotels and view lots of photos of the hotels


Things to do in Hue
You can't visit Hue without visiting the Citadel and Imperial City. The Citadel was bombed during the Vietnam War and is slowly being restored, so there is work going on and it is fascinating to see the amazing work they have done/are doing to restore some of the buildings. There is lots of history here and you can spend an hour or two walking through the buildings and gardens. Some of the really old photographs of emperors, etc were fascinating. If you are really interested in the history and want more information you can hire a guide, but we were happy just to wander around at our leisure.

We would have like to have visited some of the tombs which are located just outside the city, but unfortunately as we only had one full day in Hue we didn't have time. It's probably best to have at least 2 full days in Hue if you want to do more, but we were able to see a lot of the city in the time we had.


Click here to book hotels in Hue, read travellers reviews of those hotels and view lots of photos of the hotels
Some useful sites about Hue:
Trip Advisor - Reviews from other travellers and a useful forum
Vietnam Online - Useful information here about Hue
Travelfish Guide to Hue - Travelfish has some useful information here

*Note: Prices quoted above were accurate in 2015