BARCELONA SPAIN
We've visited Barcelona many times - 3 nights in September 2003, 3 nights in September 2006, 2 nights in September 2007, a night in May 2009, 2 nights in April 2013, 2 nights in October 2017 and 1 night in 2018. It's a gorgeous city with lots to see and do and an ideal place for a long weekend break.

If you're booking flights to Barcelona, be aware that Ryanair fly to Girona Airport (112km from Barcelona) and also to Reus Airport (100km from Barcelona). This can still be a good option if you can get a cheap deal, but just be aware you'll have a long journey at the other end. Ryanair run a shuttle service from Girona. Buses, operated by "Sagales", connect the airport to Girona and the bus stop is located outside arrivals. A taxi to Girona takes approximately 15-20 minutes and costs around €25. Hispano Igualadina operates a connection to Barcelona airport; the journey time is 1 hour and 30 minutes and tickets cost €12.00. For more information, visit ryanair.hispanoigualadina.com

The main Barcelona El Prat International Airport is just 12km from Barcelona. The airport bus (€.45) is the best and quickest option if you are planning to go straight to Plaza Catalunya. It crosses the entire city so the views are worth it and It also stops at Sants Estació and Plaza España. The train station is about 200m from the terminal building and the train also takes you directly to Plaza Catalunya stopping at Sants Station and also Plaza Catalunya station. It runs every 30 minutes, in both directions, from 06.00 to 23.00 and currently costs €2.50*.

If you're going to be using the metro a lot, best value is the T-10 card, which allows you 10 trips within the city, and costs €9.95* (a single ticket costs €2.15). Can be used on more than one mode of transport and counts as a single journey, eg metro then jump on a bus as long as total length of journey is less than 1 hour 15 mins. Enter ticket on left, enter through right turnstile. If ticket validating machine has glass sliding doors it is the other way round, so enter through left turnstile!!

Car Parking in Barcelona

If you find yourself in Barcelona with a car, it can be very expensive to park. Even if your hotel offers parking it is likely to cost upwards of €20/day, which adds a lot on to the cost of your stay. A cost-friendly option is to book with Parking Viajeros who offer parking in 2 city locations. The first is at Barcelona Sants and costs just €7/day for the first 8 days, then just €3/day after that. If you're using the train as part of your journey they offer a discount. You can reserve online, but don't pay till you get there, and you can come and go as much as you want for no extra cost. We used the Barcelona Sants car park in 2017 and 2018 and found it easy to find, and to park. It is just 5-10 minutes walk from the metro station Badal and we'd have no hesitation using this service again. Their other car park is located at Barcelona Port and is aimed at travellers leaving Barcelona by cruise ship and wanting to leave their cars parked safely, while they enjoy their holidays. It has a minimum stay of 8 days and costs €8.42/day for the first 8 days, then €6.20/day after that.
Barcelona Hotels
Click here to book great value hotels in Barcelona, view photos and read travellers' reviews
Hotel Live & Dream
We spent 1 night here in July 2018. It's a very good value hotel for a good location in Barcelona in Sants Montjuic just a 5-minute walk from Plaça de Sants metro station). Rooms are quite small but clean and modern, all in white. We didn't have breakfast at the hotel but there are a few cafes close by where you can get coffee and a croissant or tostada. Click here to book a room, view lots of photos and read reviews.

Hotel Medicis
We spent 2 nights here in October 2017. It's a nice place to stay if you don't mind being a bit away from the centre, and is just a few minute's walk from the Sant Pau metro station so it's easy to get around. It's also about 10 minute's walk from La Sagrada Familia. We didn't have breakfast at the hotel but there is a nice friendly little cafe just round the corner (turn right from the hotel and cross the road). Rooms are nice and modern and there's a big walk in shower. The receptionist was very helpful and gave us some good tips on places to go and transport options. Just 2 minutes walk away there's also a really interesting tourist attraction, the former Hospital de Santa Creu i de Sant Pau, a complex of beautiful art deco buildings that housed a hospital and is now listed as a UNESCO World Heritage Site. Click here to visit Hotel Medicis's website or click here to book a room, view lots of photos and read reviews by other tourists.


Ayre Hote Gran Via
We stayed at the Ayre Hotel Gran Via for 2 nights in April 2013. It is located about 15 minutes walk from Sants Station, and about 20 minutes walk from Palau San Jordi where we were attending a rock concert, so it was ideal for the purpose of our visit. It's also right next to Espana Metro station, making it easy for access anywhere in the city. Having said that, we were generally disappointed with the hotel. Although it is a 4* it felt more like a 3* to be honest. Click here to visit Ayre Hotel Gran Via's website or click here to book a room, view lots of photos and read reviews by other travellers.

Gran Hotel Torre Catalunya

The second and third time we stayed in Barcelona we stayed at the excellent Gran Hotel Torre Catalunya. It's in a great location opposite Estacion Sants. Direct train from airport takes about 15 mins and as there's a metro stop in the Station, it's perfect for getting anywhere in the city. We would stay here again without hesitation. The last time we stayed at the Torre Catalunya it was our silver wedding anniversary and they very kindly upgraded us to a superior room on 19th floor and surprised us with a bottle of cava - a lovely touch.

The rooms are large, modern and spotlessly clean. Large bathrooms with fluffy towels, robes and slippers give an added touch of luxury in the superior rooms. Breakfast is a better than average buffet with selection of cereals, fruits, fruit juice (they even supply cava so you can start your day with a Bucks Fizz!), yoghurt, rolls, toast, cold meats, cheese, eggs, bacon, sausage, etc) and was included in our room rate. Click here to visit Gran Hotel Torre Catalunya's website or click here to book a room, view lots of photos and read reviews by other tourists.

The first time we were in Barcelona we stayed at Aparthotel Silver in the Gracia area of the city. It's down a side street, very close to a metro station and was easy to get around. The rooms were clean and good value for €71.50/night, including tax, and had cooking facilities but we didn't use them. Breakfast was extra, so we didn't eat there but there were plenty cafes around to have breakfast. Visit Aparthotel Silver's website or click here to book a room, view lots of photos and read reviews by other travellers.


Things to see and do in Barcelona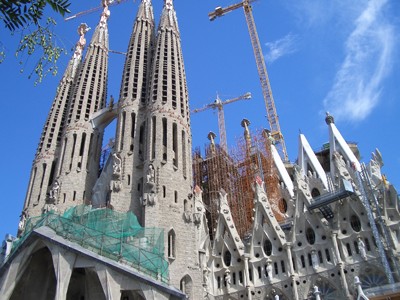 There is so much to see in Barcelona and a good introduction is to take the
Bus Turistica
. Find out more about the Bus Turistica
here.
Unless you are short of time being able to take in the sights over two days is a great option, as there are two routes, a northern one and a southern one and it means you aren't having to rush round places. The bus runs about every 20 minutes and discount coupons for many of the main sights are also included. The tour takes in all the main sights and goes to all the museums, galleries and main areas of Barcelona. Some of the most important stops are the following:
The incredible Gaudi cathedral
Sagrada Familia
is still being built although building began in 1895. Climb up the narrow, windy steps to the top for great views, or take the lift if you're not up to the climb. A must see when you're in Barcelona. Visit
this website
for more information.
La Pedrera, also known as Casa Mila, is another amazing example of Gaudi architecture. It's an apartment unlike any other you've ever seen with its wavy facade, ornamental ironwork and lunar like landscape on the roof with unsual chimneys that locals used to refer to as dancing evil witches. Click here for more information.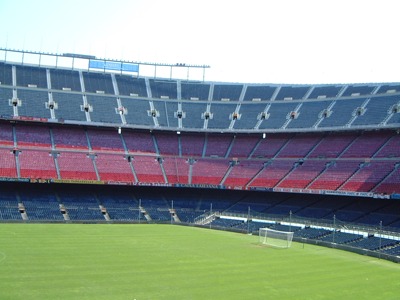 Barcelona FC - Anyone who is at all interested in football will enjoy a visit to the stadium of one of the world's best teams. The Camp Nou is an incredible stadium and you get to see round it, including the changing rooms, the press rooms and the museum. You get to walk through the tunnel to the ground where, although you don't get to actually go on the pitch, you can sit on the bench and get a feel for the place. You won't obviously be able to do the tour if there is a game on, but you may then be lucky enough to get a ticket for the game! Visit Barcelona FC's website. If you want to go to a football match but Barcelona aren't at home when you're there, an alternative is to go to a game at Barcelona's other team Espanyol. They play at the Cornella-El Prat Stadium which is outside the centre of Barcelona, but easily accessible by public transport - metro, bus or train. Click here for more information about how to get there. We were lucky enough to see Espanyol play Real Madrid when they were using the Olympic Stadium while their current stadium was being built. Visit Espanyol FC's website.

Poble Espanyol is a lovely area, like a traditional Spanish village with winding cobbled streets and some nice craft shops and restaurants - an ideal stop for lunch. Find out more about Poble Espanyol here.


Park Guell - A Gaudi park with a bit of the unusual about it. On entering the park you are faced with a colourful mosaic dragon fountain and there is a terraced area at the top of the park with a colourful mosaic winding bench where you can get great views of the city.
After more than a century as the home of the Hospital de la Santa Creu i Sant Pau, an ambitious restoration project following the transfer of all healthcare activities to the new Hospital has restored the cultural and artistic glories of the Sant Pau Art Nouveau Site, the most important work of Catalan architect Lluis Domenech i Montaner. It is a fascinating place to visit with beautiful buildings and gardens and interesting history. Entry is €13 for a standard ticket,or €19 for a guided tour, with concessions available for students, over 65s, etc. and it is open daily. For more information visit their website.
In the evening make a point of being at Placa d'Espanya between 8pm and midnight to see the Montjuic Illuminated Fountains. It's a beautiful sight and there's music from 9.30pm - 11.30pm which adds to the atmosphere. We found it by chance after a football match at the Olympic Stadium which is just up from there.
Most people will find themselves walking up and down Las Ramblas several times during their visit. It can be fascinating to watch the street artists and although it is very touristy there is a pleasant atmosphere and there are lots of market stalls. There is a good food market at the far end - not sure if it is open daily. Also down by the sea at the very end of Las Ramblas is a nice shopping centre.
Head to the beach at Barceloneta for some nice cafes. Even if you're not going to spend time on the beach itself, it's nice for a walk or a cycle and you can walk all the way along to Port Olimpic where you can stroll by the boats at the marina or stop at a seafood restaurant for lunch.
Bars and Restaurants in Barcelona

We have twice eaten at Viana Restaurant on Carrer del Vidrio just off Las Ramblas. The first time, in 2017, we were in the area and went to see where Viana was located, with a view to going there later in the evening.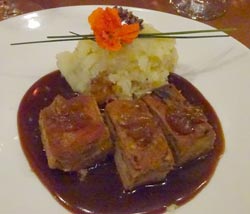 There was a guy standing outside and when he saw us looking in, he told us that Viana had been flooded, so they were sharing the premises of another restaurant for the next few days. He took us to Las Ramblas, No 37 and upstairs to a restaurant called Louro. The menu for both restaurants was on offer and we had a main course from each one - Veal Entrecot with mushrooms and potatoes from Louro and Suckling Pig with pear chutney from the Viana one. Both were nice, but the suckling pig was absolutely outstanding. The meat melted in your mouth but had a delicious crispy coating and the sauce was excellent. We'd go as far as saying it was one of the best main courses we'd tasted in our lives!! The blackberry mojito was pretty good too!! When we found ourselves back in Barcelona for just one night in 2018 we were really keen to eat at Viana again. This time we went to the main restaurant and had to eat early because it was fully booked later on - be sure to reserve a table ahead as there were queues when we left the restaurant. Both of us had the suckling pig which was still delicious (only minor complaint was that there was too much potato and not enough vegetables). We shared a Mozzarella Salad with guacamole and tomato to start and a really yummy cheescake with passion fruit for dessert. Visit Viana's website for more information.

We had a very good meal in 2013 at La Crema Canela in the Gothic Quarter. We'd read some good reviews about this place, so when we chanced upon it we decided to give it a try. To be honest from the reviews we'd read we'd expected it to be more expensive, but the prices were reasonable. We shared a starter of vegetables and prawns in batter with a Thai dipping sauce, and it was tasty although we were slightly disappointed that the sauce was just sweet chilli sauce out of a bottle. The main courses of duck with a strawberry sauce and pork were very good, and we shared a gooey chocolatey dessert that was very nice. Bread (extra cost but nice bread), a bottle of cava rosado and a bottle of water brought the bill to a very reasonable €45.

A lovely restaurant in Barcelona is Pla (Calle Bellafilla 5 08002, just a short walk from Las Ramblas). We went there in 2007 to celebrate a special anniversary and had a lovely meal in a very romantic setting, with a nice ambiance. If you're celebrating a romantic occasion, book 'la cova' a little private alcove which is perfect for a special meal for two. We shared a salad for our starter with cava and mulberry dressing, then for our main courses had very tasty deer medallions in a red fruit chutney sauce and fillet of beef with a red wine and mushroom sauce. The meats were very tender and lean. For dessert we shared some ice-cream - 3 small scoops of chocolate, coconut and a fruity one which were all delicious. They even brought us fresh strawberries dipped in chocolate with a candle and a glass of cava as a complimentary treat for our anniversary. The service was excellent, the staff very friendly. Visit Pla's website.

A Mexican restaurant and bar we really like is Margarita Blue (Calle Josep Anselm Clave 08002). It's in the Gothic Quarter, just off Las Ramblas, with nice decor, great ambience and good food and drinks at reasonable prices. Try their speciality cocktail, a Blue Margarita - delicious! Visit Margarita Blue's website.

The bar Guru just opposite Margarita Blue also deserves a mention. Gorgeous Asian style decor, comfy sofas and chill-out music made it a great place to relax in the early part of the evening. Later (after about 10pm) it seemed to turn more into a party bar, so go early or late - whatever suits you best! Click here to visit Guru's Facebook page.
The speciality drink of Barcelona is cava and it is widely available at surprisingly low cost in most of the bars. One place you must try is El Xampanyet (Calle Montcada 22 down the street from the Picasso Museum) a busy little unpretentious place which sells cava by the glass or bottle and also has a large selection of tapas. Be amazed by the friendly bar staff who seem to be able to remember everybody's orders although they never write them down! Frequented by tourists and locals, this bar is definitely worth a visit.

There are, of course, lots of cafes and restaurants on the touristy Las Ramblas. It can be nice to sit there, sip a Sangria and people-watch, but obviously you will pay a lot more and the quality will not necessarily match the price. We enjoyed a drink in one of the open-air bars there, but had a terrible meal with very bad service in Caruso, an Italian restaurant on Las Ramblas. Avoid!
Some useful sites about Barcelona:
Click here to book great value hotels in Barcelona, view photos and read reviews by other tourists
Barcelona.com
Useful site with lots of information about Barcelona including accommodation, tours and special offers

Official Barcelona tourist website
More useful information about Barcelona here including
good 360° shots of tourist sights
Time Out Barcelona
- Lots of stuff about Barcelona, including shopping, restaurants and bars and tourist information
The Guardian - Barcelona
- Some useful articles from The Guardian on Barcelona

Trip Advisor
- Reviews from other travellers and a useful forum
*Note: Prices quoted above were accurate in 2013-18