ABOUT TRAVEL JIMMY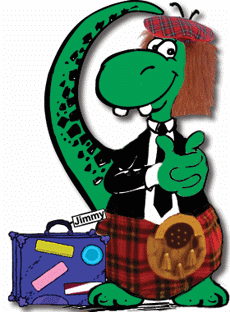 TravelJimmy.com is run by Gareth & Anne Davies, a travel-loving couple from Aberdeen, Scotland. We have always been fascinated by travel, and it is a real passion.
We started going out at the end of 1980 and our first trip together was to California in 1981 to visit family. Married in September 1982, we scraped together enough money to go on a low-cost package holiday to Benalmadena in Costa del Sol, Spain for our honeymoon. When our local football team Aberdeen FC, reached the final of the European Cup Winners Cup in 1983, our trip for the year had been decided for us with Gothenburg, Sweden as the venue!
Package holidays to Greece and Spain were enough to satisfy our travel needs for the next few years, but things were to change with our first visit to the Far East in 1990. We visited Hong Kong, Bangkok, Koh Samui and Phuket and realised what an incredible world there was out there to explore! The culture, the sights, the beaches, the food, the people..... it was fascinating, with so much to see and do! We couldn't wait to venture further, but had to content ourselves with our first Caribbean visit, to the Dominican Republic in 1991.
In 1992, the opportunity came at the same time for both of us to request voluntary redundancy from jobs we were tiring of. We had constantly spoken of how great it would be to have the opportunity to leave our jobs to travel the world, with lack of money being the only thing to hold us back. We felt that this unexpected but most welcome opportunity for both of us to leave our jobs was most definitely 'meant to be'. We couldn't believe how lucky we were and set out to plan our trip of a lifetime. We rented out our house, booked our round-the-world flight tickets, bought rucksacks and headed off on our adventure on 21st September 1992.
Thinking about taking a gap year?

If you are considering taking time out to travel, we would strongly recommend it. It can be the most amazing experience. Just decide where you want to go, and book those tickets! A gap year (or 15 months as we had!) is no longer just for young people between school and university. We were in our early 30s but met many people our age and older. If it's something you'd like to do but keep making excuses not to, you'll regret it later if you don't go for it. Get yourself a flexible ticket which allows you to change flights without having to pay extra. We found it incredibly easy to do this. We put together a vague itinerary with all the stops we wanted, and all we had to do was contact the airline to change the dates of flights along the way to suit when we were ready to move on to the next destination. A flexible ticket is so good, because if you are loving a place and want to stay longer, just contact the airline and delay the date of your next flight. Alternatively if you've seen all you want to of a country and want to move on earlier, it's easy to do. There will be areas where it's easier to travel overland and flights aren't needed. For example our ticket flew us into Bangkok but our next flight wasn't till Indonesia. It's so easy to travel in Asia and as there is so much to see, going overland through Thailand, Malaysia, Singapore and Indonesia is a good option. Most tickets are valid for just a year, but because our ticket used 2 carriers, Air New Zealand and British Airways, we were delighted to discover that the second portion of the ticket with Air New Zealand, was actually valid for a year from the date we started using it.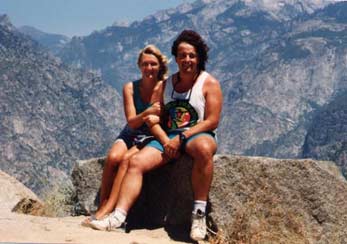 This meant we were able to extend our travels slightly, and didn't have to return home in September 1993.
Anyway, from September 1992 to December 1993 we visited India, The Philippines, Hong Kong, Thailand,Malaysia, Singapore, Indonesia, Australia, New Zealand, Fiji, Hawaii, USA, Canada and Mexico.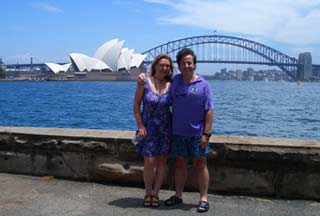 Once we returned to Aberdeen and full time jobs, we had to make do with short trips to Florida in January and February for a few years to escape Scotland's freezing cold winters! It can be hard to return to everyday life after a long trip - it appears that time has stood still at home and nothing has changed, whereas you have been living an adventure every day. Anyway, after 4 years of discontentment and working in jobs we hated, we started Aberdeen Internet, our own web design business which we are still running to this day. We were keen to start the business and work together but our one concern was that we'd have to give up travel for a while. We decided to take time off to travel before starting the business, so in May 1997 we headed off on a short round the world trip for 5 weeks, visiting The Maldives, Bali, Australia, Mexico and USA.
Since running the business we usually took our main holiday at Christmas time when things were quiet work-wise, visiting places such as Thailand, Cuba and South Africa and tried to have a few long week-ends away, to somewhere in Europe, throughout the year.
In 2009 we decided that we wanted to experience living in another country. We have travelled extensively but till then had never lived anywhere else. We had always enjoyed our weekend breaks in Spain, a beautiful country with many contrasts, and it is close enough to home and with only one hour time difference for our business. We rented for over a year close to Xativa, before buying our dream house, with an amazing view of mountains and orange groves, in the little village of Orba, 20 minutes inland from Denia, and equidistant from Valencia and Alicante. We had enjoyed exploring Spain until December 2014 when wanderlust set in again and we had a wonderful time visiting Thailand and Cambodia, followed by a fantastic trip to Vietnam in 2015.
You can view all the places we've visited on this page. The first version of this website was launched in March 2007 and this revised version in April 2020. We will continue to add our reviews and observations of newly visited destinations and are also working to gradually try to add details of all of the places we've visited. We will continue to develop this site.
Thanks for visiting TravelJimmy.com !
Spain is a wonderful country full of contrasts - mountains, oceans, castles, beautiful cities and pretty villages